Subscribe Now
Keep up with the latest news with our magazine and e-newsletter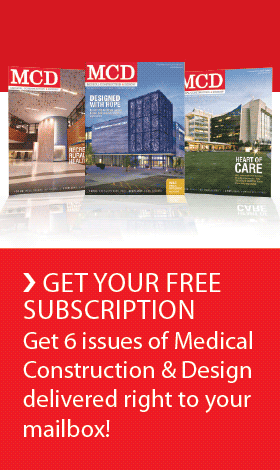 Subscribe to our E‑Newsletter
OLATHE, KAN.  – The Olathe Medical Pavilion, the freestanding outpatient imaging center at Olathe Medical Center (OMC), has been awarded LEED Gold certification by the U.S. Green Building Council (USGBC), making it the first "green" healthcare facility in the Kansas City area. It is also one of very few private-sector buildings of any industry in the area to achieve this status.

The U.S. Green Building Council's LEED (Leadership in Energy and Developmental Design) certification program is based on a number of green design and construction features that positively impact building projects and the broader community. Gold is the second highest level in the LEED certification program.
"The Olathe Medical Pavilion's LEED certification demonstrates tremendous green building leadership," said Rick Fedrizzi, President, CEO & Founding Chair, USGBC. "The urgency of USGBC's mission has challenged the industry to move faster and reach further than ever before, and OMC serves as a prime example with just how much we can accomplish."
The two-story 42,000 square foot Pavilion opened in 2009, and earned its Gold LEED certification by incorporating many green elements in its construction and design, including:
* Native Plantings: all grasses, flowers and plantings around the building are either native or well adapted to this region. These hardy specimens withstand extreme weather conditions and aid in water conservation, requiring only minimal irrigation to thrive.
* Water Efficiency: xeriscape design conserves water through creative landscaping, evidenced by drought-tolerant plants in mulched beds, moisture-sensing irrigation and soil improvements. Inside, low-flow sinks and toilets also help reduce water usage.
* Regional Materials: more than 20 percent of the materials used in the construction of this building were extracted, processed, manufactured and obtained locally. The fill dirt, asphalt, roofing materials, paint and stone are all products of Olathe companies.
* Recycled Materials:  repurposed pre-consumer and post-consumer materials were applied throughout in structural elements, such as metal studs, struts, lathe and joists, and in more visible components, such as wall plates, ceiling tiles, flooring and carpeting.
* Low-Emitting Materials: paint, adhesives, sealants, coatings, carpeting and cleaning supplies chosen for construction and ongoing maintenance emit very low amounts of volatile organic compounds to create a friendly atmosphere for guests and for the environment.
* Digital Images: all images created in the Pavilion are digital for cutting-edge diagnostic clarity. The picture archiving computer system (PACS) is environmentally responsive, with no processing chemicals required and no need for extensive storage.
The Pavilion features a Women's Imaging Center, including digital mammography and ultrasound.  Nuclear medicine, MRI, CT Scan, standard X-ray equipment and specimen collection are available onsite for added convenience. A future second phase of construction at the Olathe Medical Pavilion will increase the facility to 80,000 square feet.
Posted April 13, 2010
More Articles: