Subscribe Now
Keep up with the latest news with our magazine and e-newsletter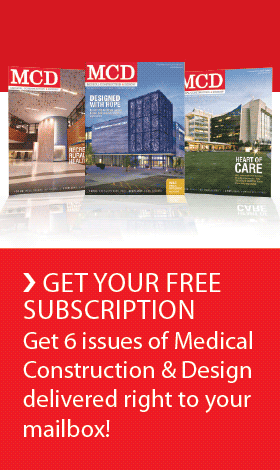 Subscribe to our E‑Newsletter
WAYLAND, MA — Over half of architecture and engineering firms see the West Coast as the action market for healthcare construction in 2010, a new ZweigWhite survey has shown.
Results of the survey are being published in the new ZweigWhite quarterly report titled Market Advisor.

Over half of respondents to the healthcare survey said that the West Coast is where the work is, with 28% saying the Southwest is the hottest geographic area, and 24% pointing to the Northwest. The Northeast and the Midwest, both at 16%, also fared well. Only 4% respondents pointed to the international arena as where they see potential in 2010.
"Southern California is an active aging market," says Edward Caruana, president of c|a Architects from Long Beach, CA. "We feel health facilities whatever complexion they take on in the future will be needed in this busy area."
Among significant findings:
* 37% of respondents are optimistic about healthcare being a hot market this year, but 40% are in the "wait and see mode," and 23% are not touching it.
* 44% of respondents say new hospital projects will lead health care in 2010, a significant percentage (32%) say they will work mostly on renovations and upgrades, due to lack of funding for all-new facilities.
* 67% of respondents pointed to lack of financing as the biggest hindrance to this market in 2010.
About ZweigWhite: ZweigWhite is the nation's leading source of business management services for architecture, engineering, and environmental consulting firms. The ZweigWhite team consists of experts in strategic business planning, business valuation, ownership transition, human resources management, finance and administration, mergers and acquisitions, market research, marketing, project management and project delivery methods who collectively produce a comprehensive suite of products and services, including newsletters, industry reports, executive training, business conferences, and advisory services covering virtually every aspect of firm management. The firm is headquartered in Wayland, MA , with additional offices in, Chicago, IL and Washington, DC.
Posted March 24, 2010
More Articles: