Subscribe Now
Keep up with the latest news with our magazine and e-newsletter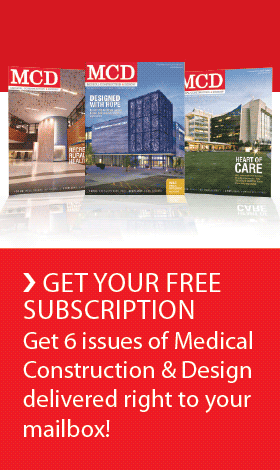 Subscribe to our E‑Newsletter
Firm Committed to Development of Innovative, Efficient and Safe Facilities
Nashville, Tenn. — March 11 — Gresham, Smith and Partners, a leading multi-disciplinary design and consulting firm to the built environment, announces that it is the first firm to fulfill the EDAC (Evidence-based Design Accreditation and Certification) Advocate Firm commitment of having at least 25% of its healthcare design team EDAC accredited.  The EDAC program was developed as a way to educate and assess individuals on their understanding of how to base healthcare design decisions on credible research evidence and project evaluation results. 


"By achieving our goal of becoming the first EDAC Advocate Firm to accredit its team, we are furthering our dedication to providing clients with a staff that understands the importance of evidenced based design and is committed to contributing to the body of knowledge that supports efficient clinical processes," stated Ken Priest, AIA, NCARB, LEED AP, executive vice president of Healthcare, Gresham, Smith and Partners.  
GS&P has long been a proponent and practitioner of evidence-based design.  The firm designed St. Joseph Hospital in West Bend, Wisconsin, which is the world's first hospital designed specifically to reduce medical errors. Additionally, GS&P designed Clarian Arnett Hospital in Lafayette, Indiana, which is a new facility that features standardized medical/surgical patient rooms that combine components of patient safety. In an effort to gain insight on the functionality of the spaces, the team constructed detailed mock-ups of exam, medical/surgical and LDR rooms as well as basic layouts for a nurse station and operating room. Staff and community toured these full-scale models to give designers their feedback, which was then incorporated into the design.
The Center for Health Design (CHD), a non-profit organization which focuses on the use of evidence-based design, developed the EDAC program. "We applaud Gresham, Smith and Partners on completing its initial commitment to being an EDAC Advocate Firm," commented Debra Levin, President and CEO of CHD.  "We are confident that by making a long term commitment to developing the practice and knowledge of evidence-based design, the firm will help improve outcomes for its clients and be a leader in the field."
"By becoming an EDAC Advocate Firm, we have created a culture that is accelerating the application of credible research in design to improve patient and staff well-being, and contributing new evidence, which is equally as important. We anticipate additional healthcare design staff will become EDAC accredited as we continue to apply research evidence in all of our designs to support improved outcomes," stated Sheila Bosch, Ph.D., EDAC, LEED AP, GS&P's director of Healthcare Research. 
CHD began development of EDAC in 2005 with a grant from the Robert Wood Johnson Foundation. The program now offers study preparation resources, access to healthcare design expertise, a comprehensive accreditation exam, and continuing education. Any industry organization interested in joining in EDAC's mission to build a community of accredited individuals may partner with CHD to become an Advocate Firm. The current list of partner organizations comprises of an Educational Partner, six Champion Firms, six Advocate Firms and one Pebble Pioneer. Since the exam launched in 2009, over 300 individuals among over have become EDAC accredited.
About Gresham, Smith and Partners
Gresham, Smith and Partners (GS&P) provides design and consulting solutions for the built environment that contribute to the success of national and international clients. For more than 40 years, GS&P has focused on enhancing quality of life and sustainability within communities. GS&P consists of industry-leading professionals practicing architecture and engineering design as well as scientists and highly specialized planning and strategic consultants in Water Services, Transportation, Land Planning, Aviation, Corporate and Urban Design, Environmental Compliance, Healthcare, and Industrial Design Services. GS&P consistently ranks among the top architecture and engineering firms in the United States. For more information regarding GS&P, visit www.gspnet.com.
About The Center for Health Design
The Center for Health Design (CHD), formed in 1993, is a nonprofit research and advocacy organization of forward-thinking healthcare, elder care, design and construction professionals and product manufacturers who are leading the quest to improve the quality of healthcare facilities and create new environments for healthy aging. Its voluntary board of directors guides the work of paid staff that manages and directs the organization's research, education, and advocacy efforts. For more information, visit www.healthdesign.org.
Posted March 11, 2010
More Articles: