Subscribe Now
Keep up with the latest news with our magazine and e-newsletter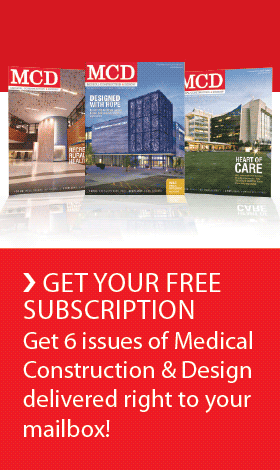 Subscribe to our E‑Newsletter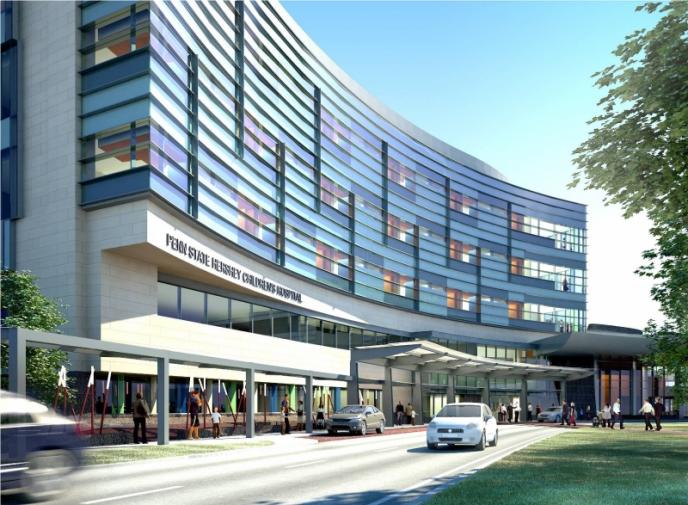 University Park, Pa. — Advancing efforts to ensure that life-saving care is available for children throughout central Pennsylvania, the Penn State Board of Trustees today approved final plans for a new, free-standing Penn State Hershey Children's Hospital to be built on the campus of Penn State Milton S. Hershey Medical Center in Hershey.

The new 252,000-square-foot Children's Hospital is a five-story building with an additional floor below ground. It will be built adjacent to the Medical Center's main entrance and Penn State Hershey Cancer Institute. The facility will include pediatric surgical suites, private pediatric and adolescent patient rooms, outpatient clinics for children with cancer, and a new pediatric radiology unit. It also features educational resource centers for families to learn about childhood illnesses, health and wellness, including a "safety store." The design is child-friendly with a look and feel appropriate for young patients and their families.
The current Penn State Hershey Children's Hospital, which primarily occupies the Medical Center's seventh floor, is classified by the National Association of Children's Hospitals and Related Institutions (NACHRI) as a "hospital within a hospital." While the care provided within the current facility has earned national recognition, the facilities were originally designed for adult patients rather than children and families. Many of the existing patient rooms do not accommodate parents who wish to stay overnight with their children. Areas such as the Pediatric Intensive Care Unit (PICU) have become cramped, offering minimal privacy and no room for growth of services.
"For years our dedicated physicians, nurses and staff have provided excellent medical care in facilities that are less than optimal," said Dr. Harold L. Paz, the Medical Center's chief executive officer, Penn State's senior vice president for health affairs and dean of Penn State College of Medicine. "This thoughtfully designed Children's Hospital provides our outstanding caregivers with a state-of-the-art facility  to match the highly specialized, quality care they deliver. It offers amenities that truly meet the needs of today's patients and families."
Plans for the new Children's Hospital include five operating rooms designed for surgical care of children and adolescents, an eight-bed surgical recovery area, a cardiac catheterization lab for pediatric heart patients, as well as significantly expanded space for pediatric intensive care—vital infrastructure to support the role of Penn State Hershey Children's Hospital as the region's only Level One Pediatric Trauma Center. All of the in-patient rooms, which are located on the third and fourth floor, will be private rooms and include space for parents to spend the night with their child.
An outpatient pediatric cancer pavilion on the first floor includes 11 infusion rooms and eight exam rooms to support bone marrow transplantation and other therapies vital to treating kids with cancer. An 18-bed inpatient unit for hematology/oncology patients will be on the third floor. Both are supported by a $10 million philanthropic gift from the Penn State IFC/Panhellenic Dance Marathon (THON™).
In addition to critical patient care areas, there are several elements planned throughout the new Children's Hospital to provide children and families with a distraction from their worries about illness or injury. These elements include a meditation room, an outdoor roof terrace with green plants, and an interactive learning wall on the hospital's first floor.
"The environment of the new hospital focuses on putting children and families at ease during an otherwise difficult time. It also encourages the engagement of families in the care of their children, fosters a multi-disciplinary approach among caregivers, and accommodates the use of new technology," said A. Craig Hillemeier, vice dean for clinical affairs, chair of pediatrics and Children's Hospital medical director. "These aspects are important to outstanding care providers who are choosing where they want to practice pediatric medicine. We believe this world-class facility will help us to retain and recruit the finest pediatric specialists and expert caregivers to central Pennsylvania."
Payette and Associates, the Boston-based architectural firm that designed the new Penn State Hershey Cancer Institute facility, created the designs for the new Children's Hospital, which is estimated at nearly $207 million. The Medical Center plans to seek LEED certification for the Children's Hospital, recognition of its environmentally friendly design.
Expansion of the nearby Centerview Parking garage and a new support services building — both necessary to accommodate the growth associated with the new Children's Hospital — will bring total project costs to more than $244 million. The garage expansion will provide 935 parking spaces through a four-level addition to the existing garage.
Earlier this week, The Hershey Co. made a $1 million corporate commitment to the construction of the new Children's Hospital, bringing total charitable contributions for the facility to more than $62 million (visit http://live.psu.edu/story/42667 for more details). The overall goal for the Children's Hospital building campaign is $65 million.
A groundbreaking ceremony for the new Children's Hospital is planned for Friday, Nov. 13. Site preparation will begin in the next few weeks, with excavation and construction expected to start in February 2010. The completed Children's Hospital is scheduled to open during fall 2012. With the completion of the Children's Hospital, Penn State Hershey will have a total complement of 118 pediatric beds.
In addition to the Children's Hospital project, the Medical Center is collaborating with Select Medical Corporation on the Penn State Hershey Rehabilitation Hospital, a 54-bed acute care facility located approximately one mile from the site of the new Children's Hospital. It will include ten inpatient beds for pediatric patients. Construction on the facility is already underway with a projected completion date of fall 2010.
Photo Credit: Penn State Department of Public Information
Posted November 10, 2009
More Articles: