Subscribe Now
Keep up with the latest news with our magazine and e-newsletter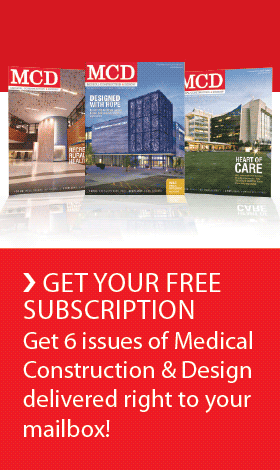 Subscribe to our E‑Newsletter
$155 Million State-Of-The-Art Digital Hospital Designed to Enhance Patient Comfort, Speed Healing

CONCORD TOWNSHIP, Ohio — Oct. 21 — Lake Health, formerly Lake Hospital System, today is celebrating the grand opening of its $155 million TriPoint Medical Center in Concord Township. A state-of-the-art digital hospital, TriPoint Medical Center is redefining the health care experience for patients, families and the community.

Built from the ground up to enhance healing and wellness and improve patient safety, TriPoint features the latest, life-saving technology and an evidence-based patient- and family-centered environment. Principles of evidence-based design–a concept that links the quality of the hospital environment to patient outcomes–have been integrated throughout the facility. From the elegant interior filled with natural light and private patient rooms with views of natural greenery and streams to the healing gardens and dedicated family areas, everything about TriPoint is designed to increase comfort and safety and speed healing.
"We planned and built the entire hospital around evidence-based research that demonstrates how to achieve better outcomes, improving quality of care and patient safety," said Cynthia Moore-Hardy, FACHE, president and chief executive officer of Lake Health. "That was our vision when we began this project, and we never lost sight of that goal."
Redefining the Patient Experience
Along with physicians, nurses, staff and technology, every detail–from the private patient rooms to the HVAC system that reduces airborne pathogens–plays multiple, active roles in better patient care: lowering infection rates, reducing falls, alleviating pain and stress, and minimizing medication errors.
All 119 patient rooms are private, with sound dampening materials and floor-to-ceiling windows offering natural light and views of nature so every patient enjoys less stress, more privacy without a sense of isolation and better quality sleep. Each room includes a private bath visible from the bed (proven to reduce falls), and a prominent sink near the doorway for hand washing when caregivers enter (reducing infection risk). Even the TV doubles as a huge digital picture frame for soothing artwork as well as access to patient educational programming and information for patients and their families.
Throughout TriPoint, digital wireless communications all but eliminate overhead paging, while acoustic design muffles equipment clatter and the inevitable noises of a busy hospital. Instead of large centralized nursing stations, TriPoint features multiple nursing workstations, each located between two rooms. This brings caregivers much closer to their patients with unobstructed views and access to computerized medical records, resulting in enhanced safety, faster response and more efficient care.
Healing with State-Of-The-Art Digital Technology
"Patient safety has always been our number one priority," said John F. Platz, chair of Lake Health's Board of Trustees. "A host of digital technologies at TriPoint will help us revolutionize the way we care for patients."
It begins with the Electronic Health Record (EHR) system that replaces the old-fashioned hospital "chart," streamlines patient care at every encounter, enhances physician's decision-making, and helps prevent errors at every level. The patient medical history, medications and allergies, notes, orders and test results are now a secure digital computer file accessible instantly by physicians and caregivers in any location.
* Digital and wireless technologies are integrated throughout TriPoint:
* IV "smart pumps" wirelessly monitor settings and sound an alert to prevent dosage errors.
* ID bracelets are bar-coded, along with every dose of medication and every lab specimen taken at bedside. Everything is scanned and wirelessly matched at each patient encounter to ensure safety.
* Monitors, pumps and other medical equipment can move with patients, sending continuous data wirelessly to each patient's EHR.
* AcuDose-Rx automated medication ordering, storage, retrieval and dispensers replace handwritten and manual processes where most medication errors occur.
"By utilizing the most advanced technology available, we can ensure that our patients receive not only the best care, but also the safest care," explained John P. Ferron, MD, president of the Lake Health medical staff and a general surgeon. "Having immediate access to patients' complete health records–including prescriptions and allergies–can help prevent medical errors and avoid duplicate tests and other procedures. And with this information available at the bedside, patients can see their test results firsthand and become more involved in their own care."
The latest technology is also incorporated throughout TriPoint's Perioperative Department, which includes six integrated operating rooms, 26 private pre- and post-surgery rooms, 12 post-anesthesia care unit rooms, a cardiac catheterization lab, and a family waiting area.
The new state-of-the-art operating rooms feature user-friendly, "integrated" technologies that augment surgeons' skills and help the entire surgical team work more safely and efficiently. For example, touch panel technology enables one nurse to control audio, video and medical equipment, surgical lights and room lights. Digital images (X-rays, MRI and CT scans) taken before surgery can be accessed from radiology and viewed on monitors in the operating room. Ultimately, this technology enables surgeons to make quicker and more accurate diagnoses, and treat more patients in less time.
Focusing on Family
Families are at the very center of the TriPoint healing environment. Along with 24-hour unrestricted visitation, every patient room includes a "family zone" with sleeper sofa and Internet access, and every floor offers "nourishment nooks" and glassed-in respite areas where visitors can de-compress, renewing body and spirit amid natural light and outdoor views. Inside and out, space is set aside to help families cope with the stress of a loved one's hospitalization: a Meditation Room with a relaxing water feature, a fireside seating area, an outdoor healing garden with water sculpture, courtyard dining with waterfall and a rotating art gallery.
At TriPoint Medical Center, the Tim and Sandy Weaver Family Birthing Unit is designed specifically to enhance the safety, comfort and convenience of moms, newborns and families.
The 14 private rooms are built around the LDRP model, meaning that moms stay in the same room through labor, delivery, recovery, and post-partum.
The unit also includes The Hershey Foundation Family Lounge, two operating rooms for Cesarean sections, three beds for pre-term testing, two private ante-partum rooms, a Newborn Nursery, and a six-bed Level II Special Care Nursery.
The Level II Special Care Nursery at TriPoint Medical Center has six private rooms, each with a sleeping area set up for one parent. Moms often stay at the hospital when their baby needs special care, so the unit offers showers, a lounge with a TV and a special family center with a washer and dryer. Mini nurses' stations between each pair of rooms in the Level II area allow nurses to remain near the babies in their care.
To protect infants, the family birthing unit is locked at all times. A greeter allows entry to appropriate visitors. In addition, Lake Health has installed a sophisticated HUGS infant security system at TriPoint.
Delivering Emergency Care More Efficiently
With features such as 22 private treatment rooms, separate entrances for walk-in patients and ambulances, and staff communication devices to reduce noise, TriPoint Medical Center's Emergency Department was built with patient treatment and family support as a top priority.
In an effort to efficiently care for patients, TriPoint features a Thru Care Area where patients are promptly seen and, through clinical testing, are taken to the appropriate area of the department. This process ensures that both high- and low-acuity patients are treated immediately. Recognizing the importance of friends and family in the healing process, the Emergency Department features a visitation wing where patients can visit with loved ones.
Offering Convenient Access to Unique Services and Physicians
A four-story physician pavilion adjacent to TriPoint Medical Center offers unique services and will bring physicians closer to patients. The building's first and second floors, home to various outpatient care centers and clinics, a conference center, and Lake Health offices opened to patients today. The third and fourth floors will open in January 2010 when physicians move into their new offices.
Features of the physician pavilion include:
* The Wellness Institute
Designed to care for the whole person–body, mind and spirit–the center offers nutrition and fitness programs (i.e., yoga, Pilates and core strengthening) combined with integrative medicine therapies such as acupuncture, healing touch, medical massage therapy and music therapy.
* Outpatient Rehabilitation Center
Physical, occupational, speech and cardiopulmonary therapists work together in over 11,000 square feet of space designed to provide patients with the full range of expertise needed for the most complete return to normal daily activities.
* Community Health Center
The Center offers a new standard of ongoing care, organized around the services in demand today including: the Diabetes Care Center, the Infusion Center, the Chronic Kidney Disease Clinic, the Anticoagulation Clinic and the Congestive Heart Failure Clinic.
* Lake Health Resource Center
A unique community and professional resource, the center helps patients become partners in their own care, with the best current information and professional librarians to guide them in finding resources in print and online.

Caring for the Environment
TriPoint's unique healing environment is also environmentally sensitive. High-efficiency lighting controls and HVAC create a smaller energy footprint. The entire site preserves as much of its natural woodland and ecological diversity as possible, including restored wetlands and streams, providing a far less stressful setting for patients, visitors and staff.
The most talked-about green initiatives, however, are the rooftop gardens. Reducing noise, energy consumption and maintenance expenses, conserving water and reducing storm runoff, these inspirational gardens extend the natural environment that promotes healing to a new level.
"Everything we've learned about helping patients get better, faster is built into TriPoint," said Moore-Hardy. "Everything that gets in the way of patient safety, family comfort and good medicine is minimized or eliminated. We've brought together the best science and the best people in a green and natural setting to give patients what they want and need most throughout their stay."
About Lake Health
For eight consecutive years NorthCoast 99 has named Lake Health one of the 99 Best Places to work in Northeast Ohio. Lake Health was also named among the top 5 percent of hospitals in the nation for Overall Cardiac Services and Cardiac Surgery by HealthGrades. Dedicated to redefining health care in Northeast Ohio, Lake Health provides patient- and family-centered care that promotes a lifetime of health and wellness. Lake Health delivers progressive, compassionate health care through nine state-of-the-art facilities staffed by more than 600 physicians and 2,700 health care professionals.
Posted October 21, 2009
More Articles: