Subscribe Now
Keep up with the latest news with our magazine and e-newsletter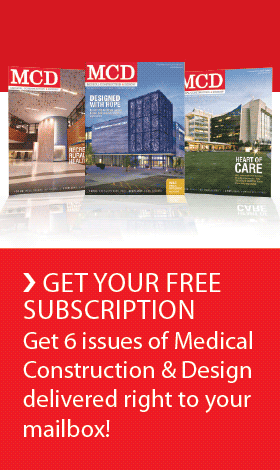 Subscribe to our E‑Newsletter
PASADENA, Calif. — Oct. 6 — Jacobs Engineering Group Inc. (NYSE: JEC) announced today that it received a contract from the Stanford University Medical Center in Palo Alto, Calif., to continue providing program and construction management services for the New Stanford Hospital and Lucile Packard Children's Hospital Expansion Projects.
Officials did not disclose the contract value.
In making the announcement, Jacobs Group Vice President Tom McDuffie stated, "We are excited that Stanford University Medical Center has involved us in this critical healthcare program, and committed to providing the resources necessary for its successful completion."

Since 1959, Stanford Hospital & Clinics (SHC) has been providing excellent healthcare for Palo Alto and surrounding communities. The hospital is known worldwide for providing advanced patient care. The hospital's main facilities are outdated and cannot be brought up to new seismic standards. The new hospital building program proposes a net increase of approximately 824,000 sq. ft. The new facilities will add 144 beds for a total of 600 patient beds and will feature a new Emergency Department.
Lucile Packard Children's Hospital, which opened in 1991, is a world-class facility devoted entirely to the care of babies, children, adolescents and expectant mothers. The children's hospital expansion project proposes a net increase of approximately 441,500 sq. ft. on the current site. The new facilities will add 104 beds for a total of 361 patient beds on site, new diagnostic and treatment rooms, nursing and support services, clinics, and administrative offices.
Leadership of both hospitals is committed to sustainability. Plans include design efforts to make the hospitals as "green" as possible.
Jacobs, with annual revenues exceeding $12 billion, is one of the world's largest and most diverse providers of technical, professional, and construction services.
Any statements made in this release that are not based on historical fact are forward-looking statements. Although such statements are based on management's current estimates and expectations, and currently available competitive, financial, and economic data, forward-looking statements are inherently uncertain. We, therefore, caution the reader that there are a variety of factors that could cause business conditions and results to differ materially from what is contained in our forward-looking statements. For a description of some of the factors which may occur that could cause actual results to differ from our forward-looking statements please refer to our 2008 Form 10-K, and in particular the discussions contained under Items 1 – Business, 1A – Risk Factors, 3 – Legal Proceedings, and 7 – Management's Discussion and Analysis of Financial Condition and Results of Operations. We also caution the readers of this release that we do not undertake to update any forward-looking statements made herein.
Posted October 6, 2009
More Articles: