Subscribe Now
Keep up with the latest news with our magazine and e-newsletter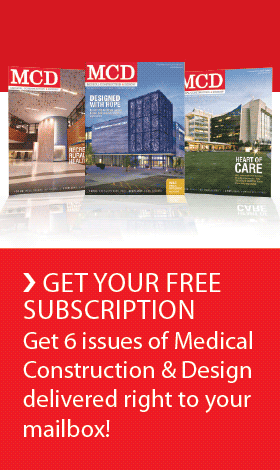 Subscribe to our E‑Newsletter
Substantial increase in green design practices and use of BIM software and continued gains in diversity of profession
Washington, D.C. — In the three-year period leading up to the current recession, gross billings at U.S. architecture firms increased nearly $16 billion from 2005 and totaled $44.3 billion in 2008. This equates to 54 percent growth over the three-year period with annual growth of about 16 percent. These findings are from the American Institute of Architects (AIA) Business of Architecture: AIA Survey Report on Firm Characteristics, which is conducted every three years to examine issues related to the business practices of AIA member-owned architecture firms. The study also revealed sizeable gains in the number of firms doing green design projects, as well as using Building Information Modeling (BIM) software.

"While architecture firms are struggling considerably as the current economic slump continues unabated, there were extensive increases in revenue for the profession during the period this survey covered," said AIA Chief Economist Kermit Baker, PhD, Hon. AIA. "Of particular note, the survey also revealed that the number of firms practicing green design has nearly doubled since 2005. The use of BIM software has also doubled in the last three years."

Top 10 sectors served by architects in 2008
o Healthcare: 18.2%
o Office space: 11.3%
o Education (K-12): 9.0%
o Education (college/university): 9.0%
o Retail, food services: 8.4%
o Government / civic: 5.9%
o Hospitality: 4.8%
o Industrial: 3.6%
o Transportation: 2.9%
o Recreational: 2.3%
Dramatic increase in practice of green architecture
Fifty percent of architecture firms report green design practices, up from 31 percent of firms in 2005. Firms with 10 to 49 employees had the biggest gains in green design work, which increased from 48 percent to 72 percent in the last three years.
Increased diversity within profession
There was a sharp rise in the number of minority licensed architects moving from 11 percent to 18 percent, with a three percent increase in the number of minority partners/principles, and minorities now compose 19 percent of all architecture staff. The gains have been smaller for women over the same period with only one percent increases in the number of principals/partners and for all architectural staff. The number of licensed architects remains to be 20 percent, but there were increases in the number of female non-licensed architects and interns, three and five percent respectively.
Other highlights from the survey:
o Share of firms that have obtained BIM software has increased from 34 percent in 2005 to 69 percent in 2008
o Nearly two-thirds of construction projects begun in 2008 had sustainable design features
o New construction accounts for nearly two-thirds of design projects
o Traditional design-bid-build delivery method most widely used by architecture firms
o International projects accounted for 7 percent of billings and totaled slightly more than $3 billion in revenue in 2008n:
The Business of Architecture: AIA Survey Report on Firm Characteristics, available only in PDF format, is $59 for AIA members and $99 for nonmembers.
Order online or by calling the AIA Bookstore, 202-626-7475.
To find the survey on the Bookstore Web site, click on "store" on AIA.org, then click on "publications," scroll to the right to get to the search box and type in "firm survey."
About The American Institute of Architects
For over 150 years, members of the American Institute of Architects have worked with each other and their communities to create more valuable, healthy, secure, and sustainable buildings and cityscapes. By using sustainable design practices, materials, and techniques, AIA architects are uniquely poised to provide the leadership and guidance needed to provide solutions to address climate change. AIA architects walk the walk on sustainable design. Visit www.aia.org/walkthewalk.
Posted October 20, 2009
More Articles: