Subscribe Now
Keep up with the latest news with our magazine and e-newsletter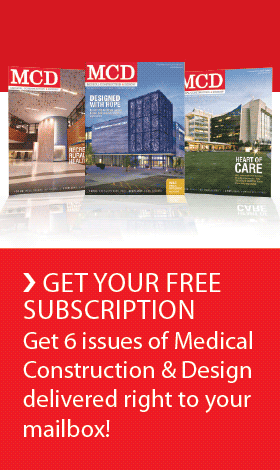 Subscribe to our E‑Newsletter
Doylestown, PA. — One of Bucks County's largest employers will create more than 450 temporary positions and 180 new health care-related jobs with the help of a new state investment in an ongoing expansion project.
Doylestown Hospital Authority will receive an $11.1 million grant, on behalf of the Doylestown Hospital, from the Department of Community and Economic Development.

The funds will be used towards the $87 million relocation and expansion of the hospital's emergency department. The new emergency department will be in a more visible and accessible site on the east side of the hospital's main campus, and increase in size from 11,500 sq. ft. to 55,756 sq. ft. and reduce the time patients spend in the waiting room.
"This expansion and relocation project will allow Doylestown Hospital to better accommodate the growing needs of the community it serves," said DCED Deputy Secretary Dee Kaplan of the Infrastructure and Facilities Improvement Program investment. "This project to improve the hospital's infrastructure will boost employment opportunities and provide Doylestown Hospital with the facilities it needs for the people it serves."
The hospital expansion will also include: a chest pain center; an indoor Hazmat/bioterrorism treatment facility; infrastructure for a future rooftop helipad; expanded HVAC capabilities; a second-floor shell space that will accommodate the potential future expansion of 39 additional private treatment areas; and a 400-parking space garage.
The IFIP funds will be distributed annually for 20 years as a $557,000 grant. The project is expected to leverage more than $75 million in private financing.
"This project highlights the Rendell administration's commitment to making public investments that will grow our economy and provide for the health and safety of Pennsylvania residents," Kaplan said in front of the main entrance of the Doylestown Hospital. "It's one of the best kinds of investments we can make."
The Infrastructure and Facilities Improvement Program is a multi-year grant program that helps with debt service payments for certain infrastructure and building projects, including costs associated with improvements, environmental remediation, administrative expenses and preparation of plans and studies.
Since the program's inception in 2004, the Rendell administration has committed more than $36 million to 32 projects that are projected to create more than 21,000 opportunities.
For more information on the Infrastructure and Facilities Improvement Program and other DCED programs, visit www.newpa.com or call 1-866-466-3972.
CONTACT:  Theresa Elliot
(717) 783-1132
Posted June 10, 2009
More Articles: