Subscribe Now
Keep up with the latest news with our magazine and e-newsletter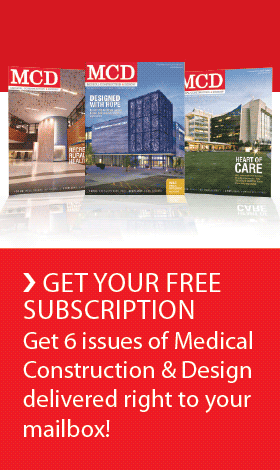 Subscribe to our E‑Newsletter
Milwaukee, 3/30 — Following a special ribbon cutting ceremony attended by community leaders and patient families last night, Children's Hospital of Wisconsin opened its new revolving door and lobby to the public this morning, beginning a new chapter in its 115-year history of caring for children. The 12-story, 425,000 square foot west tower expansion, built directly in front of the existing hospital, will take the hospital from 236 licensed beds to 294, with room for additional expansion in the future.
Choreographed patient moves into the new hospital space will begin Monday, April 6, when floors 3 through 5, Critical Care, will be occupied. Acute care floors 9 through 11 will be occupied Monday, April 27, and Herma Heart Center moves into its new space on the second floor of the new tower in early May. The west tower, for which construction began in 2005, was built based upon a demonstrated need. Admissions, patient days and outpatient visits all have reached record levels annually and have exceeded projections of expected growth.

"Our hospital continues to be one of the busiest pediatric medical centers in the nation," said Cindy Christensen, RN, JD, executive vice president and the hospital's chief operating officer. "Children's reputation continues to grow nationally. More and more families are coming to us not only from Wisconsin and northern Illinois, but from across the U.S. for our highly specialized care. This new building will enable our staff and physicians to provide the safest, most leading-edge care in a supportive, healing environment."
The lobby has a number of new wayfinding features to help families, including the Reiman Family Welcome Center where guests will check in and be provided assistance in reaching their destination. Designs in the floor, including a flock of flying birds, swoop toward the elevators to help with wayfinding. The lobby also features Café West, a new dining area for families, O'Neil Family Gift Shop, the Brotz Family Chapel, and the expanded Daniel M. Soref Family Resource Center. The Nicholas Family Foundation Aquarium, a 900-gallon saltwater tank built into the wall, is a calming feature for children and parents who might be feeling anxious about their visit.
A key benefit of this expansion is that the entire hospital will have private rooms which will provide patient family privacy and greater infection control. Rooms are approximately 30 percent larger than the hospital's existing rooms and were designed based upon input from patient families, nurses, physicians and staff members. A number of child-friendly features, like bright colors and artwork created by local school children help create a more comfortable, healing environment for patients of all ages.
"We are pleased that this building project has been completed on time and on budget," said Tim Birkenstock, chief financial officer and treasurer, Children's Hospital and Health System. "This current expansion is an essential step, needed to keep pace with our patient service demands, yet we remain one of the most cost-efficient providers of pediatric healthcare in the country."
The $168 million project, fully equipped, was financed through a combination of debt, cash, hospital equity and philanthropy. Architects for the project are Shepley, Bulfinch, Richardson and Abbott, Boston, and Zimmerman Design Group, Milwaukee. Boldt Construction of Waukesha is the construction manager. Other members of the construction team include Graef, Anhalt, Schloemmer (civil engineering), Ring and Duchatau (mechanical, electrical and plumbing) and Harwood Engineers (structural). More than 25 local contractors supported constructon of the west tower.
Children's Hospital of Wisconsin, founded in 1894, is recognized as one of the leading pediatric health care centers in the United States. It is rated No. 3 in the nation by Parents magazine and named one of America's Best Children's Hospitals by U.S.News & World Report. Children's Hospital of Wisconsin is a Level I Pediatric Trauma Center verified by the American College of Surgeons. The hospital has been redesignated a Magnet hospital by the American Nurses Credentialing Center, a national honor that recognizes nursing excellence. Children's Hospital is the flagship member of Children's Hospital and Health System. The health system is able to fulfill its mission thanks in part to philanthropic gifts and support from members of the community. Private, independent and not-for-profit, the hospital serves children and families from Wisconsin, the Upper Peninsula of Michigan, northern Illinois and beyond. For more information, visit the Web site at www.chw.org.
Posted April 23, 2009
More Articles: