Subscribe Now
Keep up with the latest news with our magazine and e-newsletter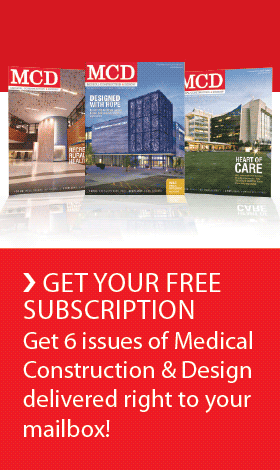 Subscribe to our E‑Newsletter
DETROIT, Dec. 8 — The first phase of the two-story, $35-millionHenry Ford II (West) Pavilion expansion project is set to open, offering patients and their families access to 40 new private rooms complete with wireless Internet access, patient-controlled lighting and room temperature, and space for family members to stay overnight.
The expansion is part of the $310 million investment in the Henry Ford Hospital Campus. It will house 80 private rooms including 20 intensive care rooms on two floors once complete, bringing the total number of ICU beds at Henry Ford to 162 — the largest ICU in Detroit. Phase two of the project is slated to open in the spring of 2009.
"By reinvesting in the Henry Ford Hospital Campus, we're able to maintain and sustain the flagship legacy that has been established through the decades of providing the best medical services available to the citizens of Detroit and to patients from around the world," says Nancy Schlichting, president and CEO of Henry Ford Health System.
In all, nearly $90 million has been spent in the past two years, including the expansion and renovation of the Emergency Department in 2006.
"This investment represents the single-largest investment in renovation and expansion in the hospital's history," says Anthony Armada, FACHE, president and CEO of Henry Ford Hospital and Health Network. "Our vision is to continue to renovate and update existing units to continue to meet the needs and expectations of our patients. This expansion provides for more flexibility in patient bed locations, allowing us to renovate existing units without impacting patient care."
Before being built, more than 2,000 people — medical staff, patients, families and community members — toured prototype patients rooms to test room configurations, colors, fixtures, finishes, furniture and equipment. Based on their extensive feedback, Henry Ford made hundreds of design changes. The result is the private patient rooms on the sixth floor of the Henry Ford II Pavilion. Beginning Dec. 16, general surgery patients, as well as bariatric and gynecological surgery patients, will receive care in these new rooms.
Designed with a home-like setting in mind, each room includes natural maple crown molding and chair railing, wood flooring, soothing colors and modern furniture to provide a more comfortable environment in which to receive care. Some special features of the new patient rooms are:
— Privacy: Private rooms have been shown to reduce the spread of infection. Patients will check in and out of the same room, and there will be minimal patient transfers, lessening noise slot machines and sleep disruption.
— A quieter stay: The new patient rooms do not share common walls or ceilings, which is unique to hospitals. This design eliminates the noise from neighboring rooms and significantly lessens hallway noise.
— Space for your family: Family members have space to stay overnight in every room. This space is equipped with a sleeper sofa and a reclining chair for patients and visitors.
— Smart technology at your fingertips: Patient rooms have wireless Internet access, phone, remote-controlled window treatments, and multiple, adjustable lighting options. In addition, an individual temperature controlled thermostat lets patients create a more comfortable and relaxing environment.
— Flat screen TVs with bedside remote: Patients can watch educational programs about their illnesses and other health issues via the Henry Ford channel, as well as cable TV.
"The new rooms will offer our patients online pokie and their families both privacy and comfort," says Veronica Hall, R.N., chief operating officer of Henry Ford Hospital and chief nursing officer for Henry Ford Hospital & Health Network. "One of the additional benefits to adding these two floors is its close proximity to the existing intensive care units, Surgery, operating rooms and Emergency Department."
The expansion also has been designed to optimize work space for health care providers. The two new floors will feature:
— Work alcoves outside each patient room: These areas will be quiet, and staff can check on patients through alcove windows, leaving doors closed. Louvers inside the windows between the alcoves and the patient rooms can be controlled from both sides.
— Welcoming nursing stations: With low walls, the nurses' stations have a more accessible design, allowing family members to feel welcome to approach staff. The ICU nursing station allows staff to see into all the ICU alcoves and closely watch patient areas.
Other expansion projects include:
— Clinical Skill Simulation Center – $5 million: This 12,000-square-foot facility, the largest in the Midwest, has opened at Henry Ford Hospital allowing health care professionals to practice and augment their skills using state-of-the-art simulations including computers and mannequins that can simulate hundreds of different medical conditions. The facility houses two operating theaters (one with a $1.6 million da Vinci robot system), six clinical rooms, a minimally invasive procedure lab with more than 30 stations, and two classrooms. Fully-equipped, reconfigurable rooms simulate surgery, labor and delivery, intensive care, emergency and routine hospital scenarios.
— Expansion of existing operating rooms – $10 million: Three new operating rooms will be added that are designed to accommodate new technology, including robotics and additional pre-surgery and recover room capacity.
— Outpatient tower redevelopment – $33 million: Major redevelopment and redesign for Oncology, Gastroenterology and Nephrology/Transplant, Urology and Orthopedics.
— Research & Education development – $13 million: Expansion and relocation of a number of labs including Neurology and Neurosurgery, Hypertension-Vascular, Genetics, Urology, Epidemiology.
— Infrastructure – $50 million: Redevelopment of the core heating, cooling along with electrical and emergency power distribution systems.
— Ongoing imaging and medical equipment replacement – $120 million
— Routine renovation and replacement capital – $100 million
Henry Ford Hospital, a 903-bed tertiary care hospital, education and research complex in Detroit's New Center Area, opened its doors to patients in 1915. Since then, it has grown to become one of the country's most respected hospitals, attracting patients from nearly every state and numerous countries. Henry Ford is the flagship hospital for Henry Ford Health System.
Demand for services downtown has significantly increased in recent years and is anticipated to grow faster over the next decade. From 2003 to 2005, Henry Ford Hospital had the highest admission growth in southeast Michigan, with an increase of 13.4 percent.
Posted March 30, 2009
More Articles: