By Kevin Farquhar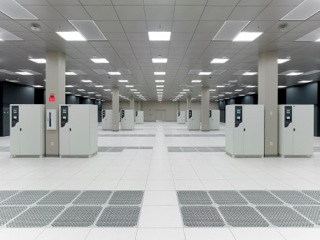 In the past decade, medical facilities have been establishing the foundations for the new era initiated by the need for electronic medical records. That need has been expanding, however, to include data security and support for such technologies as filmless radiology, video records of operating room procedures and inpatient room entertainment and video instructional guides.
Compounding the need for powering faster and more reliable data is the move toward more healthcare delivery in outpatient (as opposed to inpatient) rooms, the bundling of security and closed circuit TV systems with medical-records systems and access across multiple providers in various locations. Whether on the cusp of building a new data center or expanding an existing one, here are five critical factors to consider:
1. Design planning
Begin the design process by bringing the right people to the table. In addition to an architect and healthcare and facility management, include staff from IT, operations and audiovisual support. Plan a budget with a focus on accomplishments projected at least 10 years out. Then, the design needs to focus on location and size allocation for one or several data centers.
2. Size and location
Today, 65 percent of hospital server rooms or data centers are 2,000-3,000 square feet. That amount of square footage may be hard to come by. Decide whether to put the data center in the hospital, or in another building (or buildings) close by. If located safely outside of a flood plain, consider locating the data center in a basement. To build in flexibility and ensure redundancy in case of disaster, consider locating the servers in two geographically separate or remote locations.
3. Connectivity
Cable is the primary conduction and backbone for data centers. When multiple remote servers are linked together via cable paths, the composition can create a data "cloud" internal to the medical facility. Wireless connectivity in outpatient, inpatient and operating rooms, however, offers more flexibility and less expense when changing out old equipment for new.
Make sure the data center has a safe, consistent power source using a combination of fiber and web-based services. With medical facilities bundling more into IT systems, consider a larger uninterruptible power source. When spreading data systems among two or more locations, ensure connectivity between multiple facilities back to the data center.
4. Ensure redundancy and reliability
Medical data centers need two primary sources that can carry the full load for redundancy and reliability. When considering maximum uptime required, consider that 60-70 percent of data centers in healthcare facilities are Tier II or Tier III (defined as complexity of independent distribution serving dual power IT equipment). Tier II differs from Tier III in that it has a single distribution path, which could lead to downtime. If considering two remote data facilities, two Tier II systems can provide the reliability of a single Tier III system.
5. Energy efficiency
Servers are more efficient than three years ago. Plus, the ability to virtualize data on servers allows for more information to run on fewer servers. In combination, these attributes allow for energy reductions of from 30 to 50 percent over the baseline from three years ago. New LEED 2012 guidelines for hospitals also demonstrate strategies for reducing the energy footprint throughout the facility, including in the data center.
In addition, new IT equipment has been designed to run at higher temperatures, thus saving on energy for cooling. Air-cooled systems work best in facilities on an outside wall or in an environment with a cooler climate. Still, the system should not bring in contaminants from the outside. DX systems with split cooling elements and units inside the data center are generally the most scalable and flexible. As server systems become more elaborate and data centers become larger, keeping equipment hot-aisles aligned and cool-aisles aligned will maximize airflow and efficiency.
As healthcare continues its technological evolution, adding new systems and programs that require faster and more reliable data delivery, the design of data centers will become more critical. Medical facilities need safe and secure data centers with built-in flexibility, reliability and redundancy. Implementing these five critical factors in the design of data centers can ensure success.
Kevin Farquhar, AIA, is vice president and principal of HGA Architects and Engineers.
Photo courtesy of Don Pearse Photographers, Inc.