Subscribe Now
Keep up with the latest news with our magazine and e-newsletter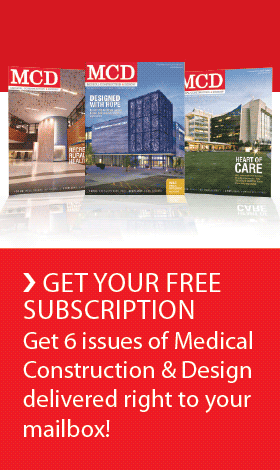 Subscribe to our E‑Newsletter
The new 16,000-square foot Neuroscience Intensive Care Unit at Robert Wood Johnson University Hospital, located in New Brunswick, New Jersey and completed in spring 2019, presents a unique case study on opportunities to effectively repurpose existing space for acute patient and family care.
The project reimagines an existing clinical research center on the campus into a design that prioritizes care through visibility and engagement, while utilizing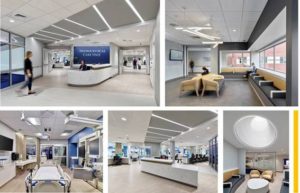 advanced technology and materiality to maintain patient and family privacy. Working with the existing floor plate, preliminary planning was done to realize 15 patient beds along the perimeter of the floor for adequate daylight and flow. The core was shaped to open sight lines across the unit, increase connectivity between nurse care stations, allow quicker response times to emergencies and centralize the clinical innovation space on the unit.
The unit features an unconventional shape inspired by a butterfly's wing that removes distinct physical boundaries between the care team and the public circulation to allow for greater collaboration and accessibility. To protect the privacy of patients, visitors and staff in such an open unit, design features such as electrochromatic glass and custom decorative film were integrated throughout to create an adaptable care environment. Lights integrated into the base of the nurse stations can change colors to honor organ donation on the unit or remain a white glow to highlight the care team's location.
Patient rooms contain built-in storage and a dedicated space for visiting family at the front of the room. This allows families to remain close to their loved one while offering an easy exit in the event of an emergency. Families and visitors can also find respite in a dedicated quiet waiting area contoured so users feel cocooned and comforted while in the unit, providing a moment of respite and privacy during moments of crisis, all of which are integral to the overall patient and visitor experience.
The project team included Stantec Architecture & DCC Design Group and WM Blanchard Construction Company.
Posted October 21, 2019
More Articles: