2018 poll reveals change, growth synonymous  
By Chris Maday Schmidt
Patient safety. Wearables. Telehealth. Value-based care. These are just a few of the buzzwords on the state of today's healthcare trends. Not only do these trends speak to an ever-evolving level of care, but they also affirm that the medical construction and design industry is thriving. In fact, according to a survey conducted by Medical Construction & Design in partnership with nora systems, Inc., there is an overall consensus that—in terms of building and design—the industry, in spite of any uncertainty on the horizon, will continue to grow.
The survey, conducted of MCD readers via email, covered a range of topics focusing on today's and foreseeable trends in healthcare. The following is an overview of building activity, project value and overall project size—as well as straight talk about healthcare mergers, infection control measures being implemented in the built environment and future growth of the industry.
Healthcare building activity, overall size & project value
From the responses received, we learned that healthcare activity is increasing for 68 percent of firms. Outpatient facilities and medical office buildings are leading the way in terms of building activity at 88 percent of respondents indicating they are building this type of project either the same or more, followed by specialty clinics (e.g., heart, cancer center, behavioral, etc.) at 81 percent, emergency rooms at 77 percent and full-service hospitals at 66 percent.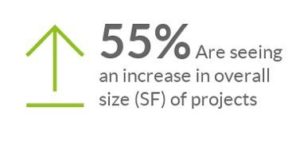 And, according to respondents, 55 percent indicated that the overall square footage of their healthcare projects is increasing, while 9 percent felt the square footage was decreasing and 36 percent felt it was staying the same. When questioned on
project size, the majority of healthcare project values, on average, have increased at 66 percent, while 4 percent have decreased and 30 percent have remained the same.
Rather than new building projects, however, the bulk of these projects are being geared toward renovations with over 60 percent of respondents indicating that more than half of their projects are renovations vs. new buildings. In addition, 53 percent of firms are implementing more security measures, 44 percent are tailoring more toward the older population (65 and older) and 38 percent are placing more emphasis on disaster planning.
Healthcare mergers vs. uncertainty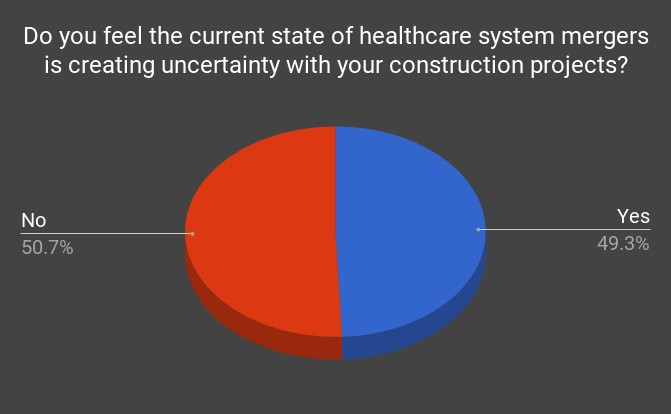 It goes without saying that the only constant is change. And when it comes to healthcare system mergers—headlining in terms of the built environment, as well as big pharma—it's no different. The audience was split down the middle with half feeling as though health system mergers are creating uncertainty with their projects. However, while firms acknowledged ambiguity in the market due to these mergers and that potential project delays can result, the consensus reveals that—in spite of the inherent uncertainty—projects continue to move forward. Moreover, many are attesting that mergers can be helpful in order to generate a better flow of service lines and/or to devise new and different ways for projects to be budgeted and executed. Yet, firms are stating that in some cases capital might be tied up in acquisitions—therefore rendering the funds not readily available for renovations or new construction. But, rather than a cause for alarm over these market uncertainties, the overarching attitude is positive and indicates that these mergers are, instead, bringing about new opportunities—even if simply through a change in project scope or size.
Infection control top of mind
The topic of infection control continues to play an integral role in the medical construction and design industry. The majority of firms agree that infection control measures will continue to be incorporated into healthcare projects going forward, with 70 percent of respondents saying the types of infection control methods they are incorporating into their projects include design and planning, containment during construction, medical staff involvement (e.g., initiatives, awareness, etc.) and product selection.
Several firms offered additional insight that speaks to a definitive call for infection control procedures before the beginning of design and throughout to completion. Cited measures include maintaining negative air pressure inside work areas at all times, and through the monitoring of air quality and controlling access into facilities from the construction sites at commencement to completion.
Skilled workers and future growth
The skilled worker shortage is an ongoing concern in the construction industry and healthcare is no exception. Nearly three-quarters of respondents say the skilled-worker shortage has notably affected building projects across the board.
As far as what the industry can expect to observe within the built environment as we move forward, over half of respondents indicated that they are utilizing all of the following: greater use of flex space, future planning considerations incorporated into their design plans (e.g., clearances, locations of departments, etc.) and building additional shell space for future use.
Others said they anticipate more planning for acuity adaptability — developing rooms with a treatment model that allows all stages of patient care — as well as an increase in the use of donor names, master planning efforts and an emphasis on avenues of expansion. With these types of forward-thinking plans in the pipeline today, it points to an optimistic tomorrow for medical construction and design.
To see detailed results of the survey, click here.
---
Medical Construction & Design thanks nora systems, Inc., a leading global manufacturer of commercial rubber flooring solutions, for their support of this survey. Their premium rubber plays an essential role in enhancing performance in buildings across many industries, including healthcare, where patient outcomes are the shared goal. The ability for patients to rest in quiet hygienic surroundings, maintenance teams to eliminate chemicals and turn over spaces in half the time and caregivers to feel relief from foot, leg and back pain from long shifts are just a few of the ways nora holistically supports the healthcare segment. All of these impacts lead to more positive patient outcomes.
nora recognizes its social responsibility toward the environment and its commitment to sustainability. For years, the company has given environmental stewardship the same priority as all other company objectives as it makes and sells products that are as ecologically compatible as possible in terms of content, manufacturing, use and disposal. For more info visit: nora.com.