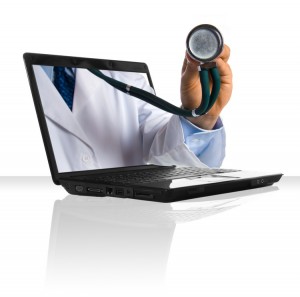 The primary care clinic traditionally has been the center of the community healthcare system. Yet anyone who has walked through a big-box retail store lately may have noticed that health services are branching out. No longer restricted to the brick-and-mortar setting of a traditional clinic building, healthcare services are going where the patients are — in the workplace, the retail store, the community hub, the home.
Driven in part by new communication and medical technology, new healthcare delivery methods, new market demands and a new focus on preventive care, the outmigration of healthcare is gaining momentum — a healthcare version of the drive-thru bank, drive-thru restaurant, or drive-thru pharmacy that cater to a population on the go.
As with many new phenomena, the outmigration of care is a bit of a throwback to earlier healthcare delivery methods. The family doctors once made house calls. Schools traditionally employed a nurse. Mobile medical units often made trips to remote towns or distant suburbs. The town doctor had a storefront office on Main Street, sandwiched between the candy shop and hardware store. But as consolidated healthcare systems grew, the family doctor moved from Main Street to a multi-practice healthcare campus conveniently located near highway entrance/exit ramps. The outmigration of care simply brings the family doctor back to the proverbial Main Street with alternative site options.
Below are several examples of the emerging outmigration of care.
Self-Service Healthcare
The Internet is making it easier for patients to assess their health from home computers, with many healthcare organizations providing interactive online assessments that monitor health conditions. Interactive kiosks publically located in neighborhood malls also offer options for self-assessments. Of course, self-assessments are no substitute for in-person consultation with a physician, and are generally most useful for minor health conditions, such as a cold.
Wellness Centers
Wellness centers tie into the national emphasis on preventive care. The idea is to promote healthy lifestyles, healthy eating habits and healthy behavior through a continuum of care. If people can practice healthier behavior, then they can live better and the healthcare industry can contain costs. Staffed by health and wellness specialists, wellness centers include fitness facilities, classrooms and community rooms to host a variety of programming, from group fitness to health coaching, health-education classes and community programming. Wellness centers may also include rehabilitation centers, where post-acute-care patients access a variety of physical, cardiopulmonary and health-enhancing services.
Employee Health Centers
Foreword-thinking companies are taking the well-being of their team members seriously by offering health and fitness options in the workplace. The corporate benefit is a healthier and more productive workforce, resulting in increased profit and potentially lower health insurance costs. By partnering with health insurance providers, employers are establishing in-house wellness centers and clinics that offer fitness equipment, group meeting rooms and private exam rooms for a variety of onsite programming. Some companies are even contracting full-time fitness coaches through their insurance providers to offer onsite 9-to-5 health services. Other company health incentives include walking and fitness groups, health club credits and even grocery store discounts for purchasing approved foods.
Walk-in Micro-Clinics
When thinking of the outmigration of care, walk-in micro-clinics are becoming one of the most ubiquitous images of the new emphasis on convenient care. Many walk-in micro-clinics are located near the pharmacy section of big-box retail stores, but also are showing up in storefronts on pedestrian arteries. Walk-in micro-clinics focus on convenient care without an appointment, offering basic health services by a licensed nurse practitioner or physician assistant. The walk-in clinics fill a void in the healthcare system by making healthcare services more accessible to people on the go, but are not a substitute for a primary care clinic. Most walk-in clinics will diagnose and treat minor ailments, and then refer patients back to their primary care provider.
Home-Based Healthcare
Home-based care is a bit of a throwback to an earlier era when physicians made house calls. In the 1930s, for instance, nearly 40 percent of all doctor visits were house calls. By 1980, that percentage dropped to one percent. Now in 2014, telemedicine is increasing the options for patients to consult with their physicians from home. As the population continues to age and communication and mobile diagnostic technology continues to improve, the options for home-based care and telemedicine will increase. Studies have shown that home-based care can decrease the potential for hospitalization. Such services as at-home hospice for terminally ill or end-of-life care for the aged provide care in a familiar setting, easing stress for those most vulnerable. As the baby boomers continue to age, the demand for at-home care will continue to increase.
The outmigration of care is bringing healthcare services back to where people live, work and play. By offering care in a variety of alternative settings, healthcare organizations can improve health outcomes for many patients who might not ordinarily go to a clinic — especially the formerly underserved, elderly, frail, disabled, chronically ill or high-risk patients. Rather than a substitute for the traditional primary care clinic (which is expected to grow as the insured patient population grows), alternative site clinics will form an important supplement to our evolving healthcare system, bringing services to the population base and getting people in the habit of seeing a healthcare professional. Make it convenient and they will come.