Subscribe Now
Keep up with the latest news with our magazine and e-newsletter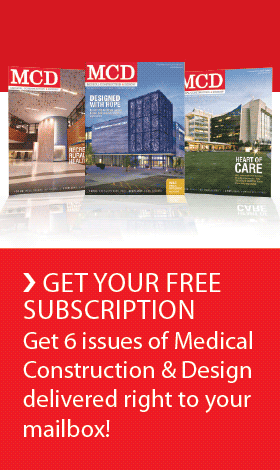 Subscribe to our E‑Newsletter
Dimensional Innovations recently completed a digital art wall, Social Butterflies, for the Carilion Children's Tanglewood Center in Roanoke, Virginia. Symbolizing restoration and tranquility, the butterfly holds a special place in the heart of Carilion Children's, even serving as an element of its brand logo. The team worked alongside Stage Sound to bring the digital butterfly sanctuary to life.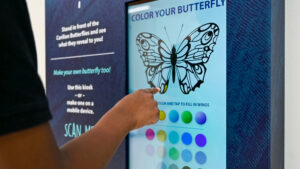 Social Butterflies is an interactive experience located in the clinic's first-floor lobby that allows children to create their own butterflies using the touchscreen kiosk or a mobile phone. Users can choose from a simple, intermediate or complex design based on the detail of the black and white sketch.
The digital art display is made up of six portrait display screens and is designed to be soothing and accessible to all children visiting the center, regardless of age or ability.
After selecting their butterfly, children can fill the wings with color by choosing from a 20-shade palette. Children then name their colorful butterfly and send it off into the wild.
Patients and families can watch their creation float across the Roanoke-inspired nature sceneries as they interact with butterflies created by fellow visitors. If a child stands still in front of the screen, butterflies will swarm to the tracked presence, creating a shape and then dispersing using three Intel RealSense cameras.
Posted May 8, 2022
More Articles: