Subscribe Now
Keep up with the latest news with our magazine and e-newsletter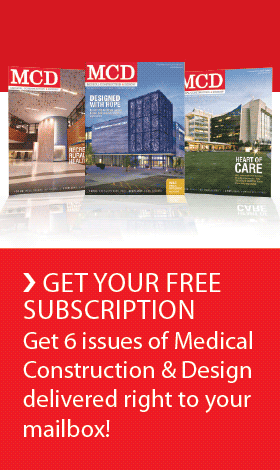 Subscribe to our E‑Newsletter
LightFair offers an opportunity to see what's now and what's next in lighting's growing health, safety and medical environments categories. The LightFair 2022 Trade Show & Conference takes place June 19 – 23 at the Las Vegas Convention Center.
"LightFair has its finger on the pulse of design, utility and innovation when it comes to the role lighting plays in different environments, including medical settings," said Dan Darby, show director. "Lighting technology is constantly evolving and LightFair's Trade Show and Conference offer access to the most up-to-date advancements and ideas."
Over five days, LightFair 2022 will present more than 300 exhibits in its trade show and 43 sessions offering 120+ CEUs in its conference. Product categories and educational sessions relevant to medical construction and design fall under two broad categories: germicidal ultraviolet light and health & life safety.
Beyond exhibits, the trade show floor's Designery offers educational opportunities with two dedicated health-light sessions. On Wednesday, June 22, Health Hospitality and our Environment, which provides case studies and best practice overviews for incorporating health, hospitality and the environment harmoniously within workflow and project solutions, will be presented by Dawn Hollingsworth of Darkhorse Lightworks and Kathryn Toth of Theia Lighting Design.
On June 23, Using UV Light as a Disinfectant discusses use of UV-C for disinfection of room air and surfaces, and its ability to effectively inactivate airborne viruses like SARS-COV2 responsible for Covid-19, with presenters Laura Cowley and Pieter De Bod of B&H Engineers.
The conference includes two sessions related to healthcare and disinfectant lighting.  On Tuesday, June 21, Lighting Genome Project, addresses the use of tools such as wearables and battery-powered, networked spectrometers to gather lighting profiles from our built environment in ways that foster new technologies and through approaches that improve the health, quality and efficiency of the lit environment. Presenters are Erik Page of Blue Iris Labs and Mariana Figueiro of Mount Sinai Light & Health Research Center.
On Wednesday, June 22, A Means of Modelling Germicidal Effects in Real Spaces with Conventional Software, explores ways to simulate UV exposure on surfaces in real spaces using the DIALux design software and effectively communicate high level germicidal effects in real spaces. Presenters are Anne Bay and Christian Krause of Viso Systems Aps.
A full list of exhibitors carrying products relevant to medical construction and design can be found at https://lf2022.mapyourshow.com/8_0/explore/exhibitor-categories.cfm#/.
A full listing of exhibit hall education and events is at https://www.lightfair.com/browse/#/show.
The full conference schedule is at https://www.lightfair.com/browse/#/conference.
Posted April 29, 2022
More Articles: