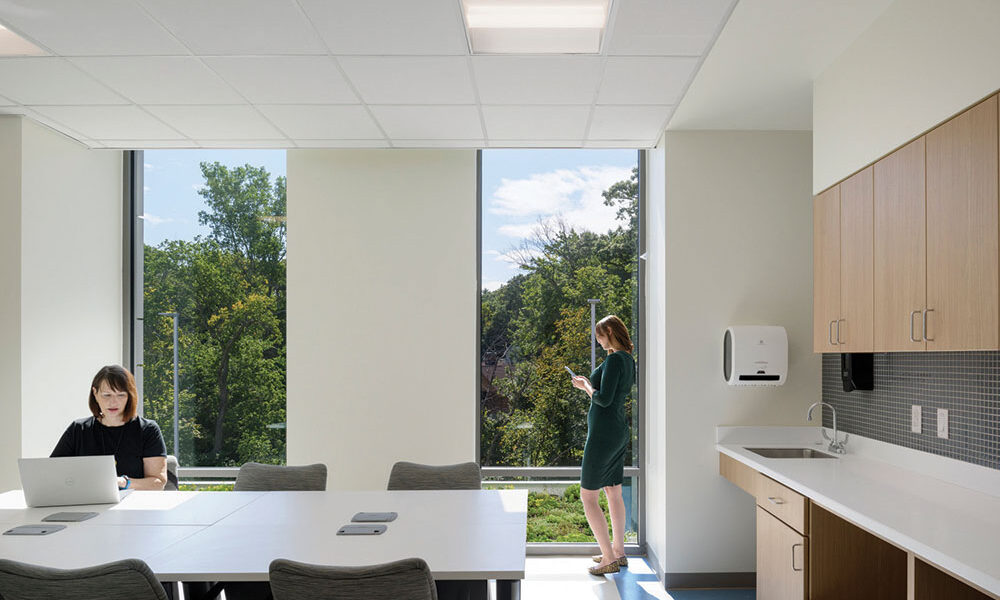 During stressful days at work, natural light can do wonders on the minds and emotions of the staff.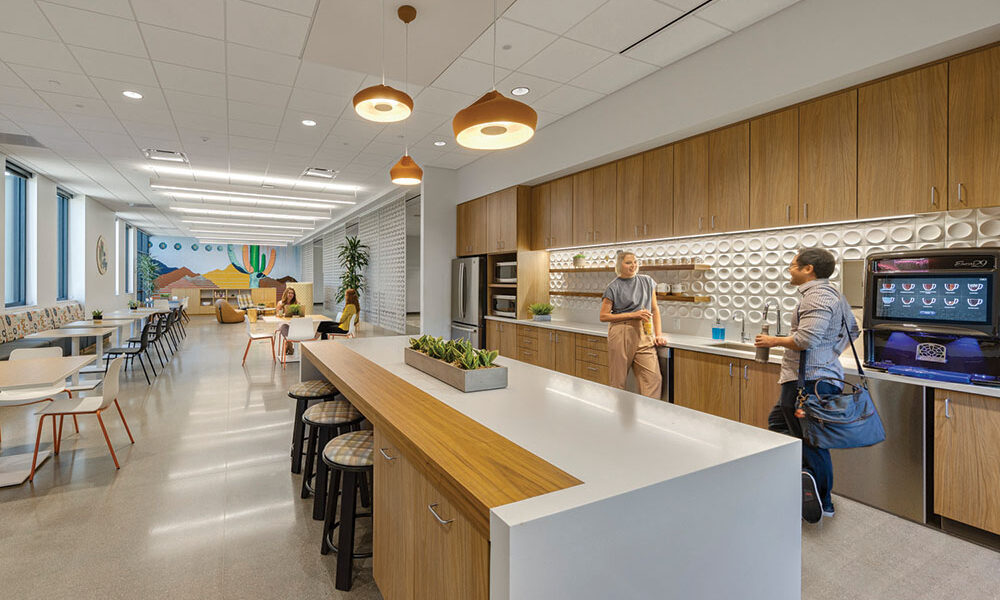 The layout of staff space should be functional, flexible and innovative so it is structured with an array of areas for various needs. The space should be able to compartmentalize into different areas, such as public, private and personal.
◀
▶
Subscribe Now
Keep up with the latest news with our magazine and e-newsletter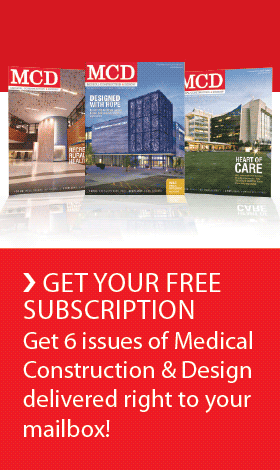 Subscribe to our E‑Newsletter
By Srilakshmi Neergundha
A staff respite area in a healthcare setting is an essential place for staff — the hospital's caregivers — to reset, rejuvenate and restore. This space provides a resting area where they can relieve from stress and take care of themselves after taking care of others. The area can also be a social hub for healthcare workers to connect, communicate and collaborate with each other. 
Often, these spaces are designed as an after-thought. They are usually drab, dark, small or located in semi-public areas that are mostly inconvenient and uncomfortable. There is an essential need to change the way we think about designing these respite areas to provide the most efficient accommodations. After all, it's equally as important to design quality care for the staff in healthcare facilities as it is to design for the patients. 
When creating these areas, it is essential to form a space that is nonclinical in nature and provides users with an area to unwind, relax and to take a break from the sterile hospital setting. A staff member's day may consist of emotional and difficult situations when tending to patients. This space should provide somewhat of an escape from the antiseptic smell and continuous cacophony of beeps and alarms. While designing for a staff lounge/respite area, there are three key elements to consider: location, light and layout.
#1:  Location
Location is a central component to ensure these spaces are appealing to staff. The staff lounge should be in a convenient location. Designing the space in a centrally located area helps make it visible and easy to access. Doing so also provides ease to staff as they fluctuate through their workflow and take quality breaks. For example, if a respite space is located on the same floor as the staff's work e.g., a respite area being down the hall for a nurse working in a maternity unit, this allows staff to travel in close proximity and take breaks when they want and for how long they want. 
Locations may differ by facilities, but all staff lounges/respite areas should be neither too far nor too close to inpatient units. The space should be far away from where medical care is provided to allow staff to disconnect, yet still remain close for staff to easily return to patients without any issues. 
#2: Light
In designing for comfort, consider how light is integrated into these spaces. Numerous studies have repeatedly proven that natural light is an energy booster and capable of uplifting peoples' moods. During stressful days at work, natural light can do wonders on the minds and emotions of the staff.  
Light has the power of healing with the ability to help individuals destress and give a feeling of hope and peace. This sense of calm can even allow staff members to think and look beyond the hospital realm. Light and its benefits are not only undeniable, but also essential to health and well-being. 
During the programmatic phase, planners and designers should ensure the staff space has access to natural light, with a visual connection to nature. It is also a good idea to incorporate nature-driven elements in the design, such as a healing garden, to create a serene atmosphere of comfort and relaxation. For nighttime lighting, consider having the option to adjust color temperature and light levels with dimming options. These can simulate the quality of natural light.
#3: Layout
Lastly, the layout of the room should be functional, flexible and innovative so that it is structured with an array of areas for various staff needs. The space should be able to compartmentalize into different areas such as public, private and personal. For example, the public area should house a kitchenette and dining area; the private space should include small booths where two people can have a private conversation or have a quiet working space. A personal area could contain an energizer pod or a chair that's suitable for a power nap. As flexible spaces in healthcare become even more important, the space should also be able to function as a multipurpose room during emergency surges. 
Within the layout, the space should be designed to feel therapeutic in nature. This includes incorporating calming colors and textures, such as sky blues, calming whites or even a touch of pale yellow. Doing so can provide an energizing and uplifting atmosphere, resulting in positive effects on staff's overall well-being. We can further enrich and stimulate the senses by integrating natural textures of wood, stone or even graphics that mimic natural materials. 
The bottom line: It is important to put the same amount of thought and planning into respite areas as we do for exam rooms and operation theaters. Designing effective and meaningful respite areas for the staff provides them with a space to disconnect, which can enhance both their professional and personal efficiencies. The pandemic highlighted the vital role of healthcare workers in caring for all individuals. Their dedication and sacrifice are unparalleled. When designing healthcare facilities, we need to advocate for the importance of these respite areas and continue creating adaptable and resilient areas for future care teams.  
Author: Srilakshmi Neergundha
Srilakshmi Neergundha, NCIDQ, LEED AP, is a project architect/project manager and a senior interior designer with Shepley Bulfinch.
Posted April 5, 2022
More Articles: