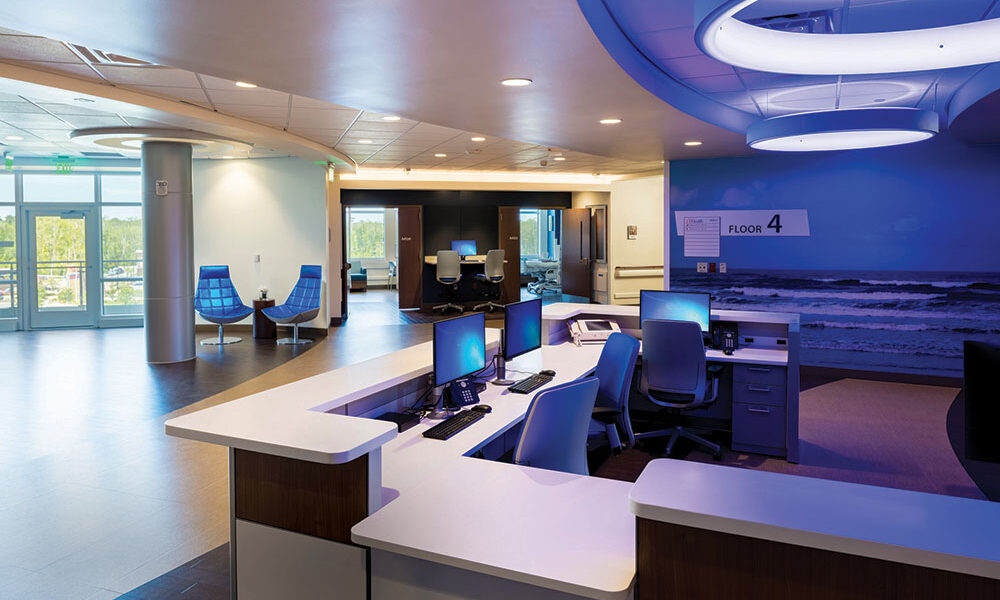 The large centralized collaboration stations offer 18 unassigned seats at varying workstation configurations. Perches outside patient rooms provide space for completing charting and other work, while monitoring patients.
Subscribe Now
Keep up with the latest news with our magazine and e-newsletter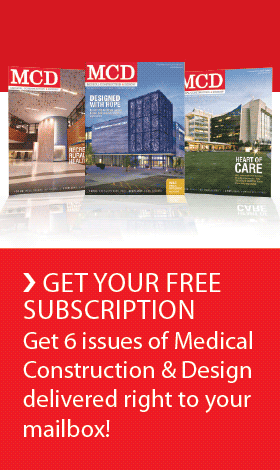 Subscribe to our E‑Newsletter
By Penny Houchens
A nurse once told me she spent 30 minutes in her car listening to music preparing herself to face the coming shift. Essential team members within the healthcare system, nurses are leaving the profession in droves, and today I wonder if that nurse is one of them. The biggest culprit of this turnover? Burnout. Symptoms include physical, mental and emotional exhaustion, job dissatisfaction, depression and for some, PTSD. Increased stress due to the COVID-19 pandemic has only exacerbated the issue. 
However, research suggests the built environment may help reduce burnout. While the layout of healthcare spaces is based on procedures and best practices, making it tempting to think of healthcare delivery as a regimented process, in reality, each person working within the unit has a different work style. By creating an environment designed to support personalization, while at the same time reinforcing and enhancing the organization's goals, designers can improve clinician well-being. And improving clinician well-being ultimately improves patient care and helps hospitals mitigate the $40,038 average turnover cost per nurse, as reported by Nursing Solutions Inc. in its 2021 NSI National Health Care Retention & RN Staffing Report. 
Working with the University of Florida Health System, Gresham Smith looked to reduce nurse turnover when designing nursing units at UF Health North, UF Health Jacksonville's 92-bed inpatient wing at its full-service hospital in North Jacksonville. Using strategies from corporate workplace design, staff support spaces were designed on the four inpatient floors to promote collaboration, increase efficiencies and elevate the staff experience. 
Two years after the units opened, we returned to the hospital and conducted a post-occupancy evaluation to determine how the design impacted workplace culture and staff retention. Based on findings, the following design strategies can help create staff support spaces that care for caregivers. 
Embrace a hybrid model 
Healthcare designers have typically used a centralized model to design staff support spaces by locating a main work area in the center of the unit. This model promotes camaraderie and peer support among clinical staff, but tends to create longer travel distances and more time away from patients. Additionally, in intensive care units, clustering staff in one large space can create excess noise and make it more challenging to observe patients. 
In recent years, designers have pivoted to a decentralized model, dispersing smaller work areas throughout inpatient floors. This model enables staff to spend more time with patients, increases observation and can reduce travel distances, but has the unintended consequence of isolating nurses. As a result, nurses often socialize and consult each other wherever they happen to cross paths.
When designing the inpatient units for UF Health North, we split the difference between the centralized and decentralized models and embraced a hybrid model to support a variety of work styles and functions. Our design consisted of a large collaboration station in the center of the unit, and a glass-walled room and two private offices adjacent to the collaboration station. We also added individual touch-down stations between each pair of patient rooms, created an enclosed collaboration work area at the back of the unit and placed a multi-purpose room at the front of the unit. 
The post-occupancy evaluation revealed staff used all of the spaces throughout their shift. Over 92% of patient charting was done at the central nurse station, the alcove outside the patient room or inside the patient room itself. Over 91% of collaboration happened at the central collaboration station or in the multipurpose room, except for on the ICU floors, where staff used the larger alcove between patient rooms. 
Additionally, 75% of staff reported the design provided the perfect balance between work and social interaction, with an additional 16% noting the layout made work very interactive. Over half of the nursing staff also said the new layout enhanced team communication. 
During the pandemic, this layout proved advantageous by giving nurses a variety of socially distant workspaces to choose from, without the need to purchase dividers or rearrange power and data devices. 
Provide easy break room access 
While design elements can't change the fact that nursing is a demanding profession, we can provide easy access to spaces for staff to rest and recharge. A direct response to requests from user groups during the project's planning phase, we located the break room adjacent to the centralized nurse station on each of the floors, shortening the distance staff must walk to get water, coffee or a snack. 
During the post-occupancy evaluation, over 66% of staff said they regularly use the break room located off the nurse station, with no staff members reporting that they travel to another floor to take their break. This suggests that providing convenient access to break rooms may encourage nurses to take more frequent breaks. 
Planning for change
Across industries, workplace design trends, as well as the composition of the workforce, will continue to change over time. As the healthcare industry in particular continues to evolve at a rapid pace, there are endless opportunities to thoughtfully implement design elements that promote a superior staff experience. By embracing a hybrid model that supports a variety of workstyles and provides easy access to space for rest, we can better care for the caregivers who tirelessly care for others. 
Author: Penny Houchens
Penny Houchens, NCIDQ, IIDA, LEED AP, Lean, is a senior interior designer at Gresham Smith.
Posted April 5, 2022
More Articles: