Subscribe Now
Keep up with the latest news with our magazine and e-newsletter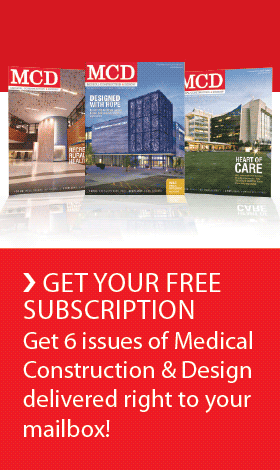 Subscribe to our E‑Newsletter
In an effort to improve the patient and caregiver experience within a variety of healthcare settings, our teams utilized evidence-based research and science-driven testing to create the Asana, Nidra, and Zenscape collections of heterogeneous sheet flooring.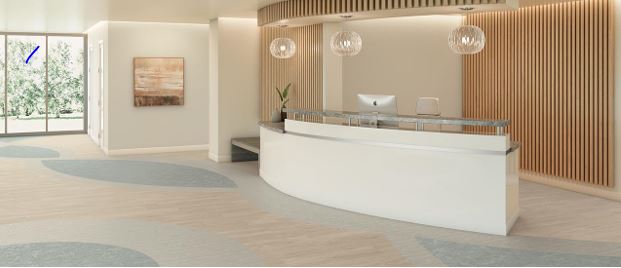 With growing evidence that bringing nature indoors helps reduce tension, minimize length of stay, and lessen the need of medication for patients, these healthcare-inspired collections leverage biophilic design and meditative patterns in an effort to create soothing, stress relieving environments.
In addition to well-thought-out designs and colorways, Asanda, Nidra, and Zenscape are engineered to stand up to the wear and tear of commercial settings.
Available in 6, 9, and 12-foot rolls, these collections offer installation and design flexibility. By providing access to wider rolls, we are able to reduce the number of seams in any given installation – the newly-available 9-foot rolls are perfect for standard 8-foot hospital corridors, as the remaining 12 inches (6 inches on either side of the corridor) of sheet can be utilized as floor-to-wall flashing to eliminate side seams.
The varying widths also play a role in other areas of healthcare facilities, such as common areas and patient rooms. By lessening the amount of required seams in patient rooms, we are able to better mitigate cross-contamination and improve patient experiences.
As previously noted, our new HET sheet collections were designed to withstand the rough and tumble healthcare environment. This is in large part due to the inclusion of our patented Diamond 10 Technology, which protects against scratches, stains, and scuffs to keep your floors looking newer, longer.
Perhaps more important than the product's long lifespan, however, is the enhanced level of traction that Diamond 10 affords. This added measure of safety is essential in healthcare settings, as floors can easily become saturated, increasing the likelihood of slips and falls – something that can be detrimental to recovering patients.
The Asana, Nidra, and Zenscape HET sheet collections are manufactured in our Stillwater, Oklahoma facility and are supported by a 10-Year Commercial Warranty. Customers can opt to add 10 additional years of overall warranty coverage by using our Strong System subfloor preparation products.
Lastly, to further improve peace of mind, these American-made collections are Low VOC and FloorScore certified, are eligible for our On&On Recycling Program, and are free of ortho-phthalates and heavy metals. Verified to be true by third-party evaluators and with Health Product Declarations (HPDs) available, it has never been easier to make a well-informed, sustainable decision as it relates to flooring.
Posted March 2, 2022
More Articles: