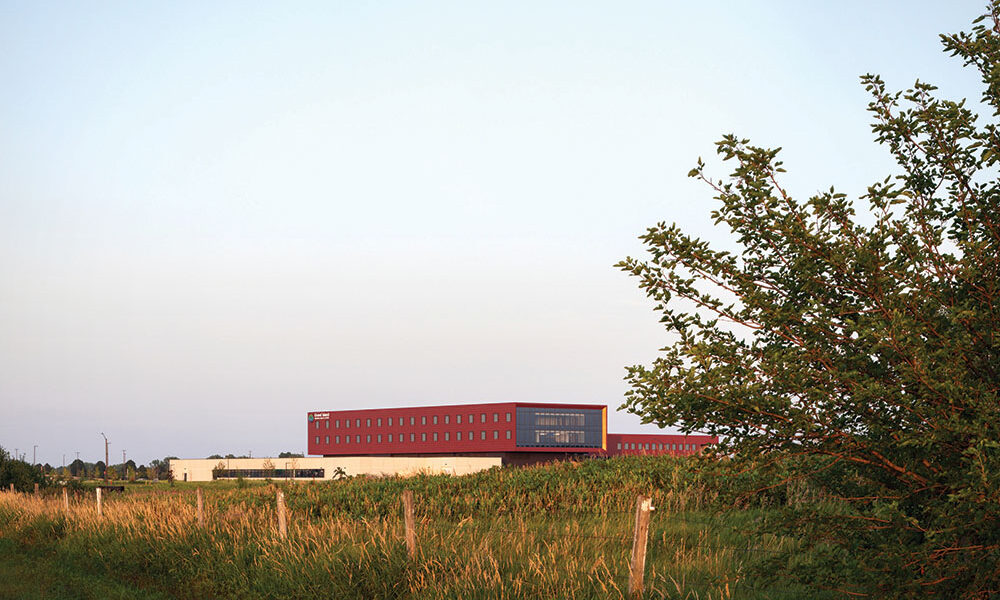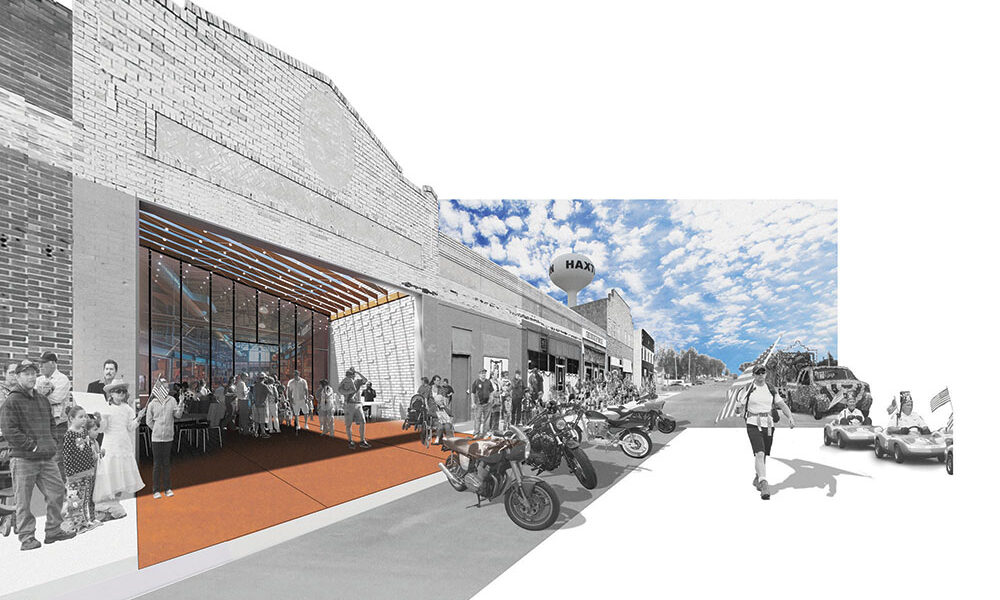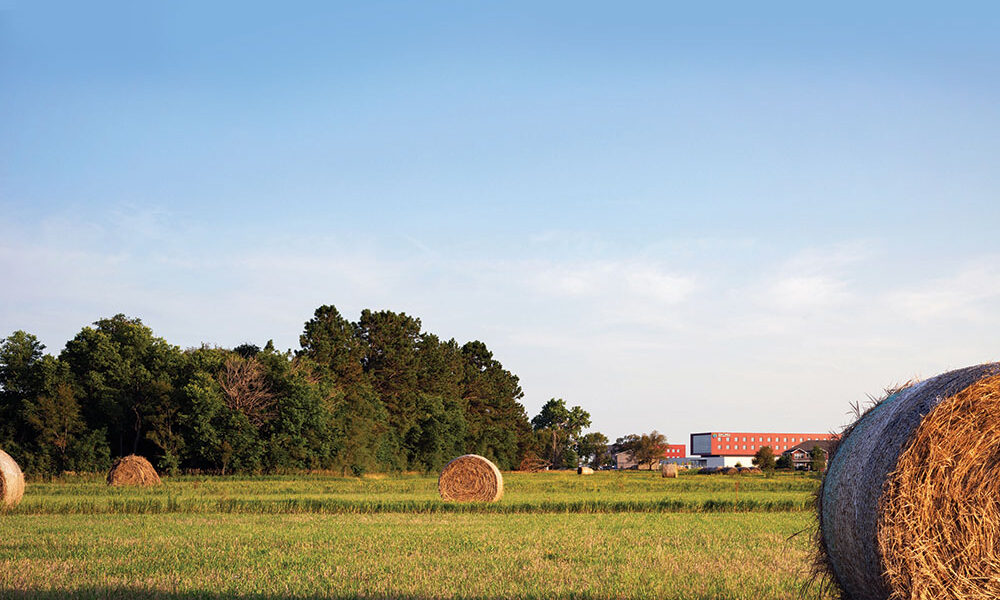 The future is geared toward fitting into and integrating into the neighborhood. Grand Island Regional Medical Center adds to the existing environment and surroundings.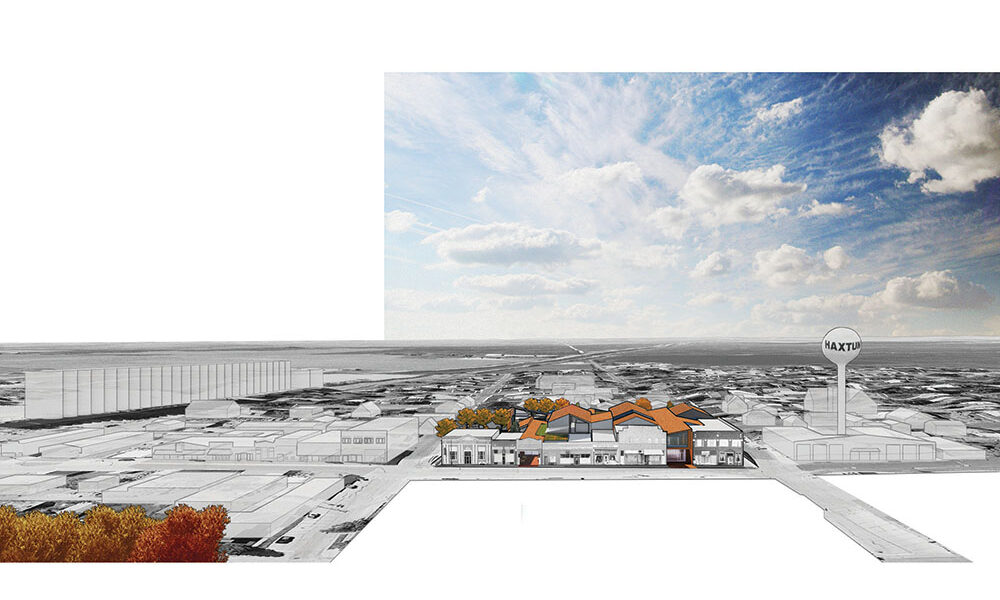 The Haxtun Hospital District explores how the critical access hospital can be used to revive small town main street. The concept uses existing storefronts, which are revived with pharmacy, markets and dining that also support the hospital and LTC/retirement residents.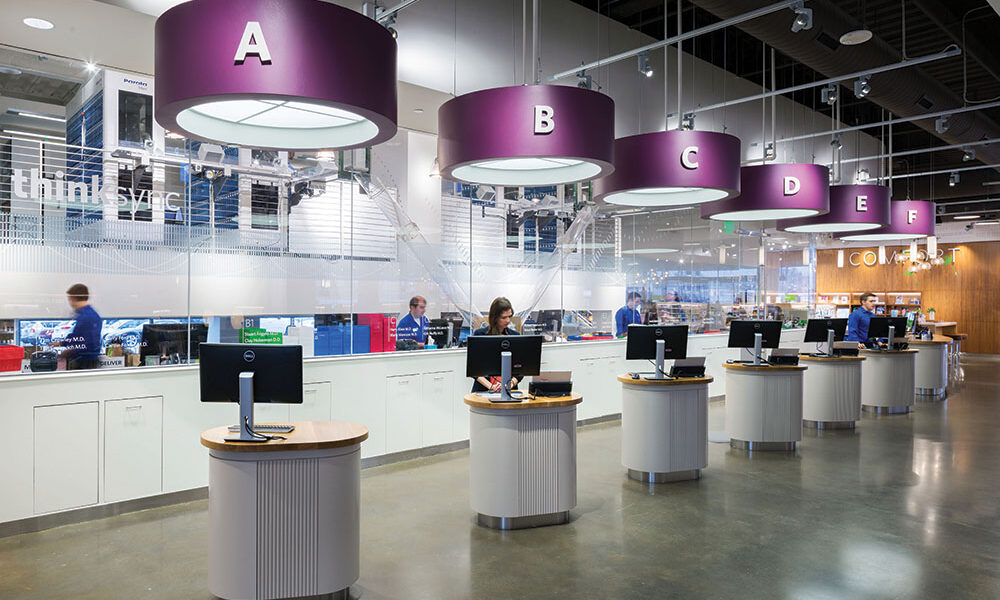 At Think Whole Person Healthcare, the economic engine of the pharmacy becomes an anchor for the facilities program and is expanded with health and wellness retail components.
◀
▶
Subscribe Now
Keep up with the latest news with our magazine and e-newsletter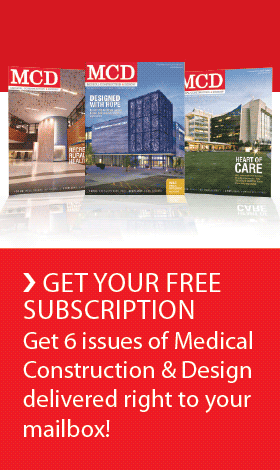 Subscribe to our E‑Newsletter
By Tom Trenolone
About 60 million people — nearly one in five Americans — live in rural areas and depend on their local hospitals for care. Despite the fact that hospitals are crucial for the health and economic well-being of the communities they serve, U.S. rural hospitals have increasingly faced closures since 2010, with many more vulnerable to closure. 
Residents of rural communities are familiar with the consequences of limited access to hospital and emergency care, whether they break a leg, go into early labor or have a progressive chronic disease. Rural hospital closures are widening gaps in important emergency transit times, often leaving community residents without access to critical medical care. This would mean that a resident living in a 1,000-person town would have to make around a two-hour trek for emergency, orthopedic physical therapy or OB/GYN services. 
According to an analysis conducted by the U.S. Government Accountability Office on the impact of rural hospital closures from 2013-20, residents that receive healthcare in rural areas now travel "about 20 miles farther for common services like inpatient care" and "about 40 miles for less common services." 
The consequences of closures and widening transit times are compounded when hospitals also serve as financial and professional anchors — as well as a source of pride — for small rural communities. A rural hospital closure often means loss of other employers, or difficulty recruiting new employers due to lack of nearby healthcare. When a rural hospital closes its doors, unemployment often rises and average income drops. The GAO analysis also found that the "availability of healthcare providers in counties with rural hospital closures generally was lower and declined more over time, compared to those without closures."
Can a new concept in master planning — one informed by unconventional thinking about building typologies — catalyze the transformation of rural communities' economic engine and improve access to healthcare? Can a revitalized main street bustling with health-centric programming and activity not only mitigate — but reverse — the devastating impact of rural hospital closures? 
By examining interrelated issues of health, wellness, economics and design, there is opportunity to provide rural residents with critical access to convenient health services and also improve the financial security of health providers.
Looking to the past to evolve for the future
Many characteristics of our vibrant cities are inspired by the roots of the agora that eventually evolved into the main street that is and/or was the bedrock of rural towns across America. As cities and towns evolved, civic anchors became paired with the main street (agora) and public square (piazza). In ancient times, the Forum of Rome, the Duomos and cathedrals became popular gathering places during the renaissance and medieval times. In the United States, the courthouse became an anchor for towns of the American West. 
In our modern world, the greatest threat to civilization is no longer lawlessness of the Old West, but climate, equity, health and wellness. If programmatic elements like retail pharmacies, retirement centers and long-term care facilities can be paired with the critical access hospital and main street, rural communities can relocate the critical access hospital from its isolation. 
Learning from retail and mixed-use destinations 
Often a community's largest employer (typically 10-25% of the community's population), the critical access hospital could evolve to become the next civic anchor paired with main street. While the concepts of micro-hospitals or freestanding emergency departments have been worthwhile stop gaps, they are finite in terms of creating a model that's sustainable and nimble enough to evolve with changing times. Breaking up rural medical centers as individual components, like the ED, no longer appears to be a viable long-term solution. 
Similar to mall owners' belief that a theme refresh and new tenants could resuscitate a fading retail model, there's opportunity to learn from what hasn't worked in the past. When retail is combined with diverse programs that anchor people to areas they work, live and socialize, with enhanced navigability and a safe pedestrian environment, the success rate is exceptional. 
A mixed-use destination with health and wellness as the foundation has the potential to generate the population density needed to create an enlivened town center, which is key to fostering economic and social well-being. Existing main street structures can be revitalized and repurposed, and the development of new spaces can further activate the community and attract residents and visitors. 
All medical and clinical services could be consolidated, and skilled (long-term care) nursing elements can be added by relocating retirement facilities, typically on the town's outskirts, back to the town proper. New elements, such as an auditorium, meeting or theater space, community hall, swimming pool and basketball courts can be introduced to increase traffic and community engagement, which incentivizes traditional retail services like pharmacies, cafés and restaurants to return to the town's main artery.
Anchoring development to bring main street back to life 
In Haxtun, Colorado, a rural town with a community population of approximately 1,000 people, the Haxtun Hospital District employs more than 120 staff members and another 20 or so volunteers. With over 10% of the town's population tied to the hospital, the town's future, then, is inexplicably tethered to the success of the hospital. 
So, what needs to be done to ensure its sustainability? In Haxtun, the solution is to use the hospital as the foundation to build population density to drive increased economic and social enterprise to the town center. For example, a pool and recreation facility entice residents interested in health and wellness activities. A new conference space could serve as the community movie theater on the weekends. Relocating and integrating the town's retirement facility to the town center helps older residents stay engaged with the town's activities, provides access to these new amenities and helps them remain independent longer. 
At Grand Island Regional Medical Center in Western Nebraska, a group of local doctors and business leaders sought to offer a patient experience that was community-driven and responsive to their needs. The new hospital is integrated strongly into the surrounding community and landscape, with access to nearby walking trails, healing gardens, health and wellness-focused businesses and living and hospitality opportunities. The hospital is designed to grow with the community, with flexibility in the design that will allow for the expansion of the surgery and EDs on the site, and a vertical expansion of the patient tower to 128 beds.
Similar to the impact of the Rural Electrification Act in 1936, which provided federal loans for the installation of electrical distribution systems to serve isolated rural areas of the United States, these ideas have the potential to generate renewed activity that thousands of small rural communities need to create population gravity, help save their medical centers and, most importantly, improve the quality of life for nearly 20% of the national population.
Author: Tom Trenolone
Tom Trenolone, FAIA, AIA, LEED AP, is design director at HDR.
Posted December 15, 2021
More Articles: