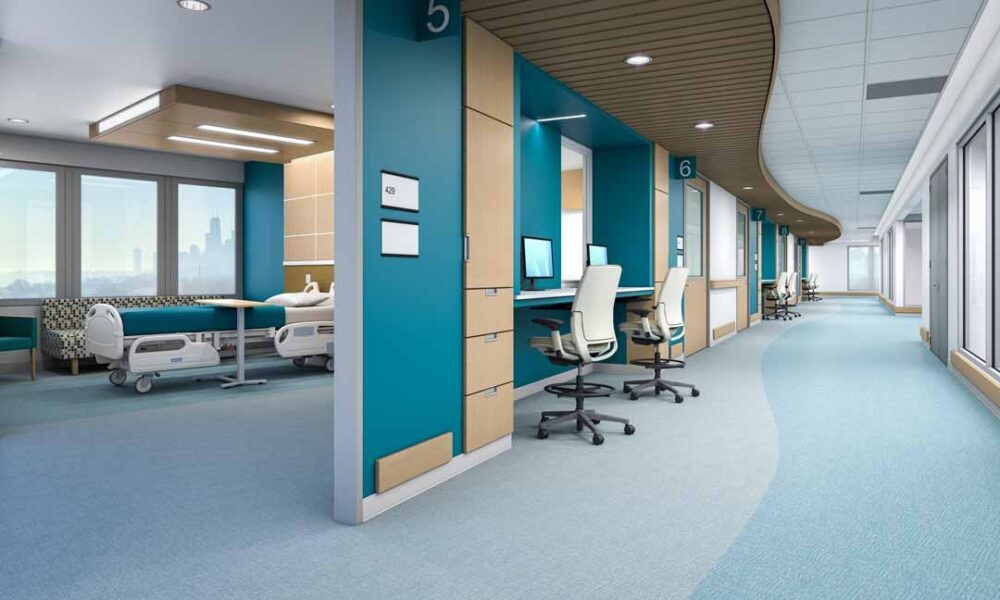 Subscribe Now
Keep up with the latest news with our magazine and e-newsletter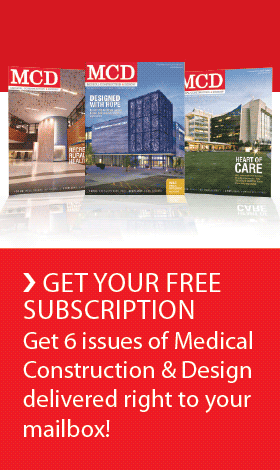 Subscribe to our E‑Newsletter
As a result of COVID-19, healthcare facilities are rethinking the post-pandemic built environment with respect to design flexibility and maintenance protocols. But what does Designing for Resiliency look like?
Regardless of their industry, many end-users are rethinking the post-pandemic built environment with respect to design flexibility and maintenance protocols. There is plenty of speculation regarding the future of the workplace and how organizations can employ Designing for Resiliency principles in corporate offices. However, this approach is also well-suited for healthcare environments, which often must remain open when office-based employees are able to work from home. By Designing for Resiliency, hospitals and clinics can be prepared to adapt their spaces for future health crises while integrating methods and materials that will benefit patients and staff year round.
Following are some key factors to consider when Designing for Resiliency in healthcare environments.
Space Adaptability for Surge Capacity
COVID-19 reinforced the need for healthcare facilities to adapt their spaces to handle a surge of patients above typical capacity. As the pandemic spread, hospitals around the world converted traditional patient rooms to negative-pressure isolation rooms that would accommodate COVID-19 patients and help prevent virus transmission. Moving forward, the need to expand the core of the hospital to accommodate surge capacity will be a priority for many facilities as they plan for future health crises. While some hospitals may create capacity by directing patients to ambulatory care centers, other options include repurposing non-clinical spaces and former clinical areas.
No matter a facility's solution, it is essential to consider how spaces could be used or converted in advance. Making upfront decisions regarding design and materials selection with the need for surge capacity in mind will help pave the way for a quick and smooth transition, if needed.
Infection Prevention Protocols
As a result of COVID-19, many environmental services (EVS) and facilities teams adjusted their maintenance protocols to effectively establish and maintain the highest levels of disinfection and cleaning. These changes will also influence materials selection for the healthcare built environment. Teams will benefit from developing strategic partnerships with vendors that offer maintenance support programs and are available to consult on proper product selection and maintenance.
Staff Stamina and Well-Being
COVID-19 clearly demonstrated the physical and emotional challenges that healthcare workers face daily and the need to prioritize mental health and well-being among caregivers. Integrating restorative spaces into healthcare environments can contribute to resiliency by giving workers areas to rest and recover, while the inclusion of biophilic design elements can positively impact both caregivers and patients. Facilities can also proactively take steps to prevent staff fatigue by adjusting schedules, increasing headcount and choosing materials that directly support the healing built environment.
Space-Specific Needs
Designing for Resiliency means ensuring that each space within a healthcare facility can be used as required, with minimal interruption. Operating rooms, hallways, patient rooms, waiting areas – all have specific purposes as well as different performance and maintenance needs. While spaces must be ready to adapt for surge capacity, it is also essential to select the right materials for each space – doing so will provide support for caregivers and a healing environment for patients. Facilities can simplify the procurement process by engaging a single-source provider that offers a system of products to address space-specific needs.
Looking to the Future
COVID-19 showed us that the future is unpredictable, and although we cannot know if or when another global pandemic will occur, we can use the learnings from the past 18 months to create more resilient healthcare facilities. By examining structures, spaces, procedures and processes through the lens of "how can this contribute to resiliency?," facilities can be more prepared should the world face a similar health crisis one day.
To learn how flooring can contribute to design resiliency in healthcare spaces, visit interface.com/healthcare.
Posted August 1, 2021
More Articles: