Subscribe Now
Keep up with the latest news with our magazine and e-newsletter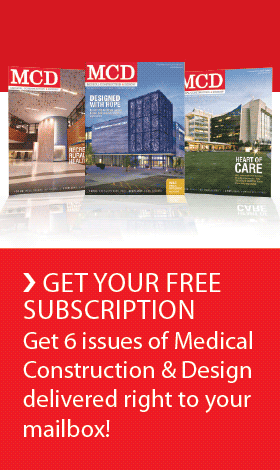 Subscribe to our E‑Newsletter
By Steve Culler
As technology has advanced rapidly over the last few years, a shift has taken place.
Building owners, designers and builders are now thinking differently about healthcare facility systems, particularly in relation to the technology supported by low-voltage infrastructure. This technology is evolving in ways not anticipated even 10 years ago, leaving owners, designers and builders in the position of prognosticators — attempting to predict future developments and ensure the technological longevity of their facilities.
The challenges of the pandemic accelerated the use and development of some existing technologies, such as video conferencing and telehealth services, along with emphasizing the need for tech-enabled isolation space to minimize pathogen transmission. The pandemic also highlighted the need for future flexibility and upgraded low-voltage infrastructure, but the technology supported by this infrastructure was already booming.
In healthcare facilities, television monitors are the most noticeable example of this technology — and the most prominent visual connection for the patient to the facility. Television monitors are increasingly providing options beyond entertainment, such as educational programming, meal selection and lighting and temperature control. These options are provided via individual systems that must be integrated appropriately.
Five to 10 years ago, when this type of connected technology was more limited, the low-voltage systems that support it were just another part of the electrical engineer's design. Now, a facility's technology is addressed as its own specialty — during design by separate technology designers and after construction by facilities personnel whose sole focus is the network infrastructure that runs the information, entertainment and education systems provided for patients and staff.
Seemingly every day, new technology allows new systems to be added to the Internet of Things — the network of smart devices that exchange data across the internet. Predicting these changes is challenging, at best. Designers, owners and general contractors, alike are in the position of trying to keep up with constantly changing technology and anticipate the measures necessary for each facility's long-term technological viability.
Some owners, not knowing what the future will bring, are opting to seek guidance from major technology companies. In addition, many owners are installing upgraded infrastructure in hopes that it will provide the flexibility necessary to take advantage of new technology as it becomes available. For example, in years past, a television outlet in a hospital would include one coax cable. After the development of the internet, builders added a data cable connection for transmitting video and streaming content. Now, for example, Carilion Roanoke Memorial Hospital in Roanoke, Virginia, is opting to have four data cables installed behind every television to prepare for changes that are anticipated, but not yet defined.
Added functionality is a boon for patients and staff, alike. Some hospitals now allow patients to access their own streaming application accounts so they may feel more at home in their hospital surroundings. At Nemours Children's Hospital in Orlando, Florida, the televisions are connected to a system called the GetWell Network, which allows patients to change their lighting, window shades and temperature settings from their bed, providing a meaningful sense of control in a setting that might otherwise feel unempowering. Giving patients more control over their own comfort also allows hospital staff to spend their time on more specialized activities.
In this same vein, one of the most significant current trends is the incorporation of voice-activated technology. For example, on a hospital project in Wesley Chapel, Florida, the owner is creating "smart rooms" that will include a smart-speaker-type device that will allow voice-activated control of nurse call functions, meal selection, lighting, window coverings and room temperature, among other future possibilities.
Another area of accelerated change is wireless technology. This technology is so prevalent that, on a national level, the Federal Communications Commission has allowed additional frequencies for Wi-Fi communications to ease the burden of high-user traffic. Though some systems still operate via wired connections, much new technology works over wireless networks. These networks must support hundreds to thousands of users at a time, so wireless infrastructure must be substantially more robust than it was for systems installed even five years ago, which would be strained to handle current levels of user traffic.
Today, wireless infrastructure cables must have more bandwidth. Installing multiple industry standard Category 6A cable gives facilities the ability to add new access points in the future, and utilize new wireless access point technologies for greater bandwidth to support more users.
To maximize the availability of Wi-Fi signals, hospitals are also more frequently opting to install cellular distributed antenna systems. A DAS — a network of antennas — receives the carrier's cellular signals and amplifies them so that strong cellular service is available throughout the building, allowing patients, families and staff to use their own data to connect phones and tablets. In addition, more patient monitoring and telemetry information systems are using wireless connections so that patients can be monitored without having to be physically connected to medical equipment.
To handle the overall increase in hospital technology, designs for infrastructure backbone have also become more sophisticated in recent years. Although the bandwidth of copper cable used for data transmission has increased to handle higher loads, signals degrade in copper cable past a certain length. New infrastructure designs rely increasingly on fiber optic cable backbones because they have minimal length limitations. With fiber optic cable, regardless of what elements are added to the system, the backbone can handle the increased throughput of information.
A related trend is the effort to ensure the resilience of data transmitted over a hospital's systems by redundancy — adding a secondary infrastructure backbone that will activate in the event of a problem with the first. Some healthcare facility designs have included redundancy in the past, but today redundancy is almost the standard.
With owners, designers and builders working together to address ever-evolving technology improvements, futureproofing is quickly becoming the norm for ensuring that facilities remain technologically viable well into the future.
Photo credits courtesy Ben Tanner Photography.
Author: Steve Culler
Steve Culler is low voltage resource manager at Robins & Morton.
Tags: Construction, low-voltage infrastructure, Technology
Posted July 13, 2021
More Articles: