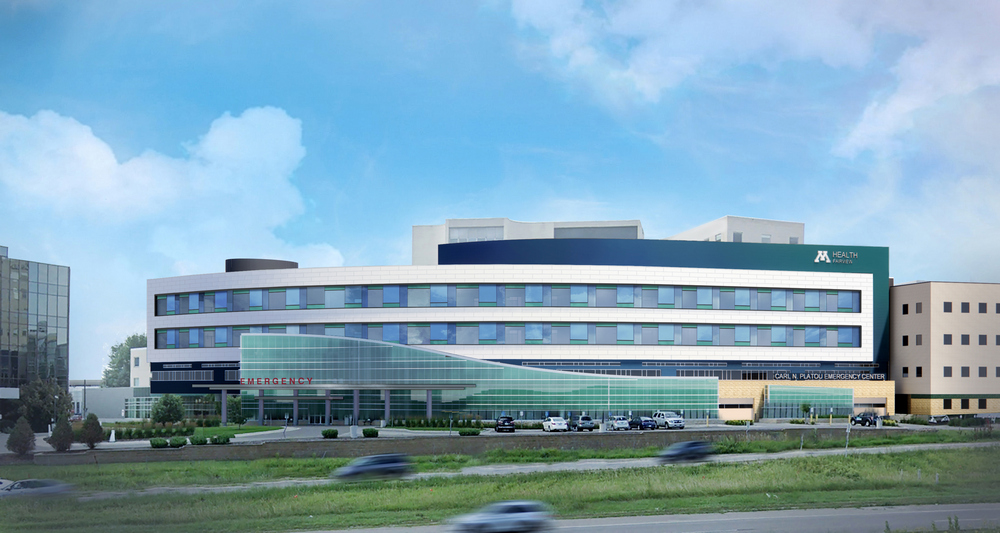 Rendering of M Health Fairview, Edina, Minnesota.
Subscribe Now
Keep up with the latest news with our magazine and e-newsletter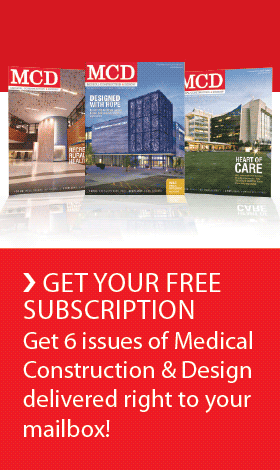 Subscribe to our E‑Newsletter
As the COVID-19 pandemic quickly spread across Minnesota and its neighboring states early last year, several healthcare systems recognized the need to make structural facility changes to advance patient care in new and transformative ways.Architecture firm Perkins&Will was engaged to create spaces that would address both immediate and future community health needs for three of these facilities.
M Health Fairview Southdale Hospital
In early 2020, input from the community, its patients and its employees informed M Health Fairview Southdale Hospital in Edina, Minnesota that it could improve patient care and experience by offering more single-occupancy patient rooms, which help decrease the potential for the spread of disease while allowing more privacy and comfort for patients and their families.
This input, however, seemed at odds with COVID-19 challenging hospitals nationwide to provide negative-pressure isolation rooms to patients critically ill with SARS-CoV-2. Since such rooms require a larger footprint, and the hospital had limited space for expansion, including them in the expansion would effectively reduce the total number of single-occupancy patient rooms the hospital could add.
M Health Fairview brought in Perkins&Will to provide design expertise on the bed tower expansion last year, which quickly determined that flexibility was the key to growing Southdale's bed-count, while delivering both acute and non-acute patient care today and well into the future.
By re-engineering some of the facility's existing architecture and designing rooms that could be easily reconfigured based on a patient's needs, the team was able to incorporate 52 single-occupancy patient rooms — including 12 isolation rooms — into the hospital's two-floor, 38,206-square foot expansion atop its observation unit.
Construction on the new bed tower began in July of 2020 and is expected to be complete in the fall of 2021. The general contractor on the project is JE Dunn Construction.
Stevens Community Medical Center
In the early days of the coronavirus pandemic, Stevens Community Medical Center in Morris, Minnesota, saw firsthand what was becoming a troubling trend at hospitals and medical clinics nationwide. Patients were avoiding routine doctor appointments for fear of contracting COVID-19.
Although the medical center immediately implemented a number of safety measures, such as temperature screenings, erecting a temporary wall to separate COVID and non-COVID patients and offering telemedicine, it saw a need to do even more.
In August 2020, the Perkins&Will design team created safe entries for both COVID and non-COVID patients. And in just four months, patient care at SCMC was completely transformed. Patients seeking routine medical
care still enter the facility through its main entrance. Once screened for COVID-19, non-COVID patients gain immediate access to the facility. Patients exhibiting COVID symptoms or with a high-risk exposure are directed to enter via the newly reconfigured 3,628-square foot urgent and respiratory care clinic space on the opposite side of the building. Upon arrival, they wait in a private respiratory care waiting room until they are escorted into an exam room.
The general contractor for this project was Carlson-LaVine.
St. Croix Regional Medical Center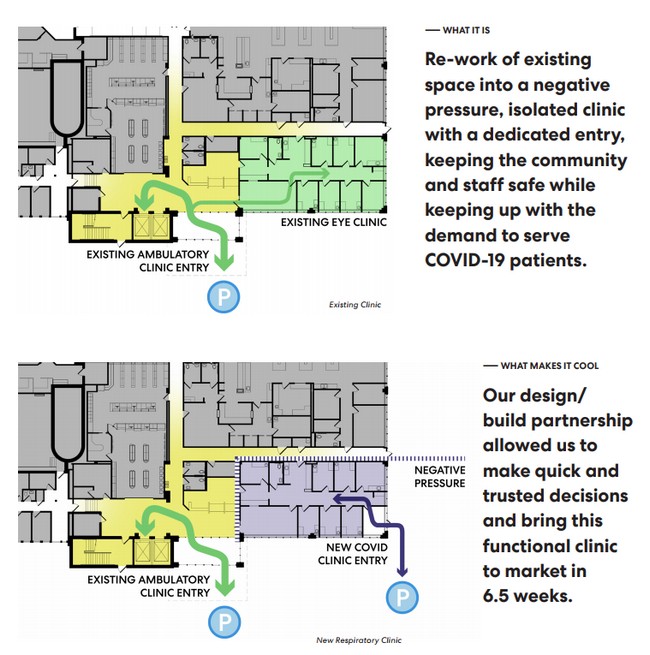 Like many healthcare facilities, St. Croix Regional Medical Center in St. Croix Falls, Wisconsin embraced a rather traditional design that, for decades accommodated patients seeking both emergency and routine medical care. That design included one main ambulatory care entrance, where patients seeking any and all non-emergency care filtered into and through the facility.
But in March of 2020, challenged by COVID-19, facility leaders realized that their historically adequate traditional design did not adequately support patient care during an infectious and deadly modern-day pandemic.
By late May of 2020, St. Croix Regional Medical Center had retained Perkins&Will to transform a portion of its existing medical clinic into a negative-pressure, isolated respiratory illness clinic with a dedicated entry. The design included repurposing an existing clinic space that sat adjacent to the ambulatory clinic entrance, installing a negative-pressure ventilation system in the walls surrounding that clinic space, and building a new and separate vestibule away from the main clinic entrance to ensure patient separation.
Construction on the new respiratory illness clinic, which began in August of 2020, was completed in just 6 ½ weeks by the facility's design/build partner Kraus Anderson, meeting the CEO's target opening date and ensuring appropriate patient care as the coronavirus pandemic flowed on.
Posted May 27, 2021
More Articles: