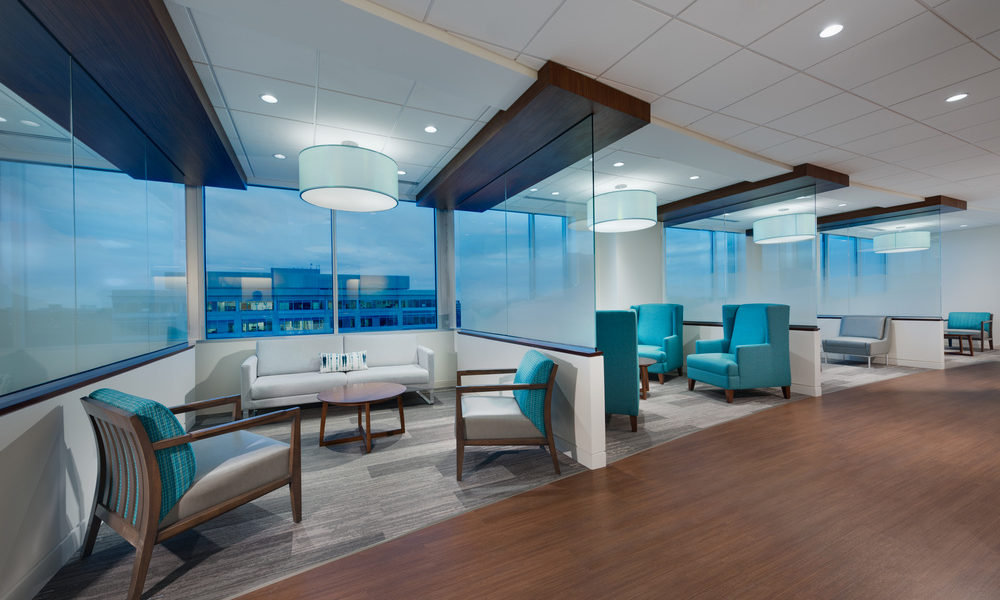 Shady Grove Fertility's 50,000-square-foot relocation and expansion to its largest IVF lab and surgery center in Rockville, Maryland, which made significant effort toward improving the overall experience for patients and workspaces for staff.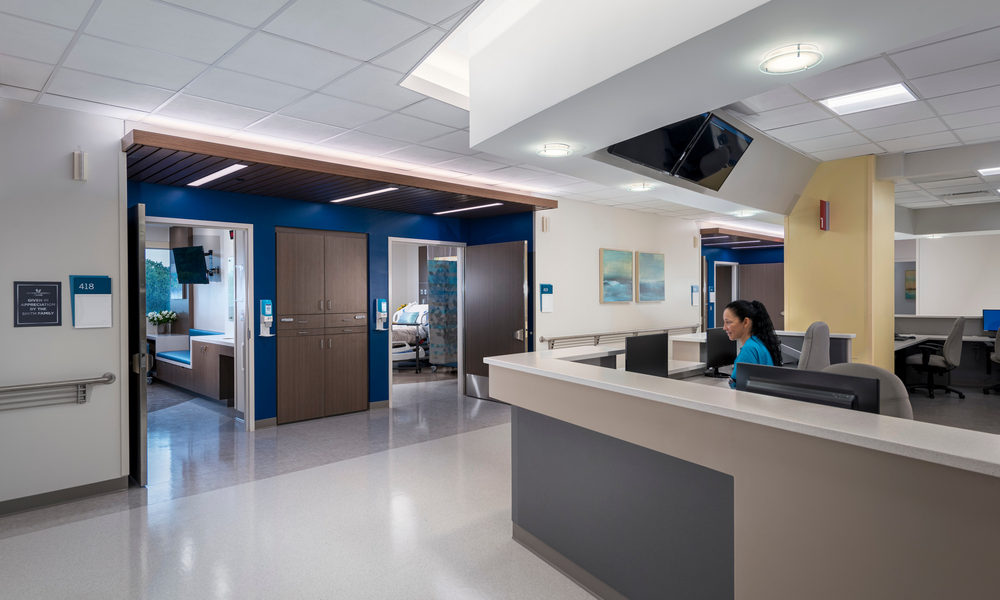 The Virginia Hospital Center 4A renovations included alcoves outside patient rooms with ample space for donning PPE, gasketed pass-through cabinets and strategically placed hand-washing stations throughout.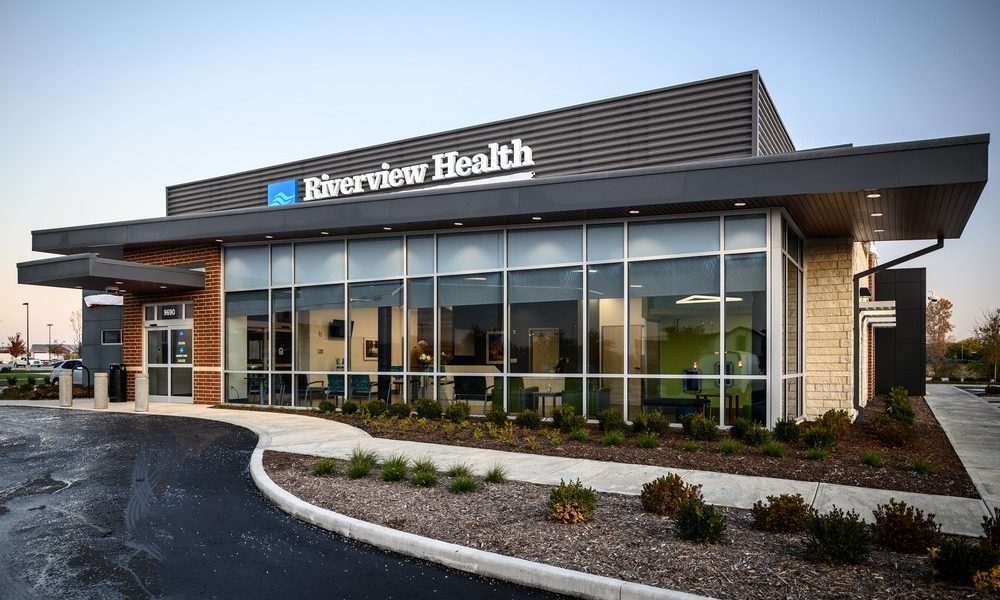 Riverview Health ER & Urgent Care in Fishers, Indiana is a freestanding emergency room with urgent care services including X-ray capabilities and lab. The facility was designed to assess and treat patients quickly.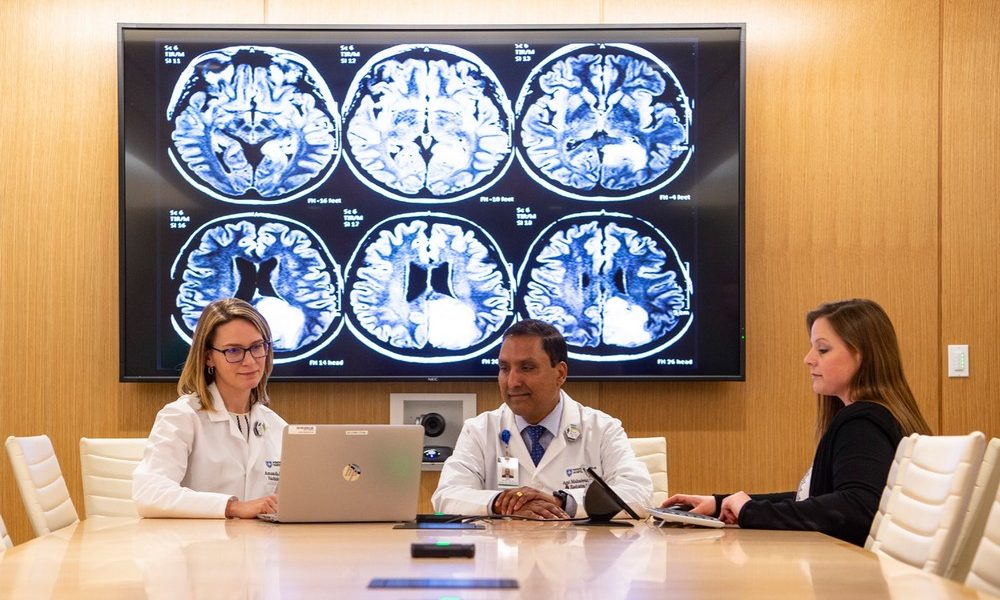 Wentworth Douglass Seacoast Cancer Center in Dover, New Hampshire is an outpatient facility designed with the goal of creating a staff work flow supported by team-centered clinical areas, and ample space for nurse practitioners, nurse navigators and other support team members to gather. The recent renovation included an expansion of the clinic to support teleconferencing spaces.
◀
▶
Subscribe Now
Keep up with the latest news with our magazine and e-newsletter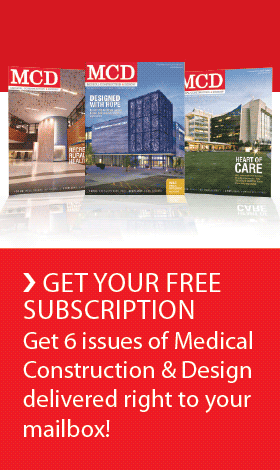 Subscribe to our E‑Newsletter
By E4H Architecture
The unprecedented COVID-19 pandemic forced healthcare facilities to make rapid changes to their infrastructure and healthcare delivery system, and E4H responded as a think tank to stimulate innovative solutions for the trends anticipated in the coming years, including the following. But first, let's take a quick look back at 2020 trends.
The demographics of the communities hardest hit by COVID-19 stressed the importance of designing spaces that foster equity and increase the distribution and access to improve population health. The importance of employee health was magnified by the challenges of mental health, including frontline healthcare workers, as reported rates of clinical depression and suicides spiked. Re-allocating funding for research, expanding access to treatments and developing new strategies to address mental health issues became an immediate priority. This reinforced the importance of elevated design that elevates the spirit.
Overall, as we navigate 2021, it's important to reflect on the meaningful impact of design and how to move forward in this new era.
Healthy buildings
Healthcare systems doubled down on their commitment to population health by investing in healthy buildings that incorporate sustainable design components to improve the patient experience and outcomes, reduce emissions and decrease year-over-year facility costs. Healthy buildings have become an integral part of the fight against COVID-19 as they include features that keep buildings sanitized, promote a high air exchange rate and often have operable windows to improve air quality and infection control. Strategies for air quality control are outlined in the E4H Outpatient COVID-19 report.
Agility
"Flex space" was once a term associated with amenities. The COVID-19 pandemic has brought to light the importance of having flexible spaces that can easily adapt for infection control strategies, such as isolation capacity and negative air conversion. Healthcare facilities need flex space in every department, from the entrance and patient areas to the back-of-house staff and administrative spaces. The need for convertible rooms, whether for surge capacity or for infection control, is clear.
Over the past decade, there has been an emphasis on creative open offices with shared administrative spaces. This concept is being reimagined for better infection control practices. As staff in administrative roles embraced remote work capabilities, healthcare facilities transformed these offices into areas for PPE donning/doffing, telehealth, patient screening and other necessary programming needs.
For example, locating a conference room adjacent to the front entry/waiting area allows for access from outside the clinical space and enables a second point of entry that can be isolated from the public areas. The conference room can allow guest access without bringing them past other patients. This area can ensure any patient entering will be identified, tested and cleared in a specified group of spaces separate from guests. Designed with flexible walls, entry areas can quickly convert to negative air vestibules, complete with PPE and sanitization areas. These vestibules are useful for screening and directing patients into high- or low-risk waiting areas based on symptoms.
Patient room conversion is critical. E4H recently completed an inpatient unit renovation at The Virginia Hospital Center, designing the patient rooms to be convertible to negative pressure spaces. The unit's ventilation systems were modified to allow for remote conversion from positive to negative pressure. Recessed entry alcoves outside patient rooms can be converted to temporary vestibules with temporary barriers allowing the alcove to act as an entry/exit into fully exhausted patient rooms, as well as providing a PPE donning/doffing area.
Technology integration
Technologies such as electronic health records, patient portals, self-check-ins and touchless control features became key components to the success of infection control strategies. Waiting rooms quickly became a danger zone in need of an immediate and drastic infection control plan and, in some cases, moving to 100% digital, eliminating the waiting room completely.
Telehealth has been around for several years, but some healthcare organizations have been slow to adopt these systems. Telehealth became necessary for the survival of health systems and to maintain safe patient visits. Legislation that once tied the hands of physicians was quickly resolved and expanded upon to provide further reach. Health systems prioritized a process, developed an infrastructure and created spaces for conducting calls. This approach to care helped eliminate unnecessary hospital visits, minimizing the spread of infection and freeing up resources for those in critical need.
Ambulatory care
In conjunction with telehealth, smaller, strategically located ambulatory care centers are a growing resource to communities. This allows hospitals to focus on major crises and higher acuity patients, while the outpatient facilities address primary, elective and specialized care needs. This separation in services can protect the community by minimizing the spread of hospital-acquired infections and protects the operational viability of the health system, allowing them to continue to generate revenue as safely as possible.
Ambulatory care facilities were quick to adjust their waiting areas and patient flows with the onset of COVID-19. Waiting areas are segmented into smaller seating pods to allow a greater distance between patients. Several facilities incorporated physical barriers, such as screens or glass partitions throughout their waiting areas. Where possible, and if multiple practice types are sharing the same floor, waiting areas are being divided between practices to reduce the number of patients in any one space. This prevents cross contamination between different patient populations, whose reason for visiting may be due to an illness or a simple well visit. Patient flow has also adjusted to reduce cross contamination with separate entrances, check-in areas, check-out areas and exits.
Mental health
The latest data on increasing mental health cases and suicides is a direct result of trauma related to the pandemic's unprecedented stressors. Mandated isolation, economic downturn and racial tensions raised alarm in the already-growing mental health epidemic. Health systems had to address the COVID-19 pandemic, as well as a surge in mental health needs for patients and their own staff. As research has indicated, our surroundings directly inform our nervous, endocrine and immune systems.
Programs such as WELL Building Standards have established a framework for designing spaces that foster safe social interaction, access to nutrition and a working environment that improves the well-being of all users, resulting in improved outcomes. Mental health treatment spaces have historically been starkly designed with safety as the highest priority. The industry continues to shift toward Evidence-Based Design concepts that help create environments to improve outcomes by promoting a sense of calm, safety, dignity, empowerment and well-being for all occupants. Design approaches include expanding sources of natural light, selecting soothing colors and finishes throughout, incorporating biophilic design principles and improving air quality.
Models of care are also changing. Healthcare providers are integrating mental health within primary care settings for early screening. Team-based, integrated care approaches are being designed as one-stop-shop facilities that house several specialties. This makes care convenient for patients and fosters a collaborative team approach. With the high rate of adoption for telemedicine, more people were able to receive care and reach out on a variety of non-traditional platforms including text messaging and apps.
There is a continued trajectory toward designing operationally efficient spaces that foster prevention, encourage outpatient care and provide integrated community-based care. Healthcare professionals, regulatory officials, neighborhood leaders, architects and designers are collaborating to develop human-focused solutions. These efforts are leading to healthier communities, lower costs, fewer provider visits and fewer hospitalizations for both mental and physical health needs. Updated care models, improved staff training techniques and appropriately designed treatment facilities are crucial factors for improving mental healthcare. With these advancements, the mental and behavioral health community is already making great strides in the quality and efficacy of care.
Modular vaccine development
As the world celebrates benefits from rapid development and distribution of several COVID-19 vaccines, the logistics of the production and distribution cycle is starting to focus on the infrastructure to produce, manufacture, store and retrieve them. One of the longest phases of vaccine distribution is the design and construction of critical facilities. A modular approach could significantly reduce valuable production time by offering offsite manufacturing, flexibility, adaptability and expanded capacity.
Modular and prefabricated cleanrooms, which provide fast delivery and flex capacity can meet these needs. One benefit of modular facilities is offsite construction. Due to the pandemic, construction of these facilities offsite could eliminate the issue of time delay associated with limited onsite head counts in place to mitigate infection risk. Offsite construction can also allow for the standardization and replication of design, allowing for mass production of structures, further abbreviating the design timeline.
Virtual design teams
Virtual design meetings, coordination and inspections have been embraced by the industry at large. Although some clients still prefer in-person meetings, the pandemic has demonstrated how efficient the virtual process can be and many predict these will continue.
For some of E4H's clients more accustomed to face-to-face meetings, our project managers had to get a bit more creative. Many virtual meeting platforms allow for conference calls with large groups, so a meeting can be run in much the same way as if it were in-person. These virtual meetings take a fraction of the time the usual in-person owner, architect, contractor meeting would take. Weekly onsite construction meetings have been revised to include critical personal only. Utilizing virtual meetings and onsite cameras, the remainder of the team can participate in the weekly meetings from offsite.
E4H has also had success with virtual inspections performed via video conference with an inspector onsite for the walkthrough while video conferencing with the project manager. This allowed the overall inspection to be completed in a timely manner, while maintaining social distancing measures.
2020 was a difficult year that presented many opportunities to reevaluate outdated processes and develop inventive solutions. Despite the negative repercussions of the COVID-19 pandemic, the resulting adaptations of healthcare practices has created a platform for innovative design and forward thinking. Healthcare systems and designers will continue to work together to face each challenge head-on to facilitate healthy, safe environments for patients and staff, alike.
Author: E4H Architecture
E4H Environments for Health is a national architecture firm focused on improving outcomes through inspired design. Its team of architects create flexible, state-of-the-art health facilities designed to enhance the well-being of its clients' patients, staff and families. Visit e4harchitecture.com.
Tags: Architecture, COVID-19, healthcare trends, Mental Health
Posted February 16, 2021
More Articles: