Subscribe Now
Keep up with the latest news with our magazine and e-newsletter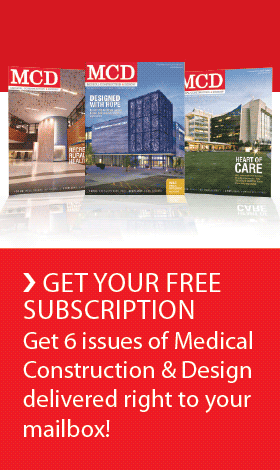 Subscribe to our E‑Newsletter
By Michelle Sanders and Kate Reinhard
Even as many of us ask whether, and when, to return to the workplace and address concerns from air quality to proximity to one another, healthcare professionals never stopped going to "the office." And the coronavirus crisis has revealed the hospital setting as a critical workplace that deserves the same—and perhaps greater—attention to productivity, protection, comfort, efficiency and satisfaction.
The case for nurturing the nurturer
Healthcare professions (specifically nursing) are ranked sixth among the most stressful professions. Multiple studies suggest that healthcare professionals are more prone to stress and occupational burnout because they are responsible for human lives. The term "nurture" is commonly used in the alliterative expression "nature versus nurture," a concept learned in early education, in which researchers consider nurture an essential influence on nature. If we agree that nurturing is critical to human outcome, should we not ensure that the person doing the nurturing is a critical game player who deserves the utmost in care? In a workplace where protective equipment must be worn for job-related safety and health purposes, shouldn't the most basic layer of protective gear be the well-being of the nurturer?
While most patients stay in the hospital for a limited period of time, the health staff are present night and day. The care community is tasked with an unending job to make sure there are no obstructions to clinical care at any stage. This patient well-being is directly associated with the capability and efficiency of the healthcare staff. Against this backdrop, design plays a crucial role in influencing overall productivity and employee health, safety and efficiency. In corporate America, recent years have seen the growth of movement around workplace wellness. Numerous studies conducted by The Harvard School of Public Health, Cornell University have shown that daylighting, air quality and bringing nature and natural forms into workplace not only reduce stress, but also increase productivity.
Hospital design focuses on enhancing the patient experience—as it should. But the patient experience is enhanced when caregivers can be at their best. The equation of good design equals good medicine must extend to caring for the caregivers, not only in the patient-facing areas, but in the spaces that are unseen by all but those who work there.
Design as a game changer
Both employers and architects must address the new climate and responsibilities in which our healthcare professionals find themselves. Designers can create unique amenity spaces that enable hospitals to engage staff and provide communities that celebrate teamwork and encourage recruitment and retainment. In addition to enhancing excellence in patient care, the spaces that cater only to healthcare professionals provide a space of reprieve to alleviate stressful conditions. They can also be designed to promote efficiency and enhance care standards.
Some of the most successful amenity spaces for healthcare professionals include food amenity spaces, break rooms, connection to outdoors, wellness spaces, staff lounges and smaller staff nourishment areas close to their working space. These spaces can be organized into three main categories: spaces that have access to nature and daylight, spaces that alleviate stress and areas dedicated to collaboration to support teamwork and efficiency.
Access to daylight
Lack of sunlight is a direct contributor to depression, fatigue, weight gain, changes in sleep pattern and thoughts of suicide. In the healthcare sector, worker shifts often last from 8.5 to 12.5 hours. This impacts workers' awareness of the time of day, current weather and season—all factors required to keep internal rhythms in balance. Humans also have an innate desire to seek connections with nature. Workspaces that welcome daylight and allow views to the outdoors provide a healthier environment for employee concentration, focus and overall happiness.
Designers are increasingly providing a direct connection to nature with access to natural light. Because daylight offers both physiological and psychological benefits, it improves employee alertness, happiness, work satisfaction, work performance and organizational commitment. Clerestory windows that maintain privacy and transparent glass in public areas enable light to diffuse to adjacent rooms. A transom placed above a window or door is another strategy that borrows and maximizes light without losing precious wall space. Stairwells also become a great opportunity to borrow natural light from upper stories. When the design is in a more densely populated area, skylight and light tubes are also great options to channel light into darker areas of a plan.
At the recently completed University of Virginia hospital expansion that includes a new emergency department and six-story inpatient tower, natural light is a key factor in a design that focuses on both patient experience and making the work of healthcare professionals more productive, more efficient—and easier. Surgical teams that spend hours on end in an enclosed operating room have access to an adjoining sterile, glass corridor—also with views to the outdoors—that affords them respite between procedures. This is unique, as in most hospitals, operating suites are located in the building's core.
When natural daylight is not possible, utilizing ambient lighting strategies that mimic daylight and support circadian rhythm is critical. New technology offerings now enable simulated daylight sequences (sunrise through sunset), as well as color variations to reflect different weather conditions.
Amenity spaces
Typical amenity spaces must be designed to answer staff needs effectively, so they can participate fully in maximizing the quality of patient care. Spaces dedicated to food service and meal breaks create a space for staff to recharge and nourish their bodies, while also providing a sense of place and community. With very limited time for breaks, onsite accessibility to a variety of dining options is key to keeping employees satisfied, healthy and productive. The new dietary space under design at Lancaster General Health promotes the sense of belonging that often happens around the table through a variety of dining experiences. Not only will this space provide staff and visitors choice and autonomy during a potentially stressful day, it will also be open to the public to build community within the healthcare experience.
At a more intimate level, wellness room requests have become more common, driven in part by laws that require employers to provide private spaces for nursing mothers. These spaces are most successful when they are flexible enough to serve numerous functions—from supporting new mothers to administering medication to providing stress relief. Each organization can adapt the space to staff needs with controlled lighting, comfortable seating and storage as a baseline for an overall relaxed environment—a departure from the clinical experience that might be pervasive elsewhere.
Staff breakroom design in the past has been described as low priority and "back of house," secondary in budget and design considerations to public-facing or patient care areas. Instead, the breakroom must be considered the anteroom to the clinical setting. With attention to respite, recharge and self-care, staff are better equipped to provide optimal patient treatment.
Inspiring and even "prime real estate" spaces within the building with desirable views offer a reprieve for staff who work tirelessly caring for others. Playful lighting, lounge-style seating, standing height tables/stools and booths can depart from the clinical setting and foster interactions that build trust, a sense of belonging and esteem. When possible, adjacent lockers/shower reduce steps traveled and increase chance encounters with peers. Likewise, with limited time for full breaks, areas that nourish the staff can be close to clinical areas, so nurturers can grab a quick drink or snack throughout a shift and avoid burnout.
Collaborative team spaces
While break and nourishment opportunities adjacent to the clinical setting allow for personal care and a stronger work culture, the team station is also key to effect collaboration and teamwork among support staff. Flexible work and posture options allow staff who are constantly on their feet to adapt their workspace to support their bodies. So, a central team design can balance patient comfort, privacy and visibility by providing stand-up nurses' station surfaces, sit-down desks and enclosed areas for private conversation.
An enclosed team room within the station, equipped with a conference table and built-in workstations for focused work and team huddles, can offer additional staff support that is off-stage and out of view from patients and visitors. Inova Mount Vernon successfully implements this strategy with places for "curbside, step-in and immersive" workstyles.
Pandemic response + better workplace experience lead to better patient care
At the front line of the COVID-19 global pandemic, the stress and emotional well-being of nursing staffs—already a major concern—has become dire. Health professionals can experience various psychological problems when working in high-pressure and high-risk scenarios, such as in times of disaster and pandemic.
Compassion fatigue and its related symptoms are a particular issue for critical care nurses in time of disaster, because the expectation to confront and cope with the need for care can exceed the ability to provide it, almost inevitably leading to emotional distress in staff. In addition to witnessing/experiencing patient suffering and death more frequently, having the responsibility for decisions related to resource rationing and utilization means critical care nurses are at heightened risk of developing emotional and physical suffering. Improving, maintaining and providing staff respite areas to foster community and protect healthcare workers' mental health is imperative now and in future consideration of space planning.
Patient experience and workforce engagement are intertwined. Enhancing culture and well-being, providing staff with places to recharge and care for themselves, will in turn yield a better patient experience. HCAHPS hospital scores reveal how patient and staff ratings are interrelated, while also correlating with broader organizational performance and net profit margins.
Human-centered design, placing the nurturer at an equal level of importance to the patient, may not totally offset the incredible pressure, budget constraints and factors organizations are forced to prioritize during the design process. But, if nothing else, evidence of the effect of patient and staff experience on the bottom line should command the attention of industry leaders to find new and innovative ways to nurture the nurturer.
Author: Michelle Sanders and Kate Reinhard
Michelle Sanders, AIA, is a project architect and medical planner at Perkins&Will, and Kate Reinhard is senior interior project designer at Perkins&Will.
Tags: Architecture, Staff Centered Care
Posted January 13, 2021
More Articles: