Subscribe Now
Keep up with the latest news with our magazine and e-newsletter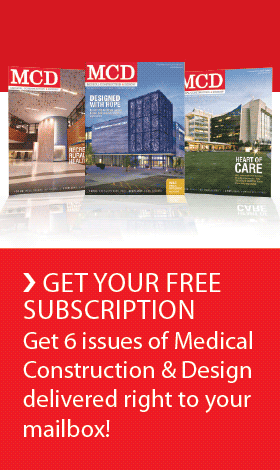 Subscribe to our E‑Newsletter
A renovation project at Allegheny Health Network's West Penn Hospital, located in Pittsburgh, Pennsylvania, began with a plan to replace seven pieces of imaging equipment. That plan evolved into an overall master plan, which involves renovating the entire 43,000-square-foot radiology department using Evidence-Based Design and industry best practices. The design of the department – newly renamed The Imaging Institute – consolidates clinical and support services to facilitate a safe and healing environment for patients. The expected completion date for the project is December 2022.
One of the key principles of the master plan relocates all radiology modalities to the hospital's third floor, offering the most cost-effective patient-focused care and increasing staff efficiency. The radiology suite was previously segregated, broken up by large portions of administrative spaces and outdated equipment.
Patients and visitors to the renovated third floor will encounter new interior finishes and wayfinding elements, as well as patient portals designed to greet occupants as they arrive at the individual imaging modalities. Some of the imaging treatment areas include MRI, CT, a nuclear medicine suite with PET and SPECT and interventional radiology among others. Many of the new rooms will feature ceiling elements with realistic images of nature, providing a calming environment during treatment.
The initial phase of this multi-phase project has been designed and approved by the Pennsylvania Department of Health and is scheduled to begin construction this month. The collaborative Design-Build team includes DesignGroup, H.F. Lenz Co., Taylor Structural Engineers and MBM Contracting working closely with the Construction and Real Estate Team at West Penn.
Posted December 21, 2020
More Articles: