Subscribe Now
Keep up with the latest news with our magazine and e-newsletter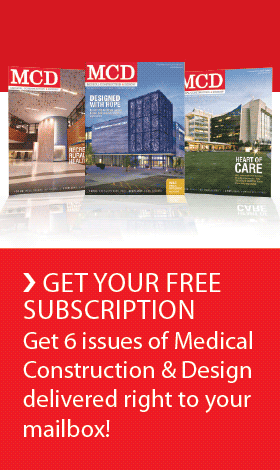 Subscribe to our E‑Newsletter
By Troy Savage
We've all experienced that "ah-hah" moment when you recognize something could be better, and imagine it being better. For patients and clinicians, it's often when they are in a hospital care space – the expectant mother in the middle of labor wishing she wasn't staring at a painfully slow-moving clock on the wall; the nurse wishing he could have eyes on all his patients at the same time; the ER clinician thinking, "only if the experience at the front end of the ED was more streamlined, I could have more healthy conversations with mid-acuity patients in the ER." The list continues.
But that "ah-hah" moment is followed by a sometimes-subconscious dialogue about barriers to reaching the ideal state (it's not really my field, there must be a good reason for what is wrong that I don't understand, I don't have the energy, etc.).  Much of the time our "ah hah" is silenced. That's why it is a powerful experience for everyone when they enter a space that helps them see beyond the challenges to the solutions.
Design thinking creates a space to embrace and build upon "ah hah;" design thinking is beginning to be formally applied to the healthcare design and construction industry.
Design thinking = human-centered design
Design thinking is a "philosophy that empowers an individual or team to design products, services, systems and experiences that address the core needs of those who experience a problem."1 Design thinking has been championed by Nobel Prize laureate Herbert Simon, taught through Stanford University's d.school and entered the public imagination through various design and consulting firms.2 It is an innovation technique that brings together different stakeholders to ideate, prototype and test actual solutions to the challenges we face.
At its core, design thinking recognizes that the design of something should cater to the actual challenges being faced by users. We often think of a theoretical user—or particular design characteristics—and design for that hypothetical user. "Let me solve that problem I know you must be having."
But do we really understand that problem? Is it really the most pressing problem? And do we understand what solutions might be more or less helpful?
Human-centered design, instead, employs ethnographic research techniques to better understand the challenges users face and the specific ways those challenges have or have not been addressed. Based on understanding the goals and specific challenges of users, HCD allows teams to focus on a particular challenge and to ideate potential solutions to the challenge.
Then, uniquely, design thinking involves the creation and testing of rapid prototypes that serve the purpose of allowing a potential user to tangibly interact with a version of the proposed solution. The user can give actual feedback that allows creation of a new prototype.
Design thinking meets healthcare design + construction
The "Reimagining" Workshops, organized by Mazzetti-founded Sextant Foundation and supported by Facilities Guidelines Institute, explicitly assemble clinicians, designers, contractors and others. Using human-centered design techniques, participants explore specific challenges, identified by clinicians, and ideate, prototype and test solutions to those challenges.2 The purpose is to use human-centered design to identify challenges faced by clinicians and their patients, and to identify solutions to those challenges, while also identifying potential changes to the FGI guidelines that might permit widespread improvements. Changing the guidelines changes how designers and contractors approach their work.
I'm a contractor. Aren't the architects already doing this and shouldn't I just leave the designing to them?
There are important distinctions in this process that allow it to be useful for architects, engineers, contractors and others.  First, the design thinking process is radically focused on solving specific (not theoretical) problems faced by patients and clinicians in clinical spaces. Second, everyone is invited to the conversation to help specify the definition and to ideate potential solutions to the problem. The thinking and contributions of everyone, from clinician to contractor, is important to creating the solutions we need to improve healthcare design, experience and outcomes.
Reimagining at work
At the most recent Reimagining Critical Care Workshop, one of the groups identified an interesting challenge. Groups consist of at least one clinician, one architect and others. The clinician in this group identified the sound environment as one of her major concerns. Not only was her group shocked to discover this was a serious challenge, the group was also surprised to find that most of the alarms in ICU rooms were not necessary (from the clinician's perspective), and this had a large impact on patients, families and clinicians.
What was powerful for this group was the way the clinician, architect, mechanical engineer and contractor (in this case a controls contractor) came together to do the empathy work. They used knowledge of mechanical system noise, sound engineering, clinical protocol and construction materials to recreate the noise within an ICU room. Then, they determined what noises could be eliminated. After that, they ideated potential solutions to the noise challenge. Inspired by the TV show Get Smart, they came up with the idea of a "cone of silence." In essence, they recognized that, with extant noise-canceling technology, they could give patients and/or families control over the noise environment.
At Reimagining Workshops, participants collaborate in ways that unleash innovative, potential solutions to the challenges faced by those in healthcare. Few other events (if any) combine radical collaboration with impact. What happens when top professionals—from different cross-sections of an industry—collaborate, instead of competing, to solve our most significant, timely challenges? Reimagining happens.
Practical instruction creating powerful value
With four Reimaging Workshops completed – Reimagining the ED3, Reimagining Childbirth Facilities, Reimagining Critical Care and the virtual workshop Reimagining+ Racial Justice in Healthcare – future workshops will build on best practices from the first four. Reimagining the OR was postponed in 2020, but is anticipated for 2021 and additional virtual workshops are likely. For more information and to join the email list, click here.
While the workshops give architects, engineers, contractors and others the opportunity to hear challenges faced by clinicians, they also offer practical instruction regarding design thinking. Through the workshops, more people in the healthcare design and construction community have begun to recognize the power of the design thinking approach, and are beginning to bring these thinking, collaborating and innovating techniques back to their own firms. And we can continue to apply design thinking within the industry to revolutionize new possibilities for how we deliver value with an ultimate focus on our patients.
Reimagining + COVID-19
The COVID-19 pandemic has changed much in today's world. It has caused devastation for so many, while revealing underlying systemic challenges to the organization of our society and to our institutions, including healthcare.
And perhaps, this is why we need to reimagine more than ever. Reimagining uses human-centered design to reveal underlying challenges and provides an opportunity to solve them. For example, at Reimagining Critical Care, one group identified the benefits of a "control room" that would allow operation of medical equipment from outside the patient room, while having eyes on the patient. Such a room would have been incredibly helpful during the March COVID surge, as facilities were "inventing" impromptu methods to allow such operation so that clinicians could reduce exposure risk and personal protective equipment use.
We recognize the need to innovate new solutions, addressing important topics and, ideally, can do so without battling a pandemic. Reimagining is one method to provide this opportunity—centering on challenges and empathetically addressing these issues together.
Ready to reimagine?
1 https://medium.com/dc-design/what-is-human-centered-design-6711c09e2779
2 https://medium.com/dc-design/what-is-human-centered-design-6711c09e2779
3 Note: Reimagining the ED was directly run by FGI.
Author: Troy Savage
Troy Savage is project manager at Mazzetti and can be reached at tsavage@mazzetti.com. 
Tags: Architecture, design thinking, FGI, human-centered design, Reimagining workshop
Posted October 14, 2020
More Articles: