Subscribe Now
Keep up with the latest news with our magazine and e-newsletter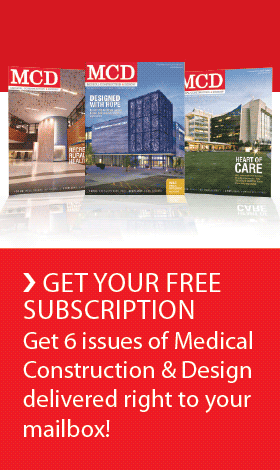 Subscribe to our E‑Newsletter
The American Society for Health Care Engineering is celebrating the outstanding contributions its members have made to improve the healthcare physical environment. ASHE presented several awards during its first-ever virtual conference Oct. 5-7.
The Crystal Eagle Leadership Award, considered ASHE's lifetime achievement award, was presented to Wayne Klingelsmith, FASHE, CHFM. Presently, he is the principal for MSL Healthcare Partners, Inc. in Barrington, Illinois. Klingelsmith's faith, mentorship and his passion for guiding those after him in the field are among the key reasons why ASHE selected him for the 2020 Crystal Eagle Leadership Award.
The ASHE President's Award, which is presented at the discretion of the sitting ASHE president to an individual who goes above and beyond to optimize the healthcare physical environment, was presented to John F. DiGirolomo, MBA, CHFM, CHC, FASHE, senior vice president at St. Barnabas Hospital in Bronx, New York. DiGirolomo, who has been in healthcare facilities management field since 1981, has been an active ASHE member since 2003, most recently the co-chair of the ASHE COVID-19 task force and the chair of the CHFM Certification task force.
Also at the ASHE Virtual Conference, ASHE recognized members who attained Fellow or Senior status within ASHE.
The FASHE designation is bestowed upon those who have been ASHE members in good standing for at least 10 years and have contributed to the field through education, leadership and written contributions. The following members are new FASHE recipients:
Dennis Ford, FASHE, MHA, CHFM, Atrium Health, Charlotte, North Carolina
David Lockhart, FASHE, CHFM, CEM, Kaiser Permanente, Roseville, California
Sean M. Mulholland, FASHE, PE, CHFM, CHC, Children's Hospital Colorado, Aurora, Colorado
The SASHE designation is bestowed upon those who have been ASHE members in good standing for at least five years and have supported ASHE in terms of education and leadership. The following members are new SASHE recipients:
James Craig Ayers, SASHE, MHA, CHFM, CHSP, CHC, Memorial Hermann Northeast, Humble, Texas
Lorrie Jansen Elizarraraz, SASHE, MPA, CHEP, CHSP, Texas Health Resources Frisco, Frisco, Texas
Jeremy M. Fortier, SASHE, PMP, CHC, Medxcel Facilities Management, Indianapolis, Indiana
Anne M. Guglielmo, SASHE, CFPS, LEED-AP, CHFM, Code Consultants, Inc., St. Louis, Missouri
Alan Owens, SASHE, CHFM, Dartmouth-Hitchcock Medical Center, Lebanon, N.H.
Matt Royal, SASHE, CHFM, CHC, Eskenazi Health, Indianapolis, Indiana
Joe Saldivar, SASHE, CHFM, Henry Ford Health Systems, Clinton Township, Michigan
Mark A. Sears, SASHE, CHFM, Faith Regional Health Services, Norfolk, Nebraska
Gaylene L. Stengel, SASHE, CHFM, CHSP, CHEP, Texas Health Resources, Arlington, Texas
ASHE's Regional Leader Award recognizes leaders for contributions to the fields of healthcare engineering and facility management; planning, design and construction; safety; clinical and biomedical engineering and technical management.
Region 1: Joseph C. LaVigne, CHC, University of Rochester, Rochester, New York
Region 2: Philip Klaski, Jefferson Health – Abington Memorial Hospital, Abington, Pennsylvania
Region 3: Kenny Sartin, CHFM, WVU Medicine – United Hospital Center, Bridgeport, West Virginia
Region 4: Timothy Sizemore, HCA – Memorial Satilla Health, Waycross, Georgia
Region 5: Jonathan Hunley, CHC, LEED GA, Bon Secours Mercy Health, Cincinnati, Ohio
Region 6: Ryan Schramm, CHFM, M Health Fairview | Fairview Health Services, St. Paul, Minnesota
Region 7: Jacob A. McCall, CHFM, Memorial Hermann Sugar Land, Sugar Land, Texas
Region 8: Brian J. Leabo, Wesley Medical Center, Wichita, Kansas
Region 9: Larry Gordon Knowlden, Intermountain Healthcare, Salt Lake City, Utah
Region 10: Jesse O. Barnum, MS, CHFM, St. Luke's Meridian Medical Center, Meridian, Idaho
For more information, visit ashe.org/ashe-awards.
Posted October 22, 2020
More Articles: