Subscribe Now
Keep up with the latest news with our magazine and e-newsletter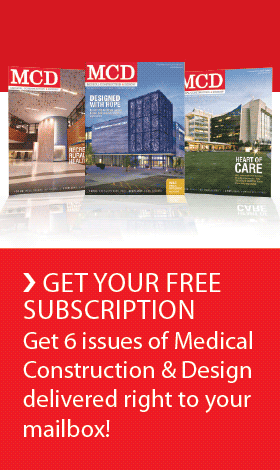 Subscribe to our E‑Newsletter
The newly modernized and expanded medical clinic and a new veterinary clinic at Tyndall Air Force Base, near Panama City, Florida, have been designated LEED Silver by the U.S. Green Building Council. The 325th Medical Group clinic, Building 1465, required structural and design updates to provide mission-critical, comprehensive healthcare to more than 800 airmen and their families stationed at the base.
The $53.4-million Design-Build project – completed by Hoefer Wysocki and JE Dunn Construction – included extensive renovations to the three-story, 69,044-square-foot medical clinic, as well as the design and construction of a new 2,267-square-foot veterinary clinic, Building 1309, to provide essential care to military working dogs and the pets of military families. Before the new veterinary treatment facility was built, veterinary care was administered from a retrofitted structure originally built in 1942 for another use.
The clinic design required a complex, two-phase construction process to allow clinic operations to continue uninterrupted. Two temporary phasing facilities were built to accommodate clinic operations during construction. The Design-Build team faced setbacks near completion of the first phase in October 2018, when 95% of Tyndall AFB structures were damaged by Hurricane Michael, with the cost of damage exceeding $3 billion. The team repaired the minimal damage to the temporary phasing facilities and resume work, completing construction in December 2019.
The completion of the clinic also consolidated several departments that were scattered in multiple locations creating inefficiencies for staff and confusion for patients. The design of the modernized clinic creates a sense of place and elevates the patient experience. Services now housed in the renovated clinic include laboratory, pharmacy, radiology, dental health, physical therapy, behavioral health, flight medicine and optometry, as well as the Basic Electrical and Electronics Program and the Biomedical Equipment Technician Program.
Both the medical and veterinary clinics were designed from the outset to achieve LEED Silver certification. The project team worked together to ensure the design and renovation of the medical complex complied with the U.S. Army Corps of Engineers technical, sustainability, budgetary and regulatory requirements. The Design-Build solution resulted in a patient-centered environment that facilitates wayfinding, lean workflows and delivery of the highest quality healthcare in a building that is efficient, safe and secure. The design also complements the surrounding architecture.
Sustainable strategies were a priority at the outset of the project. Construction materials were both recycled and locally sourced, which benefits the local economy while reducing greenhouse gas emissions associated with the transport of materials and equipment to the site. Certain sustainable features of this project, such as its green cleaning program and sustainable purchasing policy, will continue to maximize the efficiency of the property in the future.
Posted September 21, 2020
More Articles: