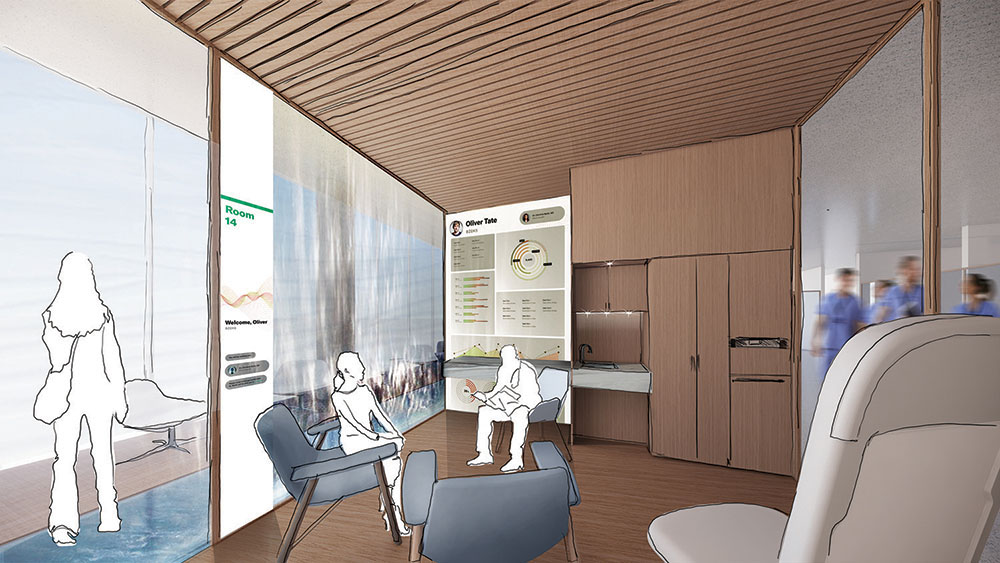 A rendering of a waiting room in a women's healthcare facility that features lounge-style seating with an abundance of natural light.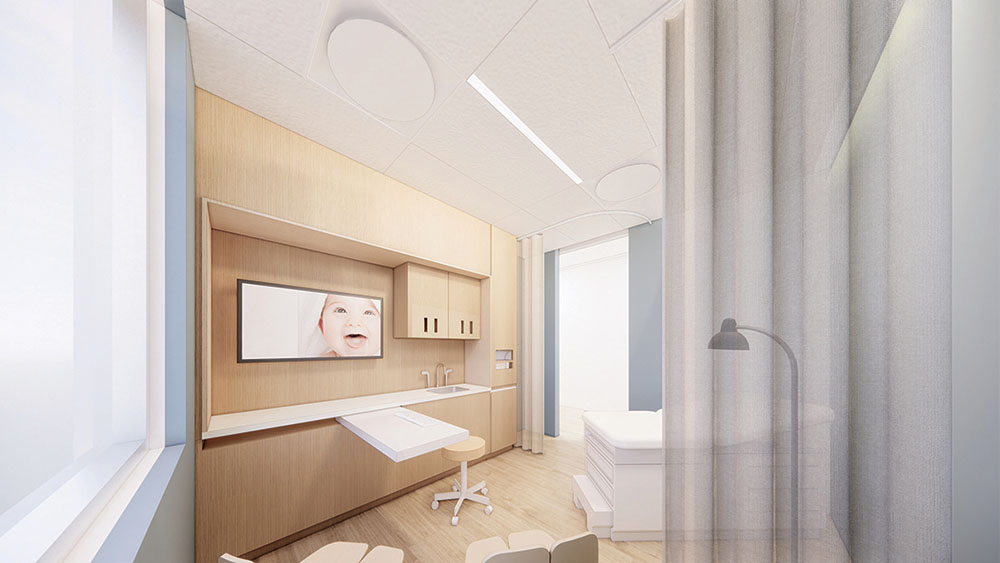 This example of an exam room uses natural soothing colors and materials. A physician worktable is integrated into a casework wall, and has the ability to be stored away, which provides more flexibility for room use. The ceiling has indirect lighting and a linear light for examination.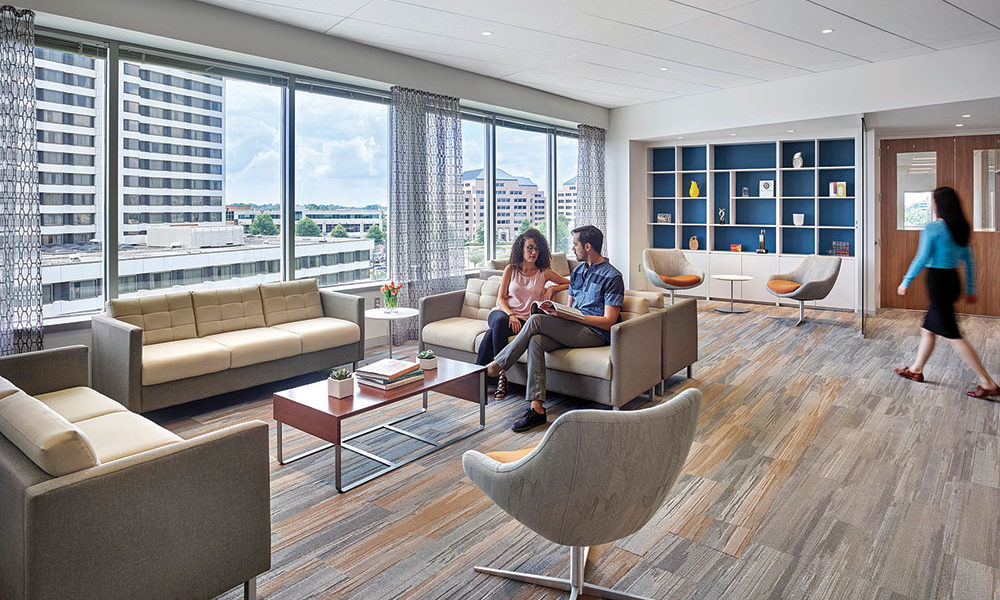 This different approach to an exam room uses lounge seating for patient/doctor interaction. Casework hides all equipment to create a more calming environment. Technology can be used for wayfinding and personalization at a room's entry door. A large screen inside the exam room presents information to patients. This room has two entrances, a patient entrance and a staff entrance, that connect to an off-stage staff zone.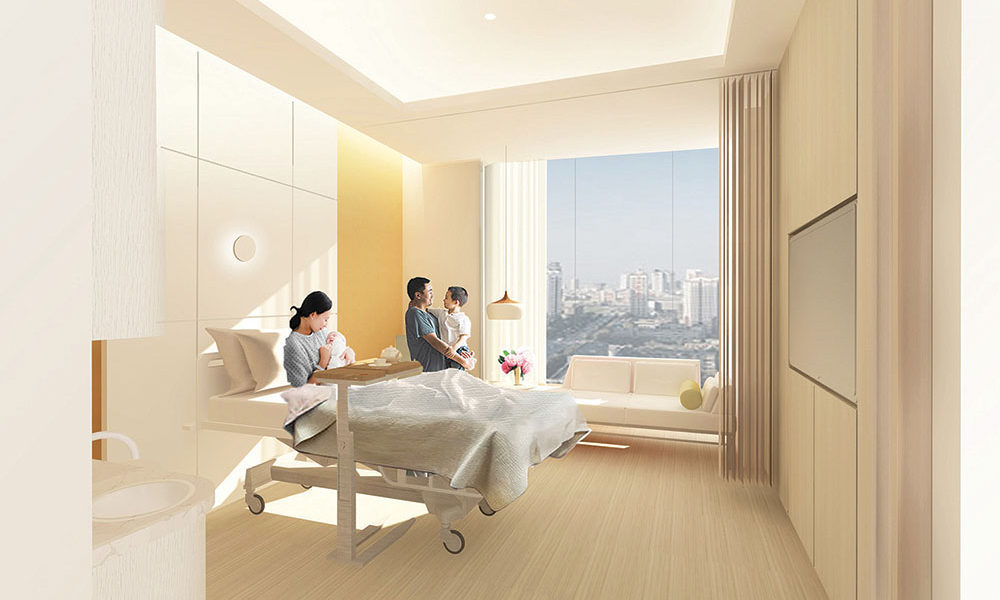 In this rendering of a maternity room, pleasant family space, use of natural materials and indirect lighting make a more soothing environment for mom and baby. A caregiver zone is separate from the family zone inside the room.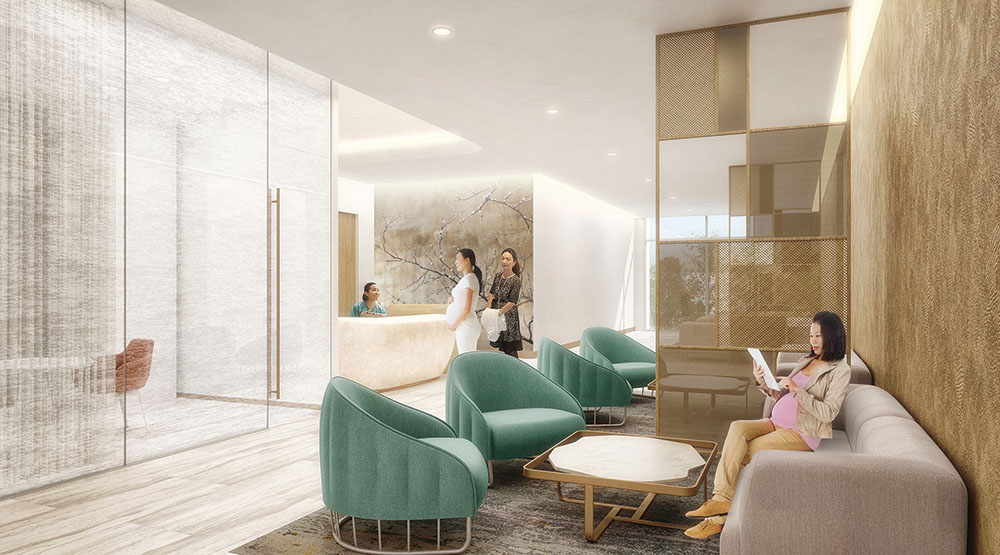 Lounge-style seating and privacy screens make an environment feel intimate. Use of different textures and natural materials create a feeling of luxury.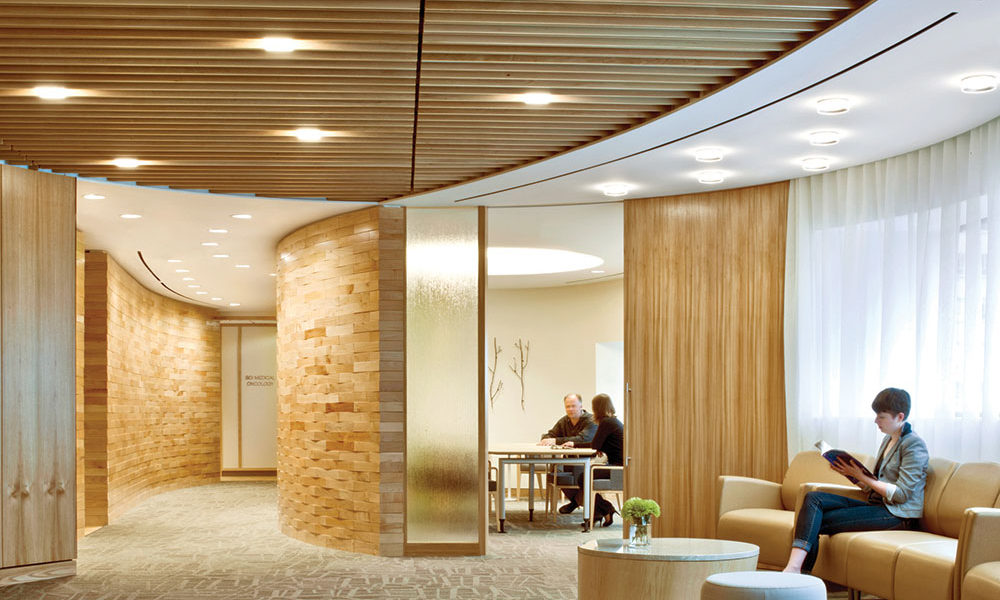 Different seating options better accommodate needs of women in the waiting area. The stone wall divider creates different zones within the waiting room (potentially quiet versus loud). Use of a fabric curtain manages daylight.
◀
▶
Subscribe Now
Keep up with the latest news with our magazine and e-newsletter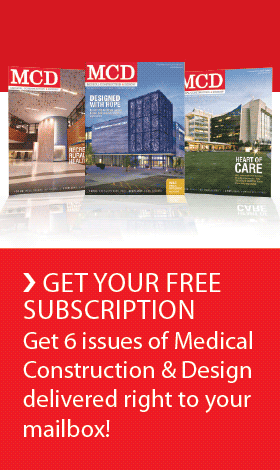 Subscribe to our E‑Newsletter
By Tatiana Guimaraes
When focusing on certain demographics, it is interesting to see how perspective changes. The result is a different approach to space and building design. Designing for women requires applying different lenses and to think about a woman's typical day to better understand how to best support her.
Women are busy human beings. It does not matter if a stay-at-home mom or a corporate executive, women are constantly multi-tasking around non-stop schedules. This includes a multitude of activities, such as taking children to and from school or extra-curricular activities, attending client or school meetings, going to the gym and so on. 
All this has impacted how women are shopping for healthcare. Living in the 21st century, needs have evolved, and women want places that help accomplish tasks faster and/or provide a moment of respite.
It is also important to understand that women have two major encounters with healthcare: childbirth and primary care. 
On the outpatient side, primary care routines have grown to centers that encompass a large spectrum of services from gynecology, obstetrics, oncology, breast health, bone health and menopause to support nutrition, diabetes, dermatology, endocrinology, cardiovascular and behavioral health. But no matter which area women are going to, there are five aspects to consider when designing for the modern woman:
1. Convenience 
2. Experience 
3. Amenities 
4. Omnichannel strategy 
5. Branding
Convenience
Convenience is key in today's busy life. Easy access, easy parking and as little waiting as possible are aspects everyone is shopping for. So, when designing facilities for women, thinking of the location becomes the first crucial step and, within that, the consideration for a place embedded in day-to-day life. 
For example, recently I went to a women's center for Baptist Health of South Florida located inside a Macy's department store in a Miami, Florida mall. How convenient is that? 
To what extent is there a need to develop a separate building versus locate services within existing structures? When creating freestanding buildings, consider easy parking, valet services and locations closer to urban areas to take advantage of handling other tasks before or after the doctor visit. This approach is also applicable to inpatient visits; women want easy access to the maternity floor, ideally separate from the rest of the hospital. 
Experience
Many women want to have a special experience when going to a healthcare facility. They want to go to a place that is tranquil, stress free and one that creates a harmonious environment, so much so that it feels more like going to a spa rather than going to have a mammogram. 
Returning to the idea of busy lives, and using this moment to create a pause, a moment of serenity and the ability to shift the focus inward is what a lot of women are looking for. The goal is to be taken to a special world of luxury, non-healthcare like, that focuses on total health and wellness. 
Lighting design is critical to help create the right ambience, as well as the use of natural materials, soothing color palettes and a variety of textures. 
In addition, placement of furniture in waiting rooms in a lounge setting, use of comfortable chairs and consideration of options like a workstation to plug and charge a computer or phone should be included. The same applies to maternity rooms. Women want to enjoy the moment and have family as company, so the size of a room and accommodation for visitors, as well as a space to enjoy a newborn, are important considerations. 
Amenities
Adding different amenities to these environments allows for the visit to go beyond the medical task. 
Amenities can range from actual massage rooms, chiropractic areas, one-on-one physical therapy/personal training, to concierge services, bathrobes in maternity rooms, special meal choices, as well as nice candles and scents. 
Omnichannel strategy
A one-stop-shop connected with technology is the goal for designing healthcare centers. How much can a woman do at home versus in a place outside of the home? Once in said place, can she do all of her services at once, in one location, based on one appointment and one visit?
Shopping online is a must today…from Instacart, to Amazon, to boutique stores, the world has gone digital. Just like a retail store, the idea of browsing online and then going to the store, trying the outfit on and finalizing the purchase online or at the store is an example of omnichannel strategies happening today. 
Considering how that can be translated to a healthcare facility that serves women opens new opportunities to experience services. Again, convenience is key…scheduling, pre-consult forms, insurance information and billing can all be done online. 
Another relatively new concept — telemedicine — is growing rapidly, allowing easy access to doctors via smartphone or computer. When combining this with the actual visit to a facility, patients are given the chance to start the process at home either by registering or talking to a doctor on the phone to have everything prepped by the time of arrival. 
After the visit, patients can follow up via Skype. Now it is a multi-channel process interconnected just like retail stores. That is a necessary consideration to have as people have less time and availability and are looking for opportunities to expedite anything.
Branding
Because many women decide where the family goes for healthcare, brand loyalty should be an important design consideration. How do project teams create a tranquil, luxurious ambience that provides an experience focused on total health and wellness? These are the questions that need to be addressed.
Physical spaces provide opportunities to experience a brand in unique sensory ways; texture, scent, sounds, visual excitement, even taste can define a memorable part of a visit. When combined with brand messaging and stories, powerful experiences come to life. These spaces articulate a brand's message and story and should be designed to be thoughtful and considerate of the journey an environment is offering.
Finally, there are some common threads that apply to any demographic: inclusion, diversity and cultural differences. It is critical to understand the demographics of regions and include the culture in design thinking for women.
Ultimately, when designing for women, it's necessary to create spaces that meet a different spectrum of healthcare. These environments for women should consider lifestyle needs and be infused with soul and tranquility, while being easily accessible and embedded in their day-to-day lives. 
Author: Tatiana Guimaraes
Tatiana Guimaraes, AIA, LEED AP, CAU, is an associate principal at Perkins and Will. 
Posted September 15, 2020
More Articles: