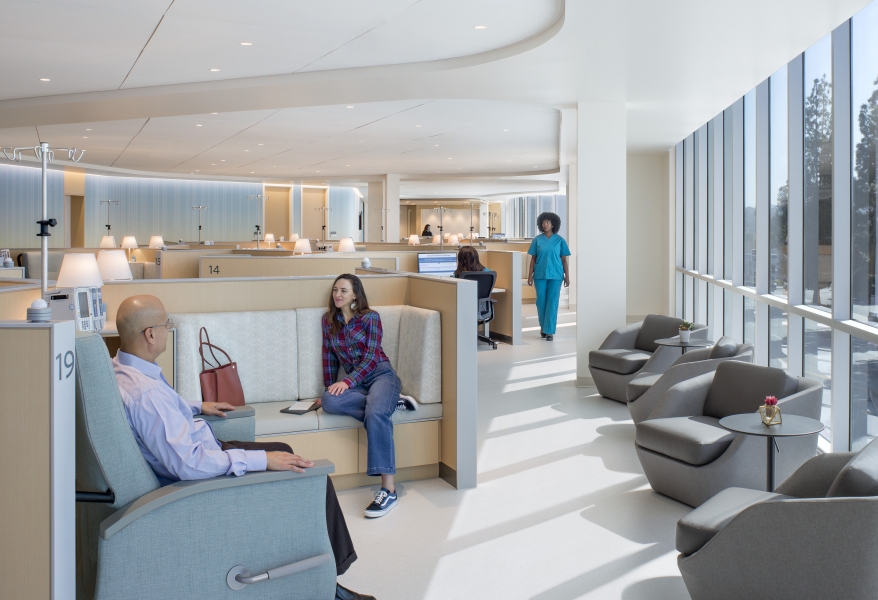 Subscribe Now
Keep up with the latest news with our magazine and e-newsletter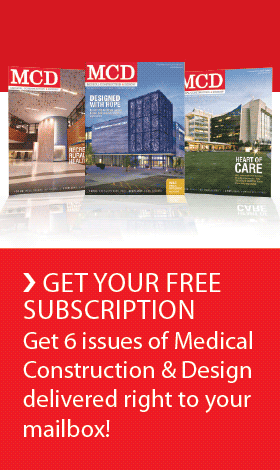 Subscribe to our E‑Newsletter
In June, ZGF convened doctors, designers and healthcare experts for a virtual panel discussion about the impacts of COVID-19 on the future of healthcare.
The speakers—Dr. James Greenberg from Cincinnati Children's Hospital Medical Center (Ohio), Zeke Triana from Cedars-Sinai Medical Center (California) and ZGF's Janet Pangman—tackled some of the toughest questions we've been facing in the healthcare industry and beyond during the pandemic. The discussion was moderated by ZGF Principal David Staczek.
The panel touches on three operational and design impacts of COVID-19 that have the potential to shape a post-pandemic future of healthcare.
Flexible, surge-ready spaces key to preparedness planning
It's impossible to overstate the value of flexibility during the COVID-19 crisis. Like most organizations, Cincinnati Children's didn't have much time to prepare for the pandemic. The hospital created an emergency preparedness group that activated an early response focused on protecting patients, families, visitors and staff.
"One of the things we had to address early on was this issue of flexibility," said Dr. Greenberg, co-director of the Perinatal Institute at Cincinnati Children's. "We spent a lot of time doing contingency planning—that included the neonatal intensive care unit—about how we were going to move patients around, what spaces were appropriate, how to modify those spaces and how to do that quickly. We didn't have the surge we expected, but that planning has come in handy in terms of how we think about our space."
Hospitals have transformed their lobbies and public spaces into screening and testing checkpoints for patients, families and employees. With non-clinical staff working remotely, they can also take advantage of empty conference rooms and workspaces for donning and doffing PPE and other needs.
"We haven't had to change clinical spaces from one patient population to another, but we did a lot of planning for it," added Dr. Greenberg. "If we had to, I think it would have been quite successful. From a design standpoint, the more standardization and uniformity, the better."
Zeke Triana, vice president of facilities planning, design and construction at Cedars-Sinai Medical Center, noted, "It's a great lesson moving forward to think about spaces in a multipurpose fashion as opposed to a singular purpose."
The first thing his team did was prepare a surge plan for the medical center, including increasing inpatient beds from 900 to 1,200—and getting creative with alternative care spaces, such as recovery rooms and post-anesthesia care units that could be converted to COVID-19 inpatient units.
Healthcare organizations more agile than they think
"That's the way healthcare workers are wired," said Triana of how Cedars-Sinai shifted its decision making to allow frontline staff to be more agile. He believes that healthcare workers are at their best during a crisis. When COVID-19 happened, Cedars-Sinai didn't have a playbook with all of the answers.
"One of the things we've been doing as leaders is reflecting on a couple of books on this topic, including Agile Leadership and Team of Teams. We looked at other industries—the military, computing, sports—where every player knows exactly what they need to do, which allows some improvisation on the field. Going forward, we can adapt to future crises, changing demands of patients and consumers and different models of care. We're making a concerted effort to capture this progress and create a playbook that enables our teams and frontline staff to be agile and respond in the moment."
Janet Pangman, a principal healthcare designer and medical planner at ZGF, said she's reassured by the remarkable response from the healthcare industry over the last four months.
"It's amazing how resilient healthcare is," she said. "Hospitals and healthcare in general have always been preparing for what's next. This isn't the first challenge they've had to deal with. Even in the last 20 years, I think of Hurricane Katrina; tornadoes that wiped out a hospital in Joplin, Missouri; massive flooding; the Ebola scare and even all the work we've done in California related to earthquake preparedness."
Pandemic accelerated adoption of telemedicine
 Most healthcare organizations have been planning for telemedicine for many years, but it hasn't been widely adopted for various reasons—insurance reimbursement models, physician and patient demand, internal bureaucracy. In the face of the pandemic, these organizations have had to be agile to make the switch quickly.
At Cincinnati Children's, virtual visits increased tenfold in the first two weeks after COVID-19 hit. Early data points to higher-than-anticipated patient satisfaction scores. Dr. Greenberg attributes this to a younger, more tech-savvy patient and family population that has been accepting of the medium. Triana has seen greater demand from Cedars-Sinai patients who live far away from the medical center and don't want to commute across Los Angeles, and from family members who want to connect with loved ones receiving care.
Another advantage, Pangman added, is that organizations can bring together cross-functional teams that don't work in the same building to contribute to the dialogue with patients.
"It's not just connecting patients and doctors, or patients and their loved ones; it's also connecting teams and departments within those institutions," she said.
At Cedars-Sinai, said Triana, "We did this because we had to, but now that we've gotten a taste of it, a lot of people don't want to go back. It has accelerated the use of the technology at least 10 years."
Still, many wonder how this will affect healthcare design long term. In the primary care and urgent care arena, Cedars-Sinai is projecting that 25% of care will be provided by telemedicine, at least initially.
"That's going to come back to planners and designers," Triana said. "What should an urgent care and a primary care clinic look like in the future?"
Healthcare systems will always provide in-person care, especially for more-complex cases. But in the last five to 10 years, Pangman says ZGF has been integrating more technology infrastructure so that when telemedicine finally happened—sooner than anyone expected—those facilities were ready to transition.
Lasting changes
In a "lightning fire" final round closing the discussion, each panelist shared their thoughts on the changes they think are here to stay.
"Technology is by far the biggest," noted Triana, after he posed the question to his real estate team. "The ability to work anywhere, be remote, still be productive and advance the work."
Space was one question that came up: "Do we need as many offices and conference rooms as before? Are physicians willing to work remotely? At Cedars-Sinai, we have a space problem—we recruit very rapidly, and we run out of space quickly."
Dr. Greenberg is feeling like a virtual meeting expert, but perhaps not its biggest fan, saying that "I'm learning about the advantages and disadvantages of Zoom. We get much better attendance and participation at important meetings than we used to. Alternatively, there is a lot of complicated decision making and problem solving that is better done in person."
"Another thing that seems simple is waiting rooms. When I order carryout from my favorite restaurant in Cincinnati, they know when I'm coming, the food is ready when I get there and then I drive away. Why do we have a different structure in medicine? Thinking about what those spaces and square footage look like down the road is going to be really important."
Pangman thinks of it in three types of space: public space, patient care space and staff space. Staff space is where her concern is.
"Organizations are realizing there's a certain number of people who don't need a space in the healthcare setting. They can work from home. But for staff spaces we are designing within the building, we've been looking at integrating doctors and nurses. Some of those spaces may need to be more generous. We'll have to be more mindful of how we design for care teams, provide space for social distancing, right size them (and not oversize them) and really think about how people relate to each other and what kind of space we're giving them for work that's not direct patient care."
For more info, visit: https://www.zgf.com/news_post/webinar-recap-where-does-healthcare-go-from-here/.
Tags: Architecture, COVID-19, future of healthcare, post-pandemic, telemedicine
Posted July 9, 2020
More Articles: