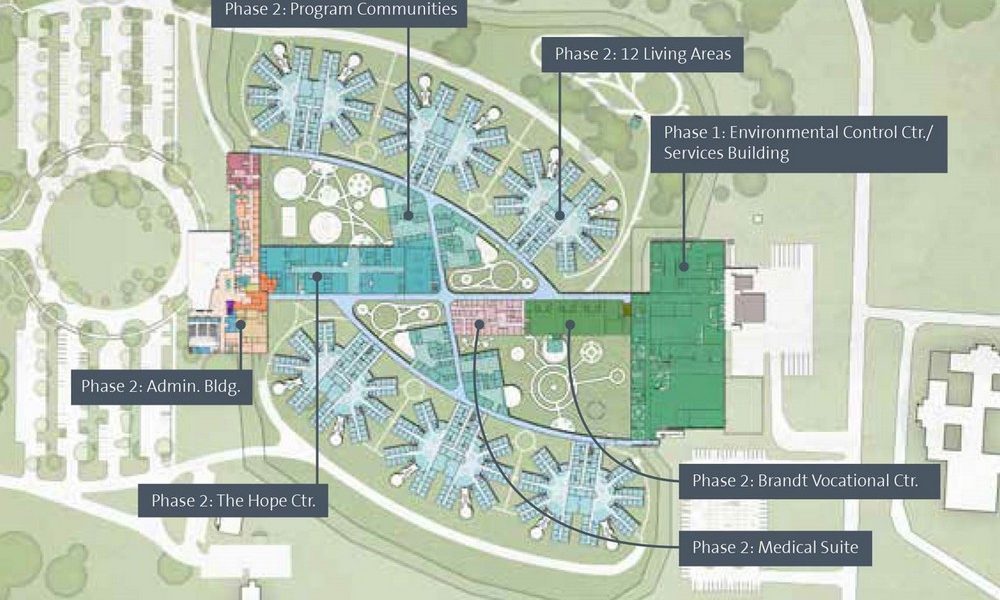 Site plan highlighting program communities at Nixon Forensics Center. Photo © EYP Architecture & Engineering.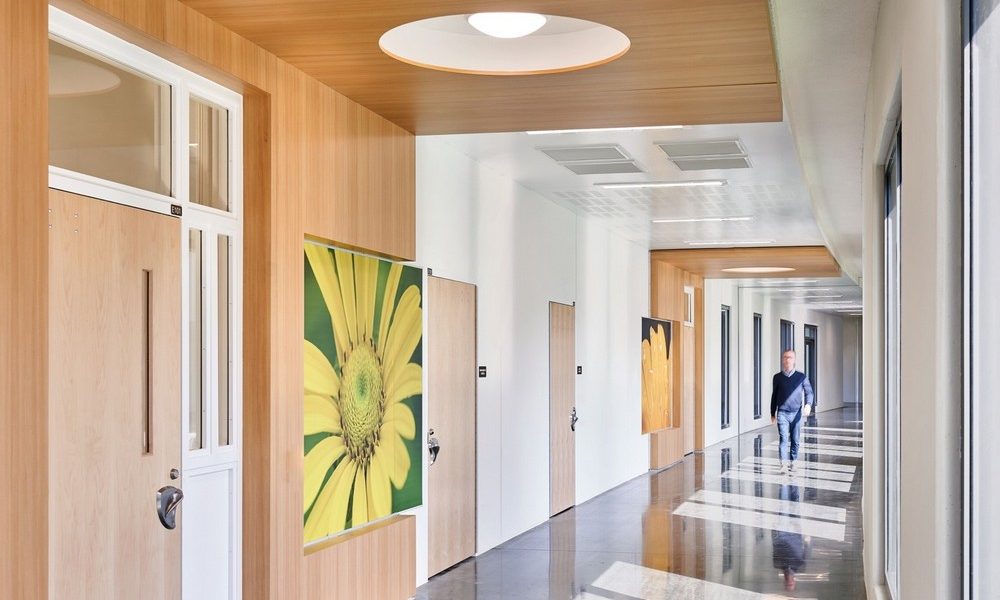 Patient corridor at Nixon Forensics Center With views to outside. Photo © Michael Robinson Photography.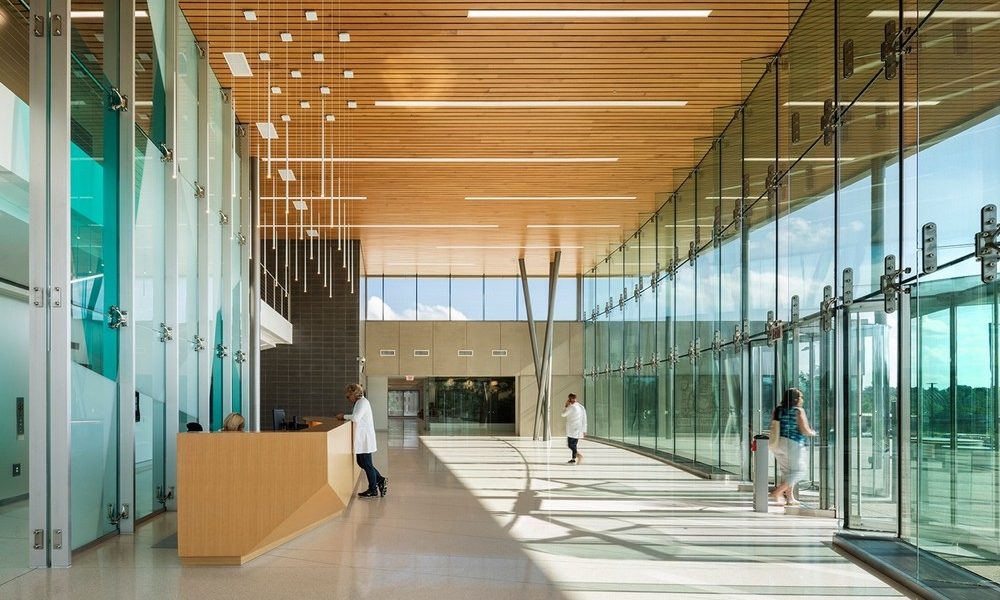 Nixon Forensics Center's entry lobby. The project was led by prime consultant WSP/USA in collaboration with design firm EYP Architecture & Engineering. Photo © David Sundberg/ESTO.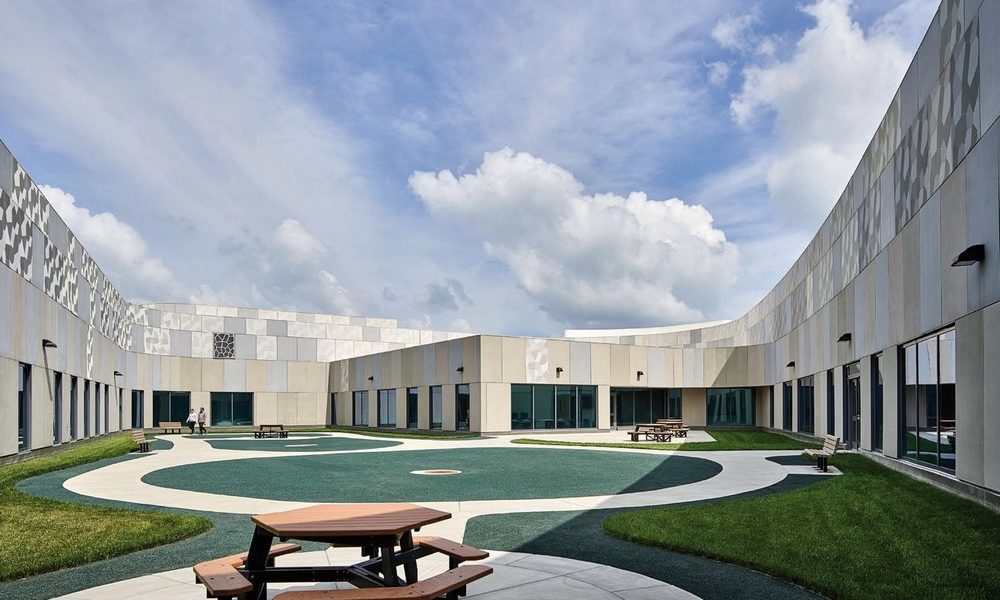 Nixon Forensic Center exterior courtyard and wall design. Photo © Michael Robinson Photography.
◀
▶
Subscribe Now
Keep up with the latest news with our magazine and e-newsletter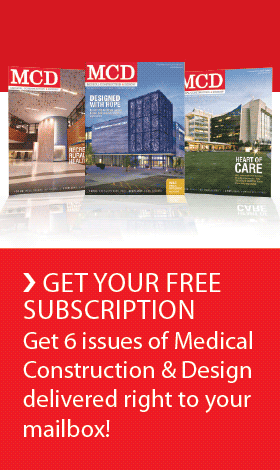 Subscribe to our E‑Newsletter
By Eric M. Kern and Antoinette Ayres
With an increased focus on the physical environment needs of recovery-based treatment, today's behavioral health designs are more seamlessly blending safety, security and durability features with the requirement for calming, pleasant and therapeutic designs.
Psychiatric hospital design wrestles with multiple contradictions, including the need to balance budget restrictions with highly durable, long-lasting materials; the need to provide observation while maintaining patient privacy and the desire to integrate daily structure and control with patient dignity. Of particular importance, they are challenged by the need to provide a normative, stress-reducing, highly therapeutic environment, while fully maintaining facility requirements for security and the physical safety of patients and staff.
It is not difficult to find examples of past psychiatric hospital design where the prominence of the security elements sends a striking daily reminder to patients: razor-wire on fencing, barred windows or tall, concrete-courtyard walls that reflect the prison-like architecture of the past. Within these facilities, the interior design was often cold, bland and dehumanizing, with poor natural light. These facilities have too often been the trademark of psychiatric facility buildings of the mid-20th century.
Fortunately, with advances in security technology and thoughtful design solutions, a compromise between safety and effective therapy is not required. Psychiatric facility design today, when done carefully and thoughtfully, can meet both of these goals harmoniously. Increased functional security measures, such as card readers, controls and cameras, done in a non-intrusive and integrated way, can serve to lower stress for patients and staff. This real added safety – and the added recognition of safety – to both patients and caregivers improve the ability to provide therapy and an opportunity for patient recovery.
Safety + therapy via floor plan layout
A significant part of the safety of a behavioral health facility stems from the initial floor planning of the treatment areas. Designing for passive observation by providing clear sightlines throughout patient spaces and to critical doors, from defined observation points, is paramount. Avoiding hidden corners, niches, pilasters and unsupervised dead ends in the plan helps all inhabitants feel more comfortable and aware of their circumstances. Layouts that allow easy observation of historically problematic areas, such as dining rooms and toilet room doors, can help minimize the risk of incidents.  Generous corridor widths and ceiling heights can reduce safety concerns while enhancing the feeling of well-being.
Saint Elizabeths Hospital in Washington, D.C. is one example of a floor plan that features complete passive observation from a single location in the nurse's station to every patient door, day room, courtyard and staff office in the living unit.
Incorporating a variety of amenities, and options for type and scale of patient spaces, can also serve to enhance therapy and allows daytime separation of patients. At Nixon Forensic Center, in Fulton, Missouri, a new program element was developed as a mid-sized scale of patient space for daytime activities. Dubbed the "Program Communities," this collection of common areas and counseling rooms serves as an additional middle-ground option between the 25 patient living units and the 100+ patient treatment mall.  This "three-tier" organization of psychiatric patient spaces is the first of its kind.
Material selections create durable, therapeutic atmosphere
Selecting natural materials in behavioral health projects is paramount to creating a familiar and home-like atmosphere for patients, and the use of these materials can create calm and inspiring spaces.
The design of the new Nixon Forensic Center transformed the caregiving paradigm by employing rigorous and dynamic planning, maximizing natural daylight, the use of innovative materials and biophilic principles. Interior systems within high-security hospital enclosure include CMU partitions finished with a high-performance plaster coating. This specialty coating minimizes joints in the CMU block walls that can convey an institutional and cold look. Similarly, the use of color and texture creates serene and uplifting spaces for both patients and staff. Texture or color changes effectively define circulation or brand select areas.
Historically, project ceilings in patient areas were enclosed gypsum wallboard with surface-mounted anti-ligature lighting. For the Nixon Forensic Center, the design team modulated ceilings with acoustical wallboard and used security fixtures in unexpected ways; for example, by incorporating them into wood soffits or by locating specialty lighting at safe heights that would prevent patients from damaging them. Floors in the corridors are durable polished concrete, with wood-look resilient flooring in the dayrooms and patient bedrooms to create a more residential feel. Use of any material that could be pulled off and used to harm others or to inflict self-harm was eliminated, including using pick-proof caulk for wall-to-floor transitions rather than resilient base.
The opportunity to harvest natural daylight as general lighting was maximized in the Nixon Forensic Center project to the greatest extent possible. Security-grade supplemental lighting was incorporated into the design to address safety concerns, as well as enhance the design aesthetic of the patient areas. Additionally, glaze-front offices were used together with open-plan workstations in the administration spaces. They were located adjacent to windows to share light and views to reinforce natural circadian rhythms for staff and patients.
The design of specialty millwork, such as the nurse's station located in patient dayrooms, is an exceptionally complex task in behavioral health projects. These stations are situated frequently behind glazed-screen walls so there is a physical barrier between staff and patients. In the Nixon Forensic Center, the design team used a more open and welcoming concept by locating the open nurse's station at a vantage point in the dayroom where sight lines to every patient corridor could be observed simultaneously. There is also no glazed barrier between the nurses and the patients. Instead, the custom-designed work counter enclosure, itself, was raised and angled to provide natural separation and to prevent patients from climbing or vaulting over it.
Furnishing solutions for behavioral health facilities have also evolved considerably from the prison furniture look of the past. Although safety concerns, particularly in response to anti-ligature requirements, are still of paramount importance, contemporary options are available with comfort and aesthetics in mind. Manufacturers now offer attractive color options and design features, which, though often more substantial and durable, do not look dissimilar from selections from any commercial or institutional manufacturer.
The goal of creating successful healing spaces in these types of projects is to incorporate design elements that create a comfortable hospital feel to ensure better patient outcomes and retention of staff. The overall design character should exude a feeling of wellness and a return to normalcy that also represents and reinforces a patient's path to recovery and future reunion with society.
Safe, therapeutic exterior spaces
Access to exterior space and natural daylight is a critical part of designing a therapeutic facility, and some of today's newest hospitals offer patients the opportunity to privately unwind in fully observed outdoor courtyards attached adjacent to their living unit. At Nixon Forensic Center, in addition to the smaller living unit courtyards, more spacious program-based courtyards are provided for outdoor recreation. These larger outdoor spaces were designed with a variety of amenities and diverse activities, from active, game-centered activities, to more contemplative courtyards, sometimes featuring a labyrinth or meditative gardens. Rather than fencing, courtyard security is provided by enclosing these outdoor areas within the walls of the building clad with familiar (but unclimbable) building materials, more reminiscent of a garden hotel than a mental institution. Nixon's courtyards are surrounded by ultra-high-performance concrete cladding and glazing, with textures in a random artistic pattern reminiscent of cloud shapes. This treatment serves to soften and further alter the perception of this as a "security wall."
Where exterior security fencing is needed, building massing or berms are sometimes used to shield the fence from sight, maintaining a pastoral, therapeutic view. This concept was used for the Saint Elizabeths Hospital design. Various perimeter motion-detection technologies can be used in concert with fencing to reduce the need for additional layers, or to help avoid the need for oppressive-looking security treatments at the top of walls.
By utilizing the modern approaches used in today's behavioral health facility design—as represented by Saint Elizabeths Hospital and Nixon Forensic Center—patient treatment and recovery are supported, while addressing the safety, security and well-being of staff. This provides a positive and harmonious outcome for all.
Author: Eric M. Kern and Antoinette Ayres
Eric M. Kern, AIA, is sr. project director, Behavioral Health, principal, EYP Architecture & Engineering. Antoinette Ayres is lead interior designer, associate principal, EYP Architecture & Engineering.
Tags: behavioral health
Posted June 15, 2020
More Articles: