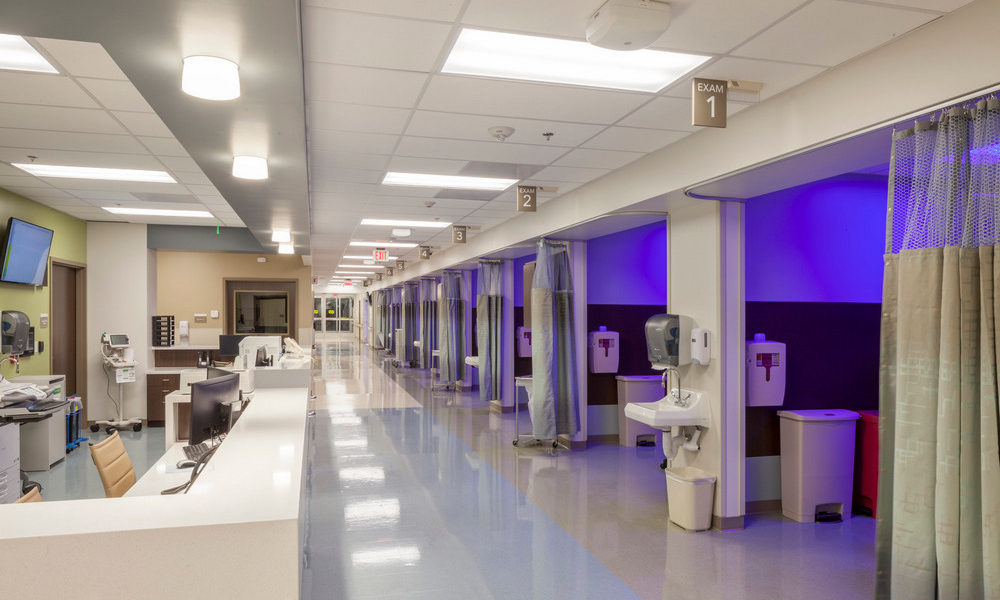 Henderson Hospital exam rooms (with narrow spectrum lights ON) by Chris Grant/HMC Architects.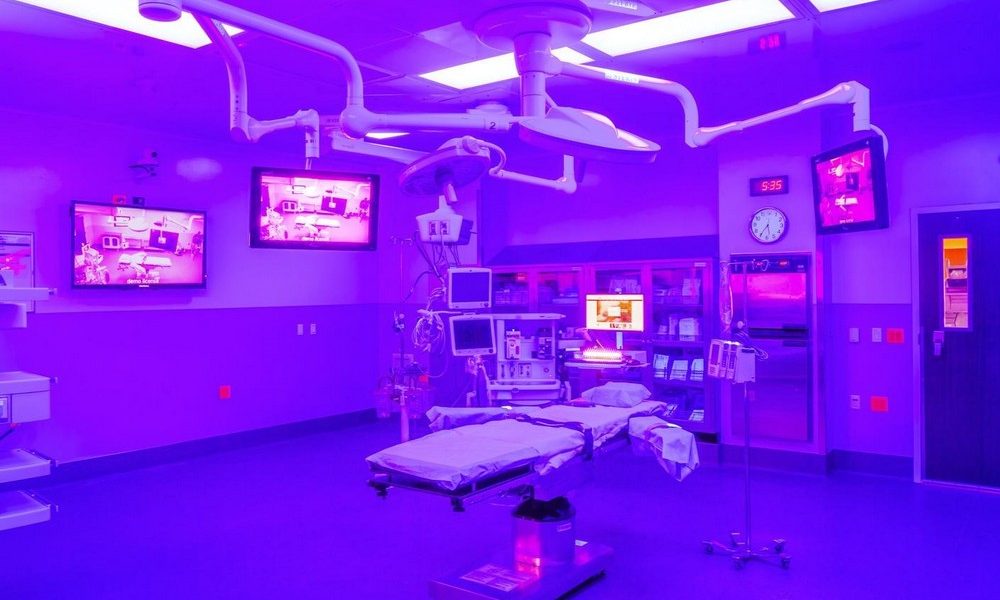 Henderson Hospital OR (with narrow spectrum lights ON) by David Fennema/HMC Architects.
◀
▶
Subscribe Now
Keep up with the latest news with our magazine and e-newsletter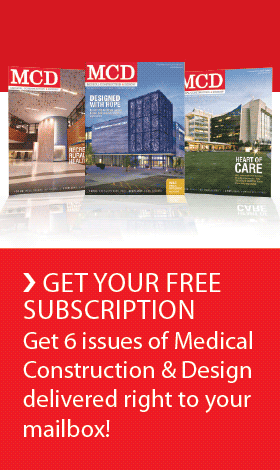 Subscribe to our E‑Newsletter
By Chris Naughton and Steve Wilson
Improving hospital planning, design for better infection control
Hospitals should be a safe haven for those who are sick, but the truth is they are often hotspots for highly transmissible infectious diseases, such as Methicillin-resistant Staphylococcus aureus, norovirus, Clostridium difficile, tuberculosis and, most recently, COVID-19. The following takes a look at how project teams can improve hospital design for better infection control as we respond to COVID-19 and beyond.
Design choices that reduce disease transmission
Infection control is one of the most important considerations for any hospital, as patients and staff both require a facility that is clean and safe. A hospital facility designed to support infection control makes the jobs of healthcare providers that much easier and, in many cases, may even save lives. A few ways to accomplish this are through:
Antimicrobial finishes and materials. Easy-to-sanitize or naturally germ-resistant materials and finishes make it easier to maintain the high level of cleanliness necessary in a hospital environment. Copper, for instance, has natural antimicrobial properties, and greater use in touch surfaces could reduce microbe transmission. Any material or finish used in a hospital setting should be nonporous and nonreactive when exposed to common disinfectants such as bleach, alcohol and ammonium compounds.
Minimize horizontal surfaces. Reducing the number of horizontal surfaces, such as ledges, can help reduce the spread of infection. Doors and curtains that open automatically, and sinks with motion sensors remove some common avenues of transmission. Controls and equipment should be specified with fewer flat surfaces where particles can land, as well as minimal crevices and crannies where debris can collect.
Increased screening areas. Providing an area within the emergency department and the main public entry to a hospital to perform screenings through questionnaires and measurement of body temperature can help to sort out infectious patients. A pre-admission testing area can be located near the front door for the screening of outpatients coming in for procedures or treatment. This allows hospital workers to identify highly contagious patients and isolate them or limit access to the facility.
Flexible triage areas. Open spaces situated close to the hospital entrance can act as pop-up triage areas during an outbreak. Equipping these areas with plumbing and electrical access makes it possible to set up basic equipment to perform triage functions. Low-acuity patients can be sent to one area, highly contagious patients may be placed in negative-pressure isolation rooms and patients needing immediate care can be taken to the ED.
Hand-washing/sanitizer stations. Placing hand-washing stations or hand sanitizer dispensers at doors and entrances, as well as inside treatment rooms near beds, can encourage staff to use them on a more frequent basis. Performing an analysis of the building's layout for other conspicuous locations to place hand-washing stations is also recommended to reduce microbe transmission.
Thoughtful air management systems. Natural ventilation and high-level filtration systems should be designed to keep fresh air coming in while preventing airborne germs from being recirculated throughout the facility. Although isolation rooms are on a separate negative exhaust system, consideration should be given to further isolate ICUs and nursing units on their own systems. Increasing the number of isolation rooms per unit can further control containment in a unit. The ability to control humidity is also important, as a humid environment can reduce the transmission rate of some microbes.
Natural light. Sunlight has been shown to kill certain kinds of microbes, particularly bacteria. Access to natural light also has the positive side effect of boosting the moods of both patients and staff.
Deep-cleaning robots: UV robots are on the market and being used to deep clean spaces within a hospital. In the design of Henderson Hospital's OR, HMC Architects incorporated a ceiling-mounted narrow spectrum lighting system to help sterilize the environment between cases.
While these design decisions should ideally be made before a building is constructed, some changes, such as upgrades to materials and the addition of motion sensors to doors and sinks, can be implemented during renovations to existing facilities. These modifications can then be thoughtfully adapted in future hospital designs for better infection control.
HMC had the opportunity to work closely with several facilities to improve their infection control. One project, in particular, the Shunde Hospital of Southern Medical Facility in Guangzhou, China, was designed in direct response to the SARS outbreak of the early 2000s. One major goal of this facility was to be able to handle a large influx of patients in a way that incorporated the latest in infection control measures. The massive campus has a 2,000-bed inpatient tower and houses an infectious disease research facility. The "eco-atrium" uses sustainable methods to bring in natural lighting and ventilation and has the ability to accept a large number of patients.
Adaptability + flexibility key to managing infectious diseases
During outbreaks that flood hospitals with an increase in demand all at once, it's crucial for staff to be able to quickly adapt the facility's spaces to accommodate the influx of patients. Creating spaces with the ability to convert to another function should be given thought. "Soft" spaces, such as administration and support areas, may need to convert to another function. Good planning practices require looking ahead to evaluate adaptability and flexibility.
Flexibility also means being able to convert a room to a semi-private from a private as needed. While it's not ideal to have multiple patients in the same room, planning rooms to accommodate more beds is a way to meet a high-patient demand. Flexible hospital room design is all about giving staff the ability to adjust spaces to perform the functions necessary at any given time, allowing them to respond to whatever demand they may be facing.
To combat the spread of COVID-19, hospitals are scrambling to implement measures to safely handle the increase in demand on their facilities. Today's crisis will undoubtedly change how we think about tomorrow's hospital architecture design and planning by challenging project teams to conceive of facilities that are well-prepared to handle an infectious disease epidemic.
Author: Chris Naughton and Steve Wilson
Chris Naughton, AIA, is healthcare practice leader with HMC Architects. Steve Wilson, DBIA, is principal in charge with HMC Architects.
Tags: Architecture, COVID-19, infection control
Posted May 18, 2020
More Articles: