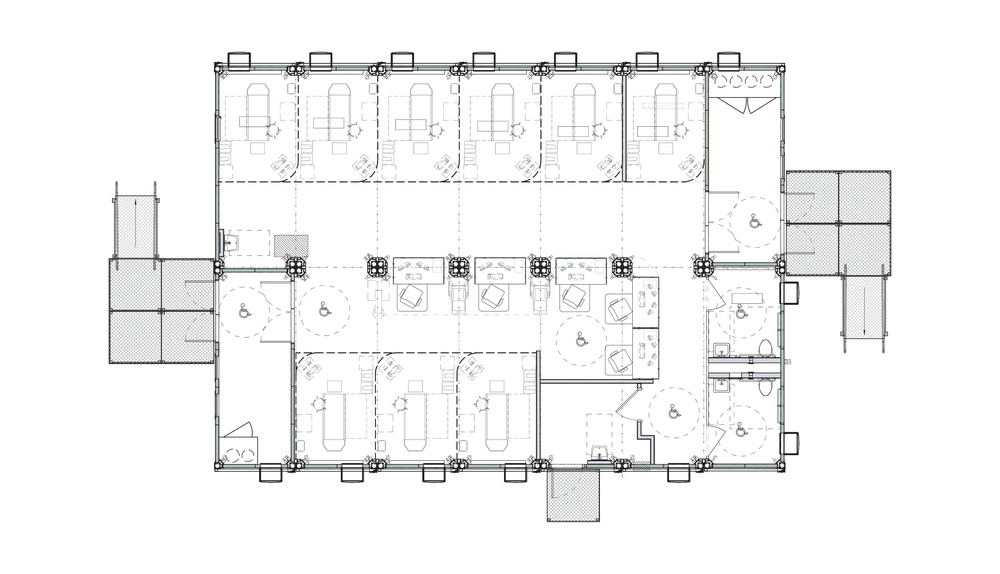 Non–COVID-19 patient temporary inpatient facility provides beds separated by curtains.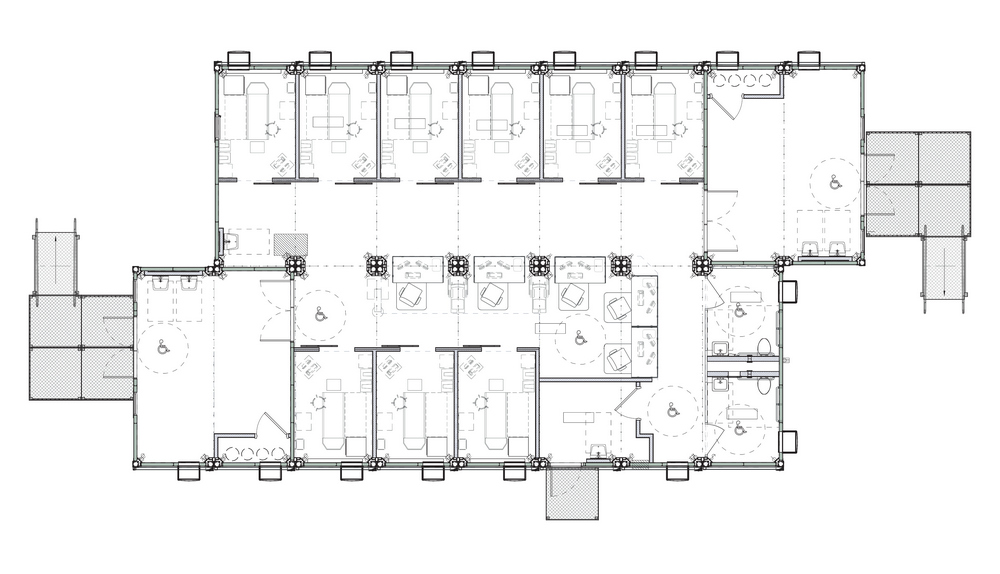 Temporary inpatient facility with solid sliding doors in the COVID patient rooms allowing achievement of localized HEPA filter treatment of the air in the room and increased air changes.
◀
▶
Subscribe Now
Keep up with the latest news with our magazine and e-newsletter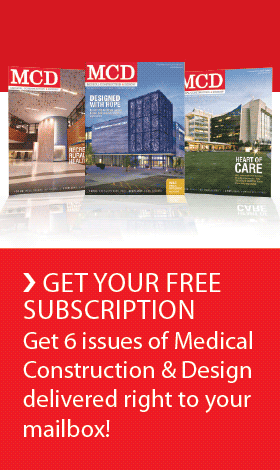 Subscribe to our E‑Newsletter
By Douglas J. King and Julia A. Louie
What hospitals need to consider when responding to COVID-19 and beyond
A crisis has once again thrust the topic of temporary hospital spaces into our daily lives. Previously we may have seen these systems utilized in coping with natural disasters. But today they're on the frontlines of the U.S. response to the COVID-19 pandemic.
The following are lessons learned through recent experience planning temporary spaces for pandemic response. But first, let's cover some background info:
Why do healthcare facilities need temporary hospital spaces?
Healthcare facilities use temporary hospital spaces to support the surge of patients that require treatment in an event such as COVID-19. Temporary facilities can support a range of patients, depending on the need. They can serve as a triage area as patients arrive, a walk-up or drive-through testing facility or treatment space for acute and non-acute patients. Each facility should assess what types of patients this space will support. In this way, these healthcare institutions can maintain their acute care and intensive care beds for those acute patients who need more attention or use of a ventilator. Temporary hospitals can also be used for serving specific patient populations, such as the incarcerated, away from the general public.
What is an alternative care site? Where can an ACS go?
A surge in the need for medical care will require healthcare entities, including state and local authorities, to establish an alternative care site (what the U.S. Army Corps of Engineers calls an "alternate care facility") or ACS, basically a location that can host a triage area and/or temporary hospital. A public entity such as a local government may choose available land as an ACS to serve the overflow from nearby hospitals or larger populations. Existing buildings such as convention centers, gymnasiums or auditoriums can be adapted to become ACSs. These sites have great advantages in terms of utilities and power, ventilation and open spaces, which allow for flexible patient cubicle layout.
Hospital systems are more likely to explore land adjacent to their main hospital buildings or on their campus as an ACS to leverage the logistics support offered by this nearby facility. This alternative site could be a greenfield, parking lot or parking deck. But its proximity to utilities such as water and power should be a prime consideration.
Triage
Hospitals may want to create a staging area for triage outside the healthcare facility in an ACS to maintain privacy and prevent cross-contamination by sending non-respiratory patients one way and sending patients presenting respiratory distress or COVID-19 symptoms to where they can be routed to receive the care they need. This triage area can be separate from the temporary hospital and the hospital, and generally does not require any jurisdictional input to implement.
Getting down to details: design considerations
In terms of design and planning, there are basic needs for temporary hospitals to consider, including the following:
Infrastructure: Ventilation, HEPA filtering, plumbing, electrical and medical gas
Plans for temporary hospitals will need to deliver ventilation that achieves the necessary air changes per hour, makes medical gases available to sealed-off patient pods or tents and filters contaminated air with HEPA filters.
Ventilation is perhaps the most critical and complex need to plan for in a temporary hospital—proper ventilation is critical for infection control. The plan should maintain negative air pressure and at least one change of air per hour for non-acute care patients in common areas. In isolation pods treating acute patients, 5-10 air changes per hour are desired if achievable. Greater air changes are critical to flush out acute patient areas more quickly and allow for quicker patient-to-patient turnover. Areas where patients are receiving ventilator treatment need 12 or more air changes per hour per CDC guidelines.
Explore manipulation of the existing ventilation system to ascertain whether adequate negative pressures can be achieved in the ambient air system. This approach will support non-acute patients. Areas serving acute care patients require additional localized HEPA filtering to protect patients.
Plumbing
In converted facilities, patients who are ambulatory can use regular bathrooms. For those unable to leave a HEPA-filtered environment, mobile commodes must be made available. For mobile hospitals deployed outside in a greenfield situation, a commode system, as well as portable hand-washing stations, will require a system such as a removable black water tank for waste removal.
Power and water
The converted facility offers us the opportunity to tap into existing power and water systems but may still require creation of local systems for distribution, backup and emergency in the temporary rooms.
When greenfields or parking lots are selected for the ACS, it may be necessary to tap into the systems of nearby healthcare campus buildings. But if the site is a parking lot or parking deck, you'll likely need to augment the patient care areas with additional HVAC, generators, medical gas equipment and more.
Utility routing
One novel approach to organize the utilities supporting acute care and localized filtering is to build a temporary platform surrounding the group of patient rooms and layer the ducts, oxygen vacuum and air pipes, as well as regular and emergency power in a mini-utility tower arrangement.
Four-walled spaces with privacy
Inside or outside—whether made from fabric, plastic, metal or even drywall—temporary healthcare facilities ideally need spaces with four "walls," where patients can be seen and healthcare professionals can obtain a degree of privacy. These spaces also help contain the spread of infection. How to achieve these spaces becomes a function of availability of systems and costs.
Nurses' stations
Centrally located nurses stations with visibility to easily accessible patient areas, as well as nursing support spaces, should be placed with access to utilities. Often, staff for alternative care is pulled from other hospitals and these nurses' stations should be configured and located to leverage a minimal staff to monitor as many patients as possible.
Multipurpose functional spaces
A pop-up multipurpose modular room can fulfill functions from pharmacy pod to housekeeping pod, equipment storage or medical gas storage. Temporary care facilities need central locations for both clean supplies and for soiled supplies. Plans need to account for space on the exterior for medical tank farms that serve the patient areas.
Available temporary solutions
For hospitals in need of a temporary solution for deployment outside or in a parking lot, myriad products are available, which provide privacy and the required utilities. The options range from 200-bed mobile hospitals to modular pop-up hard-shelled rooms to open ward systems for patient treatment. As a smaller-scale mobile solution, trailers (available in 9-bed unit format, for instance) can be outfitted with screens between patients or even walls and additional bays that serve as entryways for donning and doffing of PPE.
To transform a convention center or gymnasium and meet the need for hundreds of patient rooms, we have seen both off-the-shelf options, such as an isolation pod, as well as a timely customization of a plastic panel wall system with modular headwall and built-in HEPA filter.
Temporary solutions must be evaluated for ease of transport and lead time. A trailer solution or prefabricated enclosure takes roughly 2-3 weeks for production and delivery from a vendor, while a "stick-built" low-tech system may require more lead time and complex delivery, but has materials and labor that can likely be sourced locally.
Reuse
Fabric isolation tents may not be reusable but what about hard-paneled systems built to order—could they be sanitized and made reusable as deployable temporary hospitals? Who will store and maintain them? Will metropolitan areas maintain networks for future pandemic response?
Finally, how will health authorities certify that a space, once used as a temporary hospital, is safe to use again for its intended purpose?
These are all important questions to consider.
Advocacy and preparation
The need for temporary deployable hospitals, whether mobile or on a converted site, will continue. Before COVID-19, there was already a prototype for the temporary hospital. FEMA maintains a number of mobile hospital kits of approximately 250 beds each, which it is currently deploying. In light of the current pandemic, we wonder if temporary systems could be expanded and managed at the local or regional level.
A future for temporary hospitals
For individual hospitals, it's important to keep abreast of the available options and lead times for temporary mobile solutions. But there's also an opportunity for healthcare organizations to articulate and advocate for a more formalized system, whereby major responder hospitals in metro areas are funded to maintain a discrete number of temporary facilities to deploy as needed in emergencies. It will take time some time for the industry to evolve this idea to suggested language to code. The more we know about temporary hospitals, the better we are positioned to respond to an uncertain future.
Author: Douglas J. King and Julia A. Louie
Douglas J. King, AIA CSI NCARB ACHA, is a leader in Stantec's healthcare practice. Julia A. Louie, AIA, EDAC, LEED AP, is project manager, Planning & Construction, at Northwestern Memorial HealthCare.
Tags: COVID-19, Engineering, Facilities Management, pandemic, temporary hospitals
Posted April 15, 2020
More Articles: