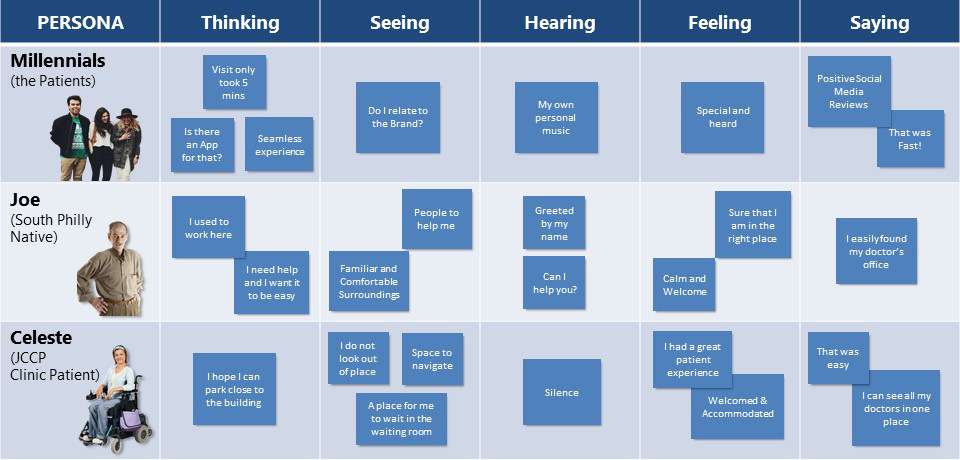 Subscribe Now
Keep up with the latest news with our magazine and e-newsletter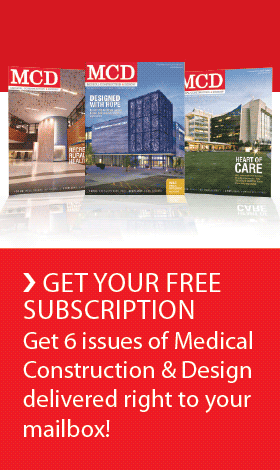 Subscribe to our E‑Newsletter
As healthcare systems strive to grow in their existing markets by creating ambulatory care homes, many are seizing a unique opportunity to co-locate outpatient specialties. The resulting facility is a multispecialty outpatient center, which features a comprehensive range of health services to increase convenience for patients seeking a one-stop healthcare experience.
Whether health systems are creating a multispecialty center, or simply adding new services on their main campus, ensuring all users are considered in the design and construction process is critical. These four techniques will help ensure each user's needs are met without compromising on future flexibility and growth for the system.
Define user personas and create an empathy map
A persona is a fictionalized, generalized representation of a facility user. These personalities help identify demographic information, pain points and other information pertinent to meeting user needs and ensuring a positive experience. The focus of empathy mapping should be patients, caregivers and support staff. These tools help empower project teams to understand what users would be thinking, seeing, hearing, feeling and talking about during their idealized care experience.
During a recently completed project, we worked in tandem with Aegis Project Management to accommodate all users of a multispecialty outpatient center at the Philadelphia Navy Yard (Pennsylvania). In this case, the client knew they wanted to attract new clientele from nearby businesses while accommodating their existing patients. Their personas included millennials, south Philadelphia natives who were already patients and an expanded service line of mobility-challenged patients. The team also identified clinicians, medical assistants and family members as important users to consider in design solutions.
In the slider example above, we can see that each patient wants a distinct, but not necessarily mutually exclusive, care experience.
Using this framework, the design team prioritized an approachable and welcoming atmosphere for the new entrance that would appeal to all users. A welcome desk helps guide visitors who may need more hands-on help, while adjacent tablets allow technologically savvy patients to self-check-in. For mobility-challenged visitors, handicap parking, a patient drop-off area and direct and easy access to specialized clinics provide the space needed to navigate and receive their specialized care. A new communicating staircase allows easy access to and from the largest clinic in the building. Empathy and persona mapping are useful techniques for establishing the design features as goals early in the planning of a project.
Program a tailored experience for communal areas
Once persona and empathy mapping are complete, we have an outline for creating a positive patient experience. In tandem with the information gathered at user group meetings, we can now establish a clear framework for the design.
In our example project, we identified the need for mobility-challenged patients to have space to navigate and an inclusive space in waiting areas. To meet this need, waiting areas feature flexible seating, easy access for wheelchairs and centralized waiting areas on each floor for easy wayfinding. For the other patient personas, we include power access, high-back seating for those wanting privacy and café tables to work at.
Notably, no TVs are included in waiting areas, with user groups recognizing that visitors were more likely to engage with personal devices to pass the time. This design includes communal lockers and lounge areas for staff on the second floor, multiple team centers with private talk rooms and co-located offices on the fourth floor. These spaces help foster collaboration between specialties, encouraging physicians to discuss cases and areas for potential collaboration. The results of this improved communication cross-specialty can enable a wide range of services to be coordinated for a patient, often all occurring in one visit.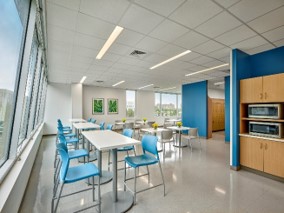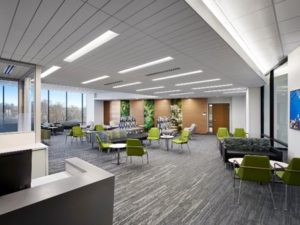 Use mock-ups to understand clinician needs
The needs of clinicians within a multispecialty facility are often very complex. Specialized equipment, exam and procedure space must be considered. The project team should work within frameworks for room sizes and codes. Too much customization for each specialty could lengthen schedules, complicate design implementation and not allow for the flexibility the owner will want for future growth. Enter mock-ups. While most design professionals will extol the virtues of mock-ups at every opportunity, they often forget the most critical aspect of the technique: establishing a clear goal for the practice and both quantitative and qualitative measures to maximize its effectiveness.
Continuing with our project example, the team used mock-ups to design standardized exam and procedure rooms with input of leadership, clinicians, administrative staff and patient advocates. Since this was a renovation, we assessed the constraints of the existing building, which includes an exterior with 10-foot spans from mullion to mullion. We knew the owner wanted a medical assistant station between the two exam rooms and needed at least a 120-square-foot room.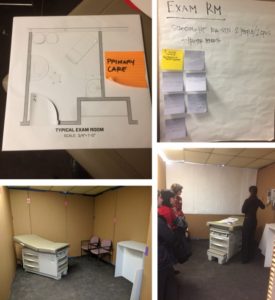 Bearing those specifications in mind, our team built an exam room, corresponding MA station and procedure room with cardboard. We then hosted a series of open houses, inviting all specialties, community members and patient representatives. Using paper dolls and magnet boards, clinicians simulated common patient interactions and rapid-tested various design options. The goal was to create consensus on the configuration of the exam and procedure rooms across a wide range of specialties, which would in turn allow the client ultimate flexibility with a consistent design throughout the center.
Standardize
One key advantage of interactive mock-ups is they can enable standardized exam room design, which simplifies construction and can speed up project delivery. While standardized rooms may not be possible in all facilities due to existing building features or service type, when they are possible, the benefits are many. A standard room provides unrivaled flexibility if a health system decides to relocate services, add a new service line or cross-train staff across specialties. Combined with universal designs for medication and point-of-care testing rooms, standardization has allowed the client in this example to move specialties from one floor to another and consistently schedule staff on different floors for more collaboration and cross training.
Standardizing different elements of a facility enable ultimate flexibility for system growth, allow easier constructability to reduce time to market and enable users to work on different floors and for optimum flexibility for staff training and retention.
As health systems continue the push for bringing care directly to the community, designing and constructing facilities for multiple users is critical. By gaining a complete understanding of both users and patients, programming design features that ensure a positive patient and staff experience, while employing mock-ups to inform the design process and standardize elements, we can exceed user expectations and accelerate speed to market.
Tags: Architecture, Construction
Posted February 18, 2020
More Articles: