Subscribe Now
Keep up with the latest news with our magazine and e-newsletter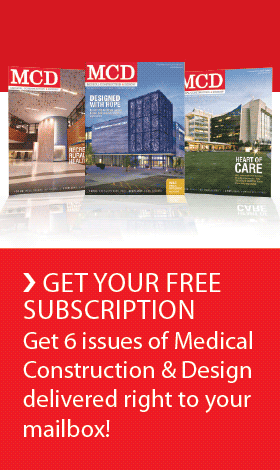 Subscribe to our E‑Newsletter
The Kyabirwa Surgical Facility in Uganda has recently opened. A a small building with a large purpose, the project was conceived with Mount Sinai Health Systems as a replicable prototype to bring surgery to underserved areas.
Located in a rural town on the Nile, the building takes its form from banana plants on the site that gather energy from the sun and provide shade, and is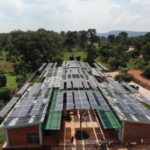 constructed of locally sourced bricks. Careful analysis of required systems and equipment resulted in the elimination of many redundant and costly systems typically found in high-tech urban hospitals. Onsite infrastructure provides solar energy, rainwater retention and direct fiber optic connection to Mount Sinai Hospital in New York, enabling real-time surgical consultation and training through telemedicine.
The existing site does not have potable water, reliable electricity, internet or adequate sanitary facilities. Minimally invasive systems were developed to provide this essential infrastructure.
Unint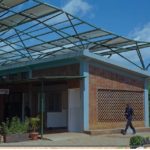 errupted power is provided using a combination of solar panels, Li-Lead Acid Hybrid battery storage, an onsite generator and intermittent power available through the grid. Power generated from 75kWp solar panels is stored in Li-Lead Acid hybrid battery storage that can run the surgical facility for up to two days.
Reliable internet connection is essential. Twenty miles of underground cabling brings fiberoptic service to the site.
Well water and intermittently available town water is stored in gravity tanks onsite, filtered and sterilized on demand. Liquid sanitary waste is handled by onsite septic tank system and medical waste is incinerated onsite per the country's health code. A greywater system collects roof rainwater and stores it in underground tanks. Greywater is used for toilet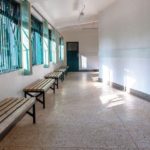 flushing and onsite vegetable garden.
With the exception of the operating rooms, the building is not air conditioned, and relies on natural ventilation. The sloped roof provides high- and low-ventilation openings that facilitate natural air flow through building using stack effect, thus minimizing usage of electricity for ventilation/cooling.
Gardens on the site will provide food for patients and staff.

Project team
Owner: Mount Sinai Health System, New York, New York
Owner's representative/general contractor: George Everest; Nile Precision Surveys, Jinja, Uganda
Architect: Kliment Halsband Architects
Structural engineer: Silman
Mechanical engineer: Keltron Development Services
Posted November 19, 2019
More Articles: