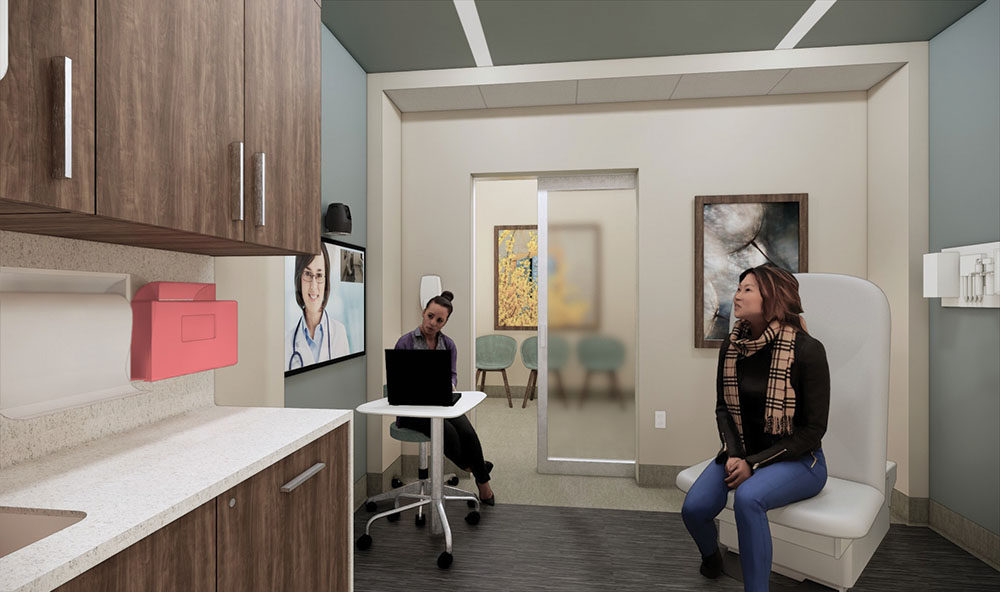 A conceptual design of an exam/consult room at the Texas Health Hospital campus utilizing new technology to meet industry needs.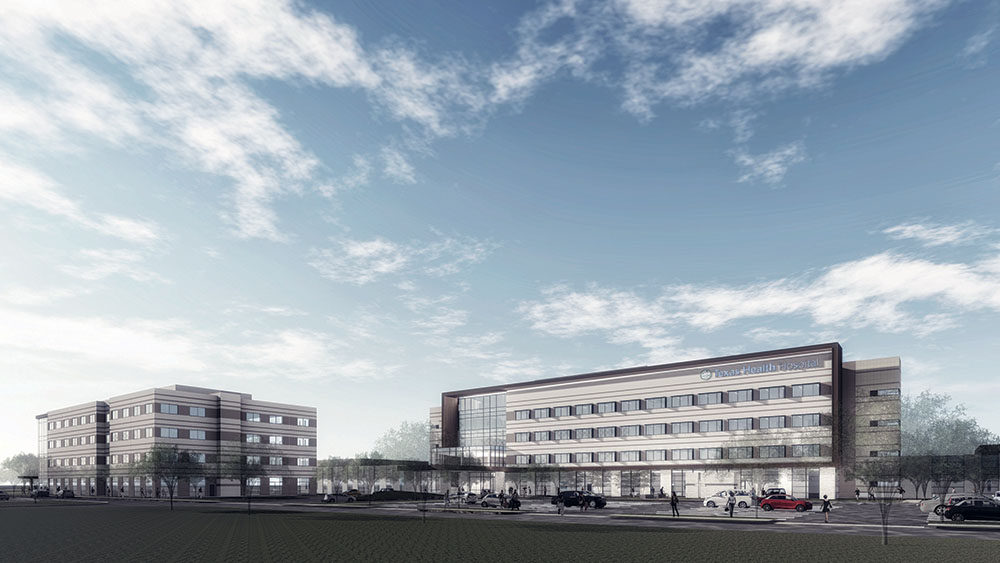 The new four-story, 195,000-square-foot Texas Health Hospital in Mansfield is a joint venture between Texas Health and Advent Health. The facility will include an 80,000-square-foot medical office building for primary care and specialty practices.
◀
▶
Subscribe Now
Keep up with the latest news with our magazine and e-newsletter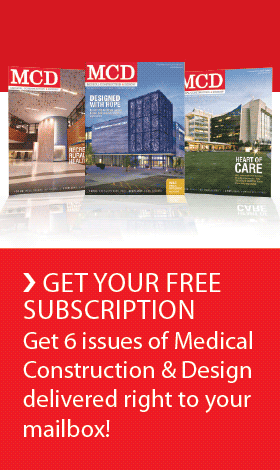 Subscribe to our E‑Newsletter
By Alison Leonard
A building boom in outpatient care centers continues to spread across the country, driven by significant changes in healthcare delivery expected to strengthen demand for these facilities in the years ahead. 
According to a study released by real estate firm CBRE, the number of ambulatory care centers jumped from 26,900 to 40,000 from 2005 to 2016, a 51% increase. The sharp growth has been fueled by rising demand for healthcare among an aging population, more people with health insurance and the healthcare industry's pursuit of operational efficiencies.
Atlanta, Georgia-based GoHealth Urgent Care serves as a prime example of the rapid growth in outpatient care. One of the fastest-growing companies offering outpatient services, the organization has opened more than 100 facilities nationwide within the past five years. 
As a result of the constantly shifting healthcare landscape, more hospitals and healthcare systems opt to move medical services from inpatient to outpatient facilities, many of which are located in areas closer to where people live and work. But designing today's outpatient facilities must take into account, among other factors, technological advances, patients' preferences of where to seek medical treatment and the work environment of doctors, nurses and other staff.
One of the biggest trends in the outpatient environment is making various healthcare services available in a single building or buildings located on the same health campus, eliminating the need for patients to travel to facilities at different locations and, in some cases, long distances for medical care.
And with new technologies transforming the healthcare industry, it almost requires a crystal ball to design and build outpatient centers that won't be obsolete in five or 10 years.
Addressing this challenge requires greater flexibility in a building's design. Modular wall systems and prefabrication allow for easily reconfigurable spaces that won't require major rework for future needs. New outpatient facilities are designed to have universal spaces that can be used for exams or consult areas as needed.
For example, if a set design module has been used to lay out a space and staff is rarely using a consult area, a wall can be added to create two exam rooms, or create additional space to house medical equipment and other technology. This saves time and money by not having to frequently renovate the facility, and the ability to provide the flexibility to meet changing needs.
Telemedicine: a design game-changer
The emergence and somewhat recent popularity of telemedicine has made it increasingly critical to offer greater flexibility in the design of modern outpatient buildings.  
Recent advances in telemedicine technology, which provides greater access to medical care for patients in remote locations or allows a patient's doctor to consult with top specialists hundreds or thousands of miles away, has helped shape how outpatient facilities are designed. Convenience, cost savings and other benefits associated with this technology are the reasons why outpatient facilities are taking this hi-tech, patient-focused approach to healthcare. 
Recent statistics support ideas that telemedicine may be a common practice in the not-so-distant future. Telemedicine, according to the American Hospital Association, shot up by 53% between 2016 and 2017.Another industry report said all 50 states adopted some form of telemedicine reimbursement coverage in 2017. Telehealth can ultimately enhance every clinical care specialty and advance healing for many different patient types.
Increased telemedicine demand prompted a Facility Guidelines Institute committee to establish guidelines last year on minimum requirements for telemedicine spaces in hospitals and outpatient clinics. Those requirements include the size of spaces, privacy, acoustics, lighting, interior surfaces, site identification and storage for equipment.
Some telemedicine-equipped rooms include the use of diffused lighting to prevent shadows and walls painted with a neutral color and flat finish that doesn't cause glare. These design features help make it easier to see patients' facial tone on a viewing screen. 
Exam and consult rooms set up for telemedicine have multiple monitors, a laptop or tablet to allow staff access to patient records and a screen for the patient to view test results, educational content or a consult via Skype.
But while the trend toward telehealth continues to grow, not everyone is comfortable with this technology, especially older patients. So it's important for these facilities to be designed to handle both high-tech and traditional exams in addition to other medical services. 
Other next-generation technologies also have appreciably impacted the design of newly constructed and renovated outpatient buildings, future-proofing them for new innovations.
Opened a few years ago, the Hale Building for Transformative Medicine in Boston, Massachusetts is a perfect example. The outpatient care building includes a system that electronically tracks patients when they check in for their appointments.
Staff members can meet with patients wearing a tracking device and escort them to an exam room, rather than the standard practice of shouting a patient's name in a crowded waiting room. The environment was planned to make the outpatient care experience as efficient and comfortable as possible for patients and families. 
While these new technologies are playing a greater role, the human connection is still an integral part of a positive patient experience in healthcare— whether it is a warm bedside manner in person or direct eye contact on a virtual consultation.
Amenities matter 
Consumerism has become more prevalent in the healthcare field, as patients are demanding more amenities and a better patient experience when seeking medical treatment. 
This consumer-friendly attitude has greatly influenced the design of outpatient and medical office buildings. Nowadays, new facilities are incorporating an abundance of natural light, heavily landscaped outdoor areas, sustainable building products and systems and other amenities found in newer and more attractive buildings.
In addition, smaller waiting areas with coffee shops and Wi-Fi access are more comfortable and flexible for patients and families. Valet parking is common along with multipurpose spaces for community education. Also, these buildings tend to have the same design elements as an adjacent sister hospital, creating a more cohesive look on the hospital campus, much like the Texas Health Mansfield MOB that shares a connector with the Mansfield Hospital in Mansfield, Texas. This Design-Build project is under construction and is expected to be occupied in fall 2020.
A centralized check-in and check-out process is another area where new design components are used in outpatient facilities to increase patient satisfaction, generate a more efficient workflow and reduce costs.
As a result of innovative design and technology, patients are able to check themselves in at self-serve registration kiosks, given an electronic card and a map to an exam room and use an electronic check-out process to schedule an appointment and pay fees without making the usual stop at the receptionist desk when leaving. Online portals allow for patients to communicate with providers in text, request prescription refills and ask questions without stepping foot in an office.
When designing outpatient centers, the needs of the physicians, nurses and other staff also must be taken into consideration. Trending now are flexible "neighborhood" pods consisting of perimeter exam and consult rooms with a central core space for team areas. The team area allows for collaboration and integrated care among the staff, quiet documentation areas and respite space.
As the shift in healthcare delivery continues to move toward a value-added model, newly constructed or renovated outpatient facilities are seen as a sensible approach to improving the patient experience and lowering operating costs. With the advent of new technologies making outpatient care more accessible and efficient, new and innovative building design methods are needed to meet the demands of this flourishing healthcare trend.
Author: Alison Leonard
Alison Leonard, AIA, EDAC, is a senior project coordinator for The Beck Group's Healthcare group.
Posted October 1, 2019
More Articles: