Subscribe Now
Keep up with the latest news with our magazine and e-newsletter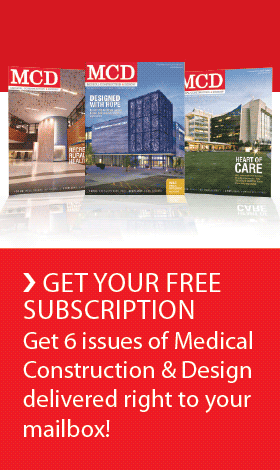 Subscribe to our E‑Newsletter
One month after opening its doors, the new Adventist HealthCare White Oak Medical Center, located in Silver Spring, Maryland, is already seeing the benefits of a human-centric design that places patients at the core of the healthcare equation.
The approach aligns well with Adventist HealthCare's faith-based mission but also relies on research into healthcare environments and human-centric design.
The building's wooden façade reflects the area's lush, forested setting; and light-filled public spaces, roof gardens, courtyards, a dining terrace and walking trails promote a restorative healing environment for patients, family and staff.
White Oak gives back to the environment it draws inspiration from, too. The hospital, tracking towards LEED Gold, features a 48% reduction in energy consumption from its previous facility thanks to its sustainable use of co-generation.
There are also human-centric design elements in two personal care units—the maternity and behavioral health departments. The maternity ward features a labor delivery room with access to the green roof terrace, and the department offers post-partum rooms, medical-surgical patient rooms, a nursery with an isolation room, labor/delivery rooms and C-section rooms. The behavioral health unit is designed with segregated zones: a patient zone with its corridor serving the bedrooms, dayrooms and treatment spaces; and a staff zone with its corridor and dedicated staff entrance serving the staff work and support areas.
The new campus allows Adventist HealthCare to provide comprehensive care in an environment that celebrates health, community and nature. The new facility features 170 all-private beds and an emergency department to accommodate up to 60,000 visits per year. The ED is designed around the fast-track and triage units (close to the incoming ambulatory patients) with service pods to allow expansion and contraction of service as needs change throughout the day and week. The surgery suite features ORs (including one hybrid OR), beds for pre- and post-surgery recovery, endoscopy rooms, a minor procedure room and central sterilization.
In addition, an ambulatory care center with outpatient and cancer treatment services will be attached to the hospital and will also house physician offices and space for outpatient programs.
To help ease staff commute, the new campus is in proximity to public transportation and spacious parking lots.
The project team included Turner Construction Company and CallisonRTLK.
Photo courtesy of © Sam Kittner.
Posted October 17, 2019
More Articles: