Subscribe Now
Keep up with the latest news with our magazine and e-newsletter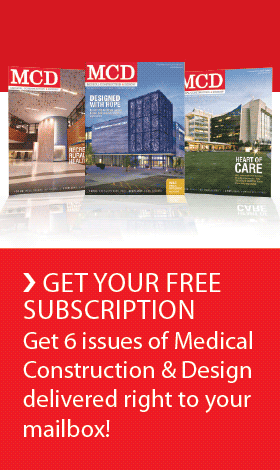 Subscribe to our E‑Newsletter
Baylor Scott & White Sports Therapy and Research at The Star—located adjacent to the Dallas Cowboys' world headquarters in Frisco, Texas—is a first-of-its kind collaboration between the NFL and Baylor Scott & White Health. The 300,000-square-foot sports performance, research and wellness center offers the best in health and wellness support for those in need of training, medical or rehabilitation services. The facility welcomes patients ranging from non-athletes and student athletes to professional sports players.
The complex's architecture and design enables patients to experience the full spectrum of physical performance all in one place—from injury prevention and training to healing and recovery. The nine-story building is broken into two distinct volumes, visually sliced by a soaring plane that cantilevers out to the south. The design emphasizes connectivity to the masterplan, and glazed facades allow visibility into the building, as well as views outward to the surroundings creating a feeling of revitalization and rejuvenation. The complex was designed to invoke a sense of strength—an attribute of the athletes who seek treatment there and the teams who provide care. This is accomplished through a crisp, clean material palette composed of large, monolithic tiles, glass and metal, and by complementary soothing color tones and abundant natural light.
Upon entering, visitors are greeted by a bevy of two-dimensional geometric shapes made of painted metal that suspend from the ceiling of the four-story lobby, symbolizing fluidity of movement and the legerity of the physically fit body. Their organization appears arbitrary at first, but upon closer examination, the disparate shapes visually coalesce to form the Baylor Scott & White Health logo. The installation leads to a series of interactive technology stations that explore human anatomy, along with rehabilitation programs for sports-related injuries. Additional elements of the complex include a sports surgery center, outpatient rehabilitation, sports concussion center and Blue Star Imaging.
Deemed "The Star in Frisco" campus because of its facilities aimed to help the athletic community, the design of the 91-acre Baylor Scott & White Sports Therapy and Research at The Star had to exceed high expectations. Expected to serve up to 50,000 visitors and athletes annually, the sports performance center required multiple facilities for training, research and rehabilitation. The design team was tasked with creating an interior design that delivers a strong brand presence of Blue Star | Baylor Scott & White Sports Therapy and Research through the selection of material textures, color tones and natural light.
At the heart of this "new kind of architecture" is a convergence of healthcare, science and technology, sports and recreation, workplace, branded environment, urban planning and civic design (parts of the complex can be transformed into public gathering places for community events and performances). The ability to combine various design typologies allowed Baylor Scott & White Sports Therapy and Research to offer visitors an innovative, one-stop-shop approach to sports medicine and rehabilitation services, including sports nutrition, sports psychology, orthopedics, physical therapy, occupational therapy, neuropsychology, urgent care, surgery, a brain injury program, cardiology, outpatient imaging and a pharmacy.
Another key goal was creating an all-encompassing and welcoming campus that embodies strength, durability and precision. The metal cladding, for example, alludes to the durability of the protective padding athlete's wear while playing high-impact sports. These characteristics were paramount in the design of the research, rehabilitation and wellness centers. Leveraging a crossover of concepts from the healthcare and hospitality industries, the design team chose highly durable, yet warm materials for the glass and metal building intended to offer comfort to patients, as well as views of the Dallas Cowboys' world headquarters, along with easy access to the outdoors and neighboring football field.
The project team included architecture firm Perkins and Will and general contractor Medco.
Posted July 9, 2019
More Articles: