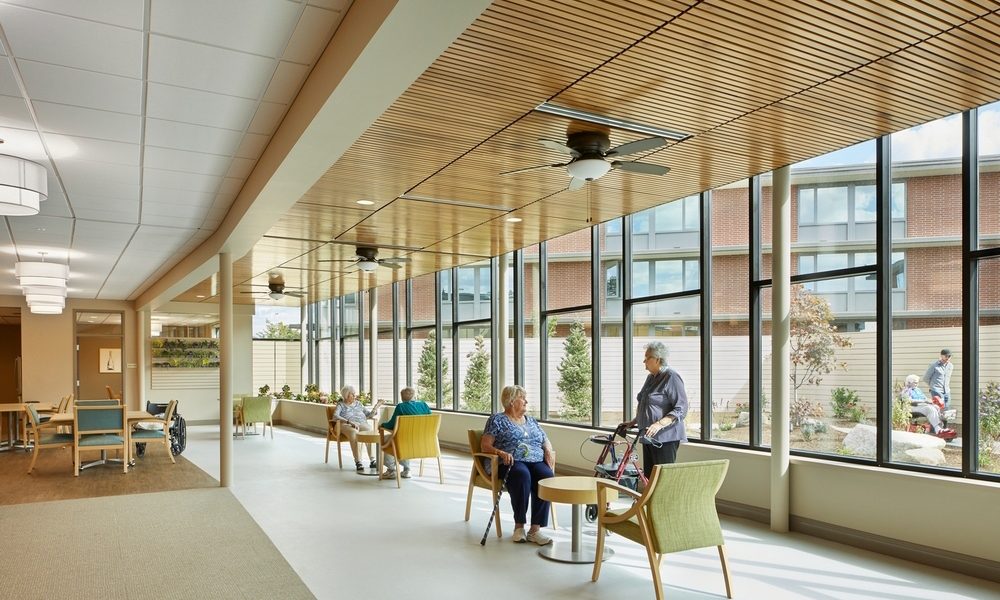 Large windows in the common spaces at Riverview Retirement Community Memory Care Facility, located in Spokane, Washington, not only increase daylighting, but provide unobstructed views to an interior garden that both residents and staff regularly enjoy. Photo courtesy of Ben Benschneider.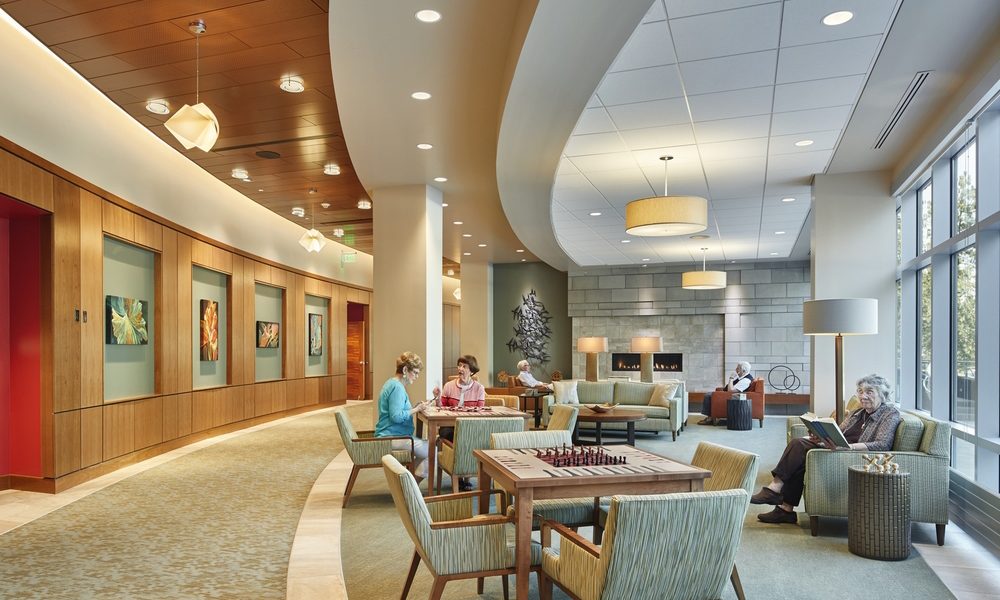 Deliberate use of color, patterns and materials create clear wayfinding at Rockwood Retirement Communities' South Hill tower located in Spokane, Washington. This helps residents navigate through the building independently, contributing to feelings of confidence and self-worth. Photo courtesy of Ben Benschneider.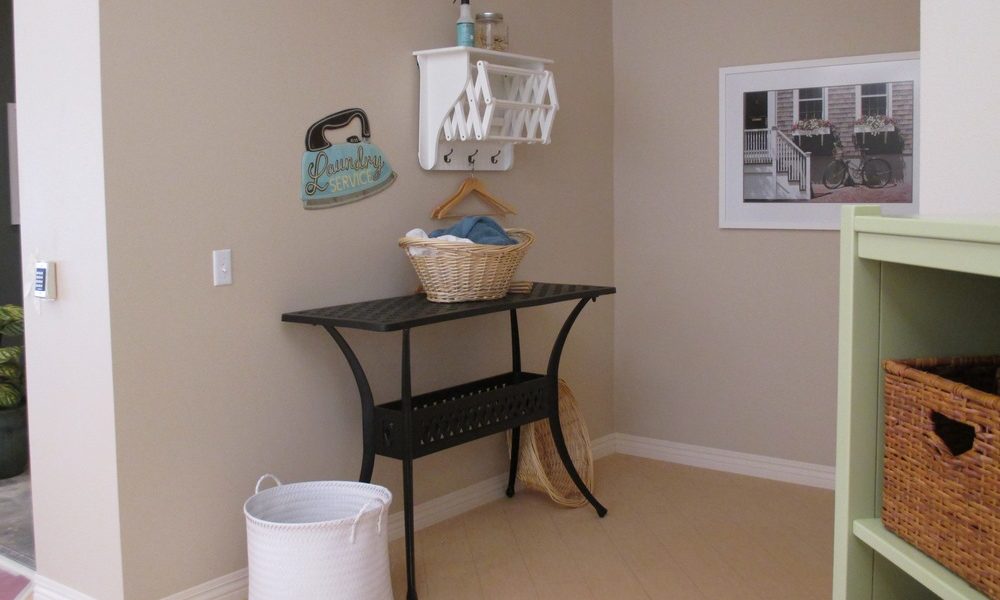 Merrill Gardens in Woodstock, Georgia, uses memory care stations throughout their facilities to engage residents and help support cognitive function. Photo courtesy of NAC Architecture.
◀
▶
Subscribe Now
Keep up with the latest news with our magazine and e-newsletter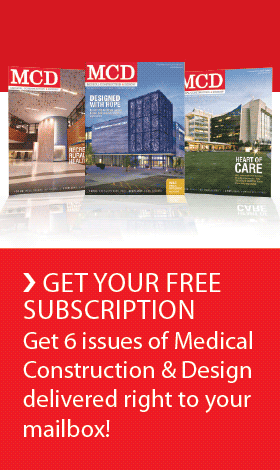 Subscribe to our E‑Newsletter
By Jill Kurtz
As architects, we want to believe that our memory care facility designs benefit loved ones that are living with dementia. However, despite our best efforts, sometimes the opposite is true. Environments created without the resident's best interest in mind can lead to the stereotypical negative behaviors seen in memory care facilities. It is truly heartbreaking to think that we could be causing frustration and sadness through the spaces we are designing. As healthcare designers, it is our obligation to provide the most fulfilling environments possible for our memory care residents.
A recent study finds that by 2050, the number of individuals in the United States age 65 years and older with Alzheimer's disease will nearly triple, from 5 million to 13.8 million. How can we design facilities that provide these residents with less frustration, increase feelings of self-worth and enhance their quality of life?
Sense of self-worth
Providing an environment that allows for self-care creates a sense of self-worth. Individuals with dementia show a decline in the ability to manage daily tasks, remember events and problem solve, making daily life for someone suffering from dementia a challenge. And when everything is done for them, it creates an imbalanced feeling of receiving but not contributing. Providing spaces that allow residents to perform these daily tasks gives them opportunities to take part in the overall community that they now live within, which increases their feeling of belonging. Things like preparing meals, folding laundry, watering plants or tending to vegetable gardens are acts that help create self-worth.
The physical environment can play a significant role in making simple tasks—that are often taken for granted—like bathing, dressing, grooming, eating and finding your way around more instinctive. For example, providing a visual line of sight from the bed to the toilet triggers the brain to remember where and how to use the bathroom. Providing enough counter space in the bathroom so the toothbrush and toothpaste can be left out creates a visual reminder to brush their teeth. Designing a smaller closet that holds fewer clothing choices can decrease anxiety and maximize independence.
Increase social interaction
Individuals generally experience greater happiness and a deeper sense of belonging on days when they interact with others. Providing spaces where families feel welcome to spend time, residents converse with each other and care partners can interact with residents can lead to new discoveries and provide opportunities for better understanding.
Spaces that provide this social stimulation are great, but we also need to be sure to include those spaces for quiet observation or to sit and reflect. The more choices given allows the individual to have more control over their environment and provides greater levels of independence. This often results in a strong sense of accomplishment and fulfillment.
Bringing a sense of home
The same elements and characteristics that you have in your home should be brought into a memory care building, such as having the dining room next to the kitchen, providing a great room for entertaining, private bedrooms and a sitting area for quiet reflection. Developing this environment with carpets, curtains, tables, lamps and pictures on the walls also alludes to a sense of home.
In most homes, the kitchen is the hub of activity. It is important to maintain those normal daily activities for as long as possible, because they provide a sense of pride and self-esteem. Daily food-related rituals like making coffee, washing vegetables or folding the dishtowels can bring back memories of those same activities done in prior years.
A large dining room can also be designed to create a more accessible, homelike environment. Instead of one open dining room with long tables, consider smaller areas with a couple two- to six-person tables instead. The spaces don't need to be completely enclosed, but provide that feeling of a more intimate residential dining room.
Sensory elements
An important design consideration is to purposefully engage sensory awareness to encourage daily activities for self-care. The typical aging eye cannot distinguish colors as well, can have difficulty focusing and has decreased depth perception. Using distinct colors can support some of these visual limitations. Differentiating between the walls and the floor, distinguishing the seat of a chair from the flooring or contrasting a table edge can make it easier for residents with impaired vision to take a seat or navigate situations without help.
In addition to using easily distinguishable colors, it is also important to pay attention to the shade or hue being used. Flooring transitions that are a high contrast can cause an individual with dementia to think the darker floor is a hole, and they will not step on it.
As people with cognitive difficulties often experience confusion, it is also important to remember that texture and graphics should not be misleading. If something looks like wood, it should feel like wood; when something is not what it appears to be, it can lead to uncertainty. Artwork should be framed with non-glare acrylic not only for safety, but to avoid reflections in the glass, which can further trigger anxiety and confusion.
Wayfinding elements
An individual should know how to get where they want to go. Utilizing simple wayfinding can maximize a sense of orientation.
Creating small clusters of activity spaces and identifiable elements can be effective in orientating individuals with dementia. The paths that link all these spaces and elements together should be clear and understandable, and safe for residents to wander. Not necessarily wandering because they can't find their way around, but rather for meaningful and purposeful expression of activity, engagement and socialization. Additionally, staff should have a clear line of vision to all spaces, allowing them to provide support for a resident that may need to be reengaged.
Evoking memories and personalization
Familiar artifacts, activities and environments can provide valuable associations with the past for people with dementia and can stimulate opportunities for social interaction and meaningful activity. Rather than being limited to the single "rummage box," the total environment can potentially serve to trigger reminiscence. The spaces and environments should provide opportunities for residents to reconnect, be it with activities that they once loved, or with their friends and family.
There is a difficult balance to strike when integrating individuals' personal items, activities and tastes into a home for many. The environment could end up feeling cluttered and overwhelming instead of well-organized. Allowing personal items and activities does eliminate that sterile rhythmic pattern seen in prior institutional models and can create personal memories that calm a resident that is agitated or disruptive. An artist might find self-worth through the act of painting. A knitter may not be able to count stitches, but rolling yarn in balls can induce memories and support a feeling of productivity.
Nature's relief
Allowing residents to access healing gardens and engage in outdoor activities improves overall health, and can help balance hormones that produce better sleep. Being outdoors engages all the senses and provides the vitamin D and melatonin needed for a good night's rest; there is growing evidence that exposure to bright light may improve circadian rhythms, which are signaled by melatonin. Daylight is known to enhance melatonin levels, which decrease with age. Numerous studies suggest 1-2 hours of daily exposure to bright light results in improved sleep. Alternations in circadian rhythms can have a profound consequence on emotional behavior and mental health.
Few people would dispute that memory care settings are some of the more stressful environments encountered within the retirement community structure. Residents often experience confusion, disorientation and agitation that can manifest in a multitude of ways including impulsive vocalization, combativeness, withdrawal and isolation. Outdoor space and gardens offer passive engagement and access to natural distractions like lush plantings, fragrance, color, sound and tactile experiences.
A well-designed memory care garden provides opportunities for safe, supportive movement, as well as social interaction with family, staff or other residents.  These spaces may take the form of looping pathways, purposely designed ramps, larger spaces for gathering and fully accessible vertical and raised-bed planters for residents requiring the use of wheelchairs and walkers. Water features provide a beautiful visual distraction and can be as simple as a small bubbler fountain, or as elaborate as stream beds and cascading waterfalls.
The power of exposure to nature to affect both the physical and emotional well-being of an individual is immense. Only then can we realize the fullest potential for the garden to meet the needs of people struggling with dementia.

Architects have the ability to positively influence behavior and impact well-being through the spaces we design. Moving into a memory care unit is a significant transition that can often be accompanied by stress and anxiety, not only for residents but for their families as well. When designing these facilities, it is important and necessary to consider the resident's perspective. Creating a place that feels like "home" while still addressing the unique needs and limitations of this population is the key to lessen frustration, increase feelings of self-worth and enhance the quality of life for cognitive-impaired individuals. We can make a significant difference not only in the lives of the residents, but in the lives of their friends and family members, as well as the staff that care for them.
Author: Jill Kurtz
Jill Kurtz, AIA, is a key member of NAC Architecture's healthcare team. She is well-versed in designing environments for the aging, and the connection between thoughtful planning and overall resident well-being.
Tags: Alzheimer's Disease, Architecture, cognitive-impaired, dementia, memory care
Posted April 12, 2019
More Articles: