Subscribe Now
Keep up with the latest news with our magazine and e-newsletter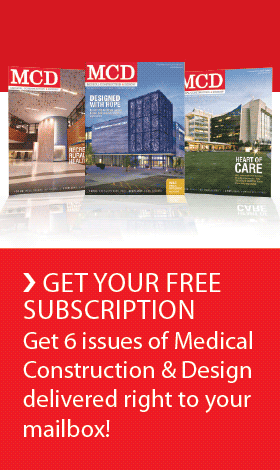 Subscribe to our E‑Newsletter
The Joint Base San Antonio-Lackland Reid Health Services Center, located in San Antonio, Texas, has achieved Leadership in Energy and Environmental Design Gold certification. The new two-story, 70,088-square-foot medical clinic includes 19 departments and offers primary care, pharmacy, clinical labs and radiology services to more than 86,000 trainees in 130 units annually.
The new facility replaces a clinic originally built in 1967. The new clinic embraced Evidence-Based Design principles to create a patient-centered environment, improve the quality and safety of healthcare, develop a standardized, flexible and positive work environment for providers, minimize its environmental footprint and reduce lifecycle costs.
Initially designed to LEED Silver standards, the Design-Build team of JE Dunn, Hoefer Wysocki, BranchPattern, Bob D. Campbell & Co., Land3 Studio and BHC Rhodes brainstormed early and often throughout all phases of design and construction to incorporate additional sustainable elements. The Lackland Reid Medical Clinic replacement scored 60 out of a possible 110 points on the USGBC's Scorecard, resulting in the LEED Gold certification.
Points were earned in seven categories:
Sustainable Sites: 9 out of 18
Earned a perfect score (3 out of 3 points) for alternative transportation-public transportation access
100% of the building's roof surface is solar reflective, reducing the heat island effect
Water Efficiency: 4 out of 9
Water use reduction was a key focus
Potable water consumption was reduced by 36.99%
Energy & Atmosphere: 29 out of 39
Design yielded energy cost savings of 33.8%
Whole Building Energy Simulation achieved energy cost savings of 34.5%
Materials & Resources: 11 of 16
Perfect score for sustainably sourced materials and products, construction waste management, persistent bioaccumulative and Toxic chemicals source reduction-lead cadmium and copper, furniture and medical furnishings
Resource use-design for flexibility
34% of onsite construction waste was diverted from landfill
44% of building materials were sustainably sourced
Indoor Environmental Quality: 9 out of 26
Full points for outdoor air delivery monitoring, construction indoor air quality management plan during construction: pre-occupancy, low-emitting materials, lighting systems controls and thermal comfort design and verification
Project Innovation: 6 out of 6 for project planning and design
Regional Priority Credits: 1 out of 4
The new facility is one of 31 LEED Building Design + Construction Healthcare Gold-certified projects in the world and only one of 21 in the U.S.
Photo source: www.jedunn.com.
Posted April 22, 2019
More Articles: