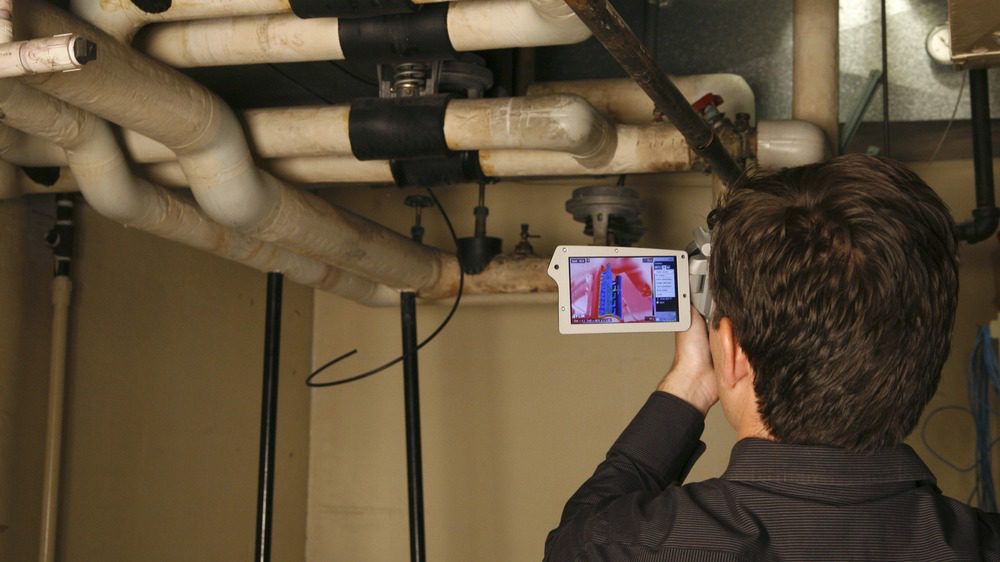 Part of data gathering includes talking to the facilities personnel who use and maintain the equipment to identify gaps. Such due diligence helps teams plan and implement MEP systems that make the most sense from a standpoint of programmatic scope and resources, resulting in patient comfort and making the next set of renovations easier through flexibility and foresight.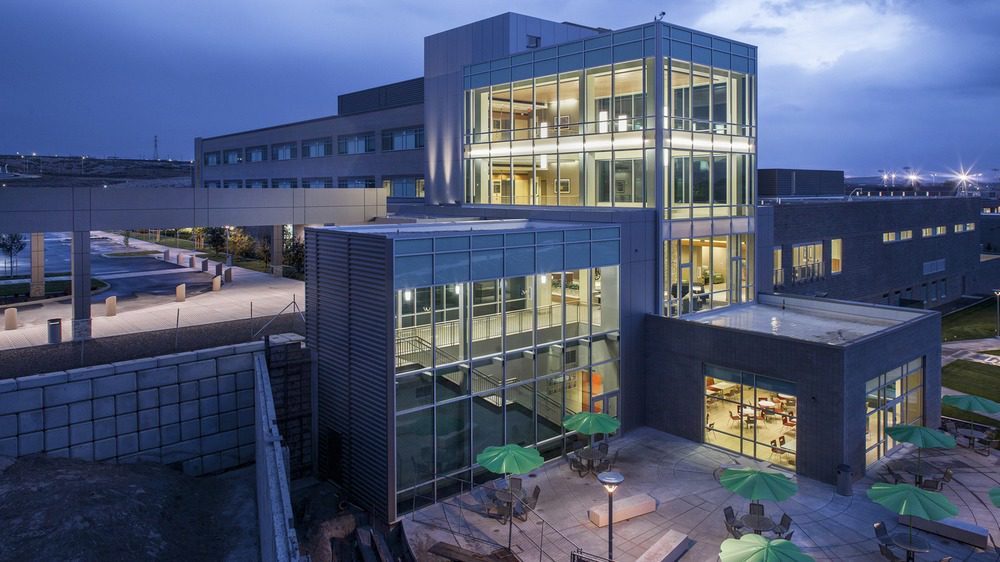 Trios Health Hospital; Kennewick, Washington. A significant factor in a patient's experience is an environment where mechanical, electrical and plumbing systems are seamlessly integrated. Photo courtesy of Eckert & Eckert..
◀
▶
Subscribe Now
Keep up with the latest news with our magazine and e-newsletter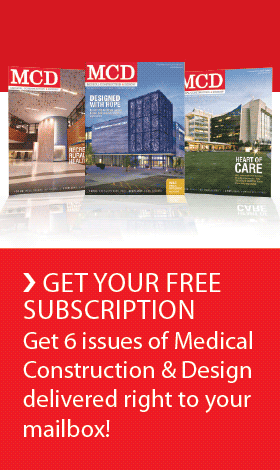 Subscribe to our E‑Newsletter
By Jim Sattem
Today's healthcare leaders are driven to provide patients with the utmost positive care experience. In today's competitive marketplace, even the slightest step ahead can result in miles gained. A significant factor in a patient's experience is an environment where mechanical, electrical and plumbing systems are seamlessly integrated. When MEP systems work well, they will blend into the background. But, where there's an issue, these systems quickly become an unwelcome nuisance.
Facilities encounter many obstacles when faced with renovating or expanding facilities to improve the level of care. A common challenge is optimizing MEP systems. This is especially true in older healthcare facilities where temperatures, filtration, air changes and pressure relationships might be inadequate, plumbing and medical gas systems could be aging or compromised, and electrical distribution capacities may be at or near capacity. Any of these deficiencies can impact a patient's ability to rest and recover in an infection-free environment.
When outdated systems and failing infrastructure make replacement necessary, or when renovations are needed to support programmatic changes, MEP functionality must be carefully considered in the earliest stages of design. In order to optimize the environment for patient healing, comfort and satisfaction, healthcare leaders and project teams must respond to these issues with creativity, expertise and strategic planning.
MEP planning + decision making

Each project has interlinked goals of optimizing quality, lowering costs and shortening schedules. Focusing too heavily in one or two areas, while sacrificing others, can lead to an imbalance. For a project to be considered successful, weighing schedule, cost and quality evenly is crucial. Factoring MEP infrastructure objectives early in the decision process will help create a healthy equilibrium.
Establishing clear objectives can assist in team selection and determine which professionals will offer the most optimal strengths to the project. The right team will establish products, budgets and timelines that are realistic and flexible enough to accommodate scope change and cover necessary MEP upgrades. Project leaders who promote creativity to explore innovative MEP solutions can prioritize areas that will have the greatest impact on the quality of the healing environment.
Planning.  An established plan that is a living document, evolving with the project, can drive the MEP approach and guide decision making when issues arise. Transparency enables stakeholders to quickly address issues and challenges affecting the project. Involving MEP engineers in programmatic decisions can provide valuable insights to complex systems and minimize the time and expense of redesign.
Goals.  Strategic programmatic decisions must factor in the long-term goals of the facility. Core parts of an organization's mission aid in the fundamental development of high-level MEP planning. With the overall mission in mind, the right team will set goals that facilitate planning of MEP expansion and capacity with reasonable certainty, allowing for designs to accommodate the forecasts. Pinpointing the focus helps teams allocate resources accordingly and directs the focus on outcomes.
Schedule.  Appropriate timelines that consider MEP impacts ensure the entire team is working toward the same target. To avoid schedule lapses that result in expensive delays, built-in contingencies can be used to accommodate necessary but time-consuming activities like testing and scope validation. Accounting for additional time up front can avoid unnecessary setbacks, especially in critical timelines and schedules. Successful design starts during the early planning and programming phases with a thorough examination of infrastructure.
Budget.  Preliminary budgets are a key step toward project approval. Too often, MEP planning is based upon simplified budgets that rely on historical cost trends. When real numbers are calculated into later budgets that include required design elements, the project struggles to realign scope.
Team selection.  Complex design projects are successful when a team of designers and contractors are encouraged to bring together varying levels of creativity, expertise and innovation. Insightful questions, a thought process beyond MEP systems and a plan executed with excellence achieve positive results.
Common project challenges
Aging infrastructure and capacity shortages will continue to present challenges when renovating established facilities where original equipment is reaching the end of its useful life or becoming obsolete. As facilities continue to expand or spaces are repurposed, MEP capacity becomes a significant hurdle. For example, when a space is repurposed, airflow changes may be required for code compliance under the new occupancy. Water piping may be corroding or leaking and must be replaced. Aging electrical distribution systems may be obsolete or lack capacity to serve the additional receptacle counts and circuits required by today's codes.
When replacing or upgrading MEP systems, project teams are often challenged with budgets that cannot fund the infrastructure required to cover shortages and replace equipment. To ensure the viability of the project plan and goals, replacement and expansion of existing MEP infrastructure must be included early in the planning process. With good planning and decision-making practices, as well as with lessons learned from past experience, the outlook for a successful project, and an enhanced patient experience, can be achieved.
Code requirements. In any healthcare facility, there are local, state and national code requirements for health and safety. In an older building that has undergone multiple additions and renovations, existing MEP systems may no longer meet today's codes and standards. Electrical systems may not provide the required separation of emergency loads, or the branches may have been mixed to save costs during a remodel. Plumbing and medical gas conveyances are often too short, or the number of outlets doesn't meet code as capacity grows or codes become more specific. With each renovation, a thorough study of the infrastructure and building codes will put early planning efforts on realistic footing.
Building Information Modeling.  A further challenge is that older healthcare buildings were designed to house the smaller,
less complicated systems that were standard at the time of construction, leaving inadequate space for their modern replacements. This space restriction can create lateral challenges with ductwork, ceiling heights, data cabling, lighting fixtures and sprinkler systems. These, in turn, create a ripple effect on interior space allocation that may not have been anticipated in the original project planning. To mitigate these challenges and avoid surprises in the field during construction, utilize up-front coordination and 3D design tools to virtually test the juxtaposition of potential systems.
Creativity. In a renovation project, creativity is essential when designers and contractors are looking for strategic ways to replace and improve system infrastructure. Experienced teams collaborate through meetings, constructability reviews and facility assessments to determine what is feasible and anticipate where issues may arise. Investing in testing, balancing and metering proves to be worth the initial cost to avoid system shortages that negatively impact the patient experience later. This level of hands-on detail isn't always covered early in the design but, in a renovation of an older facility, it is imperative.
These exploratory steps can be difficult to execute in facilities that must remain operational during renovations. Noise levels from exploring building components need to be kept within reasonable ranges and dust and debris kept to a minimum. In addition, supplies must be transported into and out of the space without disrupting the operational flow or compromising sterile conditions required of an operating medical facility. These early disruptions will ultimately minimize major disruptions down the road.
The hidden advantage
With such a vast diversity of challenges, a solid plan, expertise and coordination are invaluable. Right-sizing equipment is one of the most important steps a team can take. Capacity is just as important as size because undersized equipment will underperform. Equipment selection is a delicate balancing act of optimizing valuable real estate without being too conservative and causing capacity shortages later. Gathering the data on existing equipment—how old it is, when it was installed, how it has been maintained—helps teams plan for replacements and reroute new infrastructure around existing equipment.
Part of data gathering includes talking to the facilities personnel who use and maintain the equipment to identify gaps. Such due diligence helps teams plan and implement MEP systems that make the most sense from a standpoint of programmatic scope and resources, resulting in patient comfort and making the next set of renovations easier through flexibility and foresight.
Today, healthcare stakeholders are focused on offering an exceptional patient care experience, and MEP systems directly impact patient satisfaction. Establishing goals and objectives, timeline and budget—while also factoring key insights—healthcare decision makers can capitalize on the hidden advantage that high-performing MEP systems offer to enrich the patient experience.
Author: Jim Sattem
Jim Sattem, PE, CHC, is principal with Interface Engineering, Inc. He can be reached at jims@interfaceeng.com or 503-382-2746.
Tags: Engineering, MEP
Posted February 14, 2019
More Articles: