Subscribe Now
Keep up with the latest news with our magazine and e-newsletter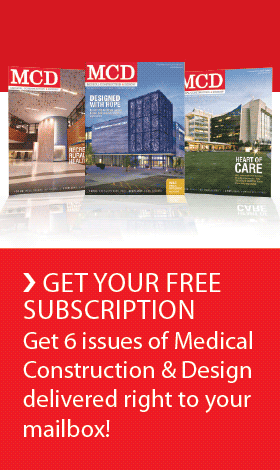 Subscribe to our E‑Newsletter
DesignGroup is designing for Norton Healthcare a new 172,000-square-foot tower at its Norton Brownsboro Hospital location, in Louisville, Kentucky, as well as the renovation of 44,000 square feet in the existing facility. The major expansion and renovation project will allow Norton Brownsboro Hospital to meet more of the community's needs. Construction is slated to be complete on the new building in the spring of 2020. The renovation project will be complete in 2022.
Hallmarks of the design include the reinforcement of one identifiable main entrance to the hospital, with clear secondary entry points for the emergency department, hospital staff and service vehicles; a cohesive wayfinding approach that reflects the open and inviting culture of Norton Brownsboro Hospital and the reuse of signature detailing and design materials from the existing building to provide an effortless transition to the new tower and a complementary experience for patients and families. In addition, the flexible design plan allows for future capacity building and program changes over time.
Specifically, and most significantly, the new addition will house 70 new patient beds on the top three floors, bringing the total bed count for the hospital to 197. The third floor will add 22 new ICU beds and will align with the existing ICU to streamline care. The fourth and fifth floors will add 24 new medical/surgical beds to each floor.
The second floor will see the dramatic expansion of the surgery department in order to provide advanced care for the estimated 50 percent increase in surgeries expected within two years of the project's completion. On the first floor, the emergency and vascular departments will be upgraded and diagnostic support enhanced. Lab capabilities and materials management processes will be expanded on the lowest level.
The expansion and restoration of the hospital is forecasted to bring more than 110 jobs to the area.
Messer Construction is serving as general contractor.
Renderings courtesy of DesignGroup.
Posted February 13, 2019
More Articles: