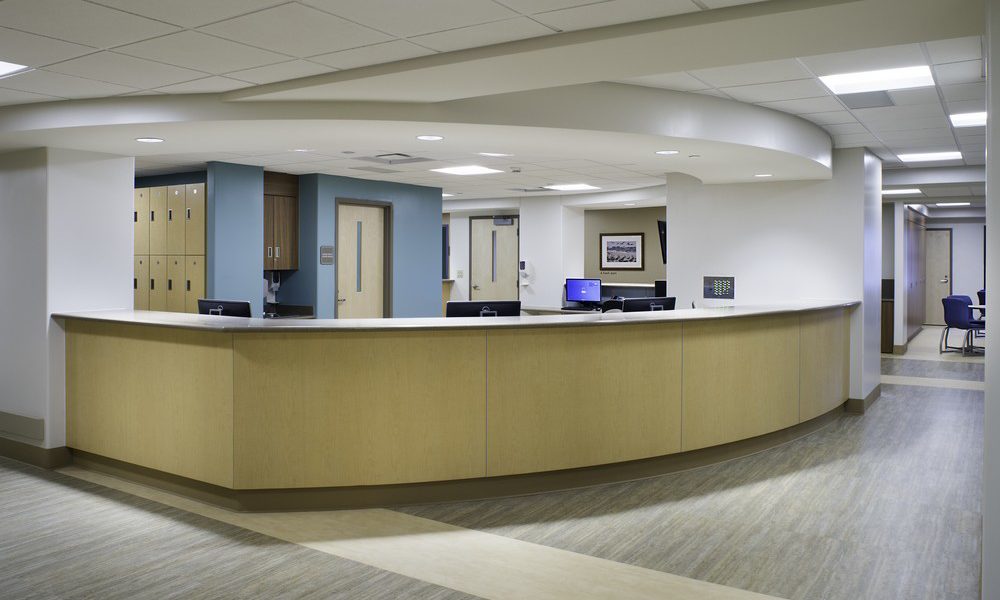 A balance of open and enclosed charting space, valuables storage, electronic controls for infrastructure and strategic positioning for maximum sightlines into social spaces combine to form a functional and safe team workstation. © Kevin G Reeves.
Subscribe Now
Keep up with the latest news with our magazine and e-newsletter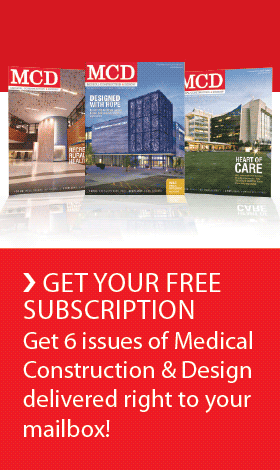 Subscribe to our E‑Newsletter
By Jon Sell
By 2020, behavioral health disorders will surpass all physical diseases as a major cause of disability worldwide. In the United States, the Substance Abuse and Mental Health Services Administration estimates that nearly 43.7 million adults ages 18 and older have a mental illness and more than 20 million people ages 12 and up have a substance use disorder. According to a recent Health Affairs report, national spending on mental health and substance use treatment services is projected to reach $281 billion in 2020. There continues to be a movement toward integration while more healthcare professionals recognize the need to address the impact of mental illness on chronic conditions, such as diabetes and cardiovascular disease. The main catalyst has been the value-based directive to provide better-quality, cost-efficient care. When providers are paid based on patient outcomes, then all factors related to those outcomes should be addressed—including the infrastructure and built environment.
Hospital executives are taking notice, seizing upon the need for mental health services by converting underutilized spaces into state-of-the-art behavioral facilities to better serve their communities and generate revenue. Repurposing and renovating existing spaces can be a great solution to meet demand in this arena. Array Architects has recently provided design services in several facilities, and has identified the following best practices to assist with capital projects.
Team workstation
Converting team workstations to suit behavioral health standards requires an initial assessment of the existing features. Work areas are designed as a large, multi-seat workspace, and are sometimes glass-enclosed for heads-down, focused work and team collaboration and planning. Amenities in the station often include computers, nurse call, a pneumatic tube station, as well as copiers, printers and other technology.
Since the team workstation serves as the functional hub for the unit, there should be a balance of open and enclosed space. It should be open to patients to allow visual and verbal communication, while maintaining enclosed areas for focused heads down work and documentation. Keep in mind that a new station should include quiet treatment planning areas, space for medication distribution, patient valuables storage and electronic controls for unit infrastructure such as shut-offs for water, electric and specialized lighting controls. The workstation is best positioned to maximize visibility down the hallways and to social spaces, providing greater awareness for staff.
Main entrance
Behavioral unit entry/exit points should be through a sally port (a series of interlocking doors to prevent elopement), adding complexity to renovations of existing spaces. Per today's guidelines, this area serves entry and exit from the unit. This area creates the first impression for visitors, and often incorporates visitor lockers to secure belongings that cannot go onto the unit. A visitation room could also be accessed from the sally port to provide maximum security and observation of family visits.
Patient rooms
Standard acute care patient rooms typically have numerous features that pose safety risks in a behavioral setting. Multi-functional patient beds with electrical components, over-bed lights, medical gas headwalls, TVs and wall-mounted devices are just a few examples. In addition, ceilings must be monolithic, therefore existing ceiling tile, cubicle curtain tracks, sprinkler heads and HVAC vents mounted on the ceiling, which are not ligature resistant must be replaced.
Considering these key requirements, a best practice for most patient rooms is to remove all existing fixtures, finishes and furnishings. Trends are toward private rooms with private bathrooms, and designing in ways for patients to personalize their space and have control over their own comfort. Patient types may drive design as well; for example, a child and adolescent room may want to be minimal to encourage patients to be out of their rooms in therapy during the day, while a geriatric unit may call for a larger room and special design touches, such as memory boxes or even built-in TVs since these patients spend more time in their rooms. Utilizing a phenolic material for the vertical surfaces of any built-in millwork is preferred to plastic laminate; all countertops and millwork should be built into the walls to ensure durability and safety. All details down to the type of wall base must be considered and selections made to ensure durability, aesthetics and safety.
Social spaces
Unlike an acute care focused on the patient room design, in behavioral health patients spend most of their time out of their rooms in activities. Therefore, creating social spaces that will accommodate many different-size groups and types of activities is important. Many times, removing exterior rooms may be desirable to open up the unit and bring in natural light to the core spaces. Blind corners in social spaces should be eliminated if possible. If eliminating blind corners is not feasible, security cameras can be used. All furniture in social spaces should be behavioral-health specific, weighted and with cleanable surfaces.
Social spaces should be designed to allow for group and individual quiet activities, prompting the incorporation of sensory elements, special lighting and sociopetal furniture arrangements. For example, sensory alcoves can be fitted with patient-directed airflow to help soothe patients. Since access to outside is tightly controlled, and in some renovations impossible to achieve, bringing nature into the space through environmental design and artwork is also very important to creating a calming atmosphere.
Door hardware
Due to ligature risks, behavioral health hardware should be specified throughout any converted space. A continuous hinge with a sloped top can replace standard butt hinges and minimize the use of door closers; consider incorporating door sensors or even barn door style doors to reduce the risk of a suicide attempt. In states that will permit it, not installing the door on the private patient toilet room may be the best option.
Patient bathroom
Many items in conventional patient bathrooms can be used for self-harm. Typically, behavioral health design requires the removal of all plumbing fixtures, finishes and accessories.
Shown in the photos, anti-loop solid-type grab bars can be used to replace typical bathroom grab bars. The replacement shower and faucet controls are button operated with a water flow timer. The sink is installed in a recessed alcove with a solid surface vanity and tamper-resistant secured skirt panel to conceal the piping. Pick-proof sealant is utilized at all accessories and any dissimilar material joints.
Exterior window
Often, the existing windows need to be either replaced with specialty, psych-safe windows with polycarbonate glazing or laminated safety glass. Or a secondary window system can be installed on the interior to protect the exterior glazing and also offer a safe way to conceal window shades or blinds.
Responding to unmet demand
Since the Center for Medicare and Medicaid Services changed its payment model to encourage better mental healthcare and greater access, hospitals have begun to bring behavioral health to the forefront of their facility plans and respond to demand. According to the Robert Wood Johnson Foundation, 68 percent of adults with mental disorders also have medical conditions, underscoring the way in which one can be a driver for the other. Providers seeking to improve general healthcare outcomes by addressing behavioral health needs have entered the endeavor at a pivotal point, as healthcare shifts toward a value-based, coordinated care model. Renovating unused (or underused) healthcare spaces to meet the behavioral health needs of patients is a cost-effective, savvy way of accomplishing that goal.
Editor's note: Stay tuned for MCD's January/February issue with a focus on behavioral health.
Author: Jon Sell
Jon Sell is principal and healthcare planner at Array Architects.
Tags: anti-ligature, Architecture, behavioral health
Posted December 11, 2018
More Articles: