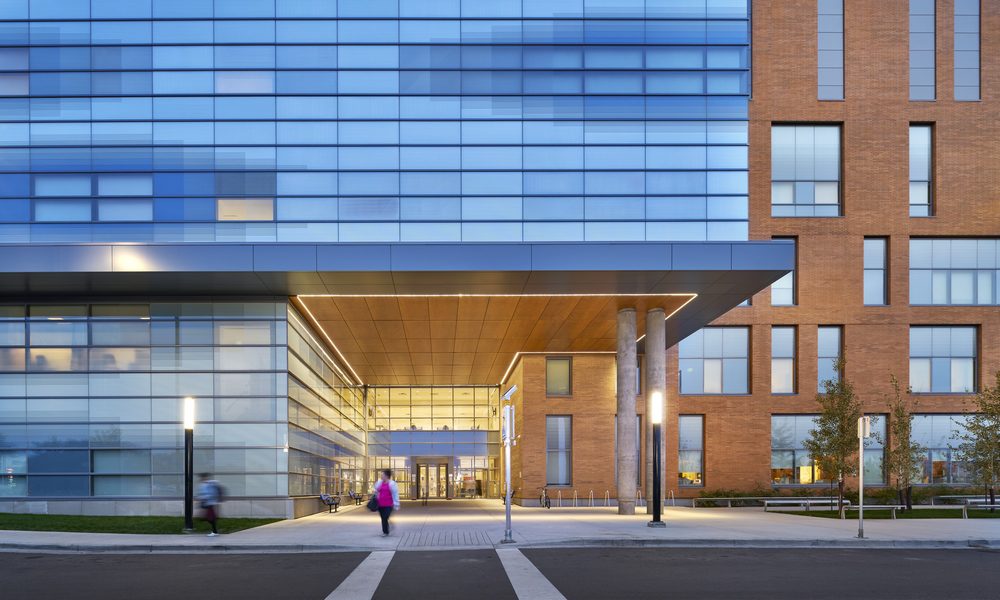 Subscribe Now
Keep up with the latest news with our magazine and e-newsletter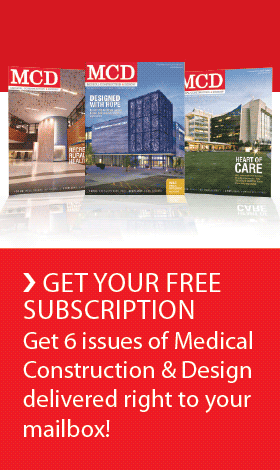 Subscribe to our E‑Newsletter
TORONTO, Canada – The expansion and renewal of the Alberta, Canada Medicine Hat Regional Hospital was recently celebrated. A ribbon-cutting ceremony opened the new ambulatory care building designed by Gibbs Gage Architects and Diamond Schmitt Architects through a joint venture.
The 245,000-square-foot addition significantly transforms this community hospital. Ambulatory care clinics, labor and delivery suites, NICU and major surgical facilities have all been expanded and consolidated. A central atrium resets the building's focus and provides a new community gathering space for the entire hospital, connects inpatient spaces from within the existing hospital to the new facilities and renews public areas in a spacious, light-filled environment.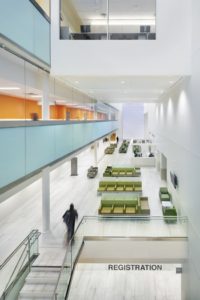 Patient services across four floors feature registration, maternal and renal clinics on the ground floor and day medicine, ambulatory care and cancer clinics on the second. Dedicated corridors for patient transfer from the existing hospital wing line the atrium on the upper floors to maternal labor and delivery and ambulatory surgery on the third floor and surgical pre-operative and operating suites on the fourth floor. On the rooftop, a helipad facilitates patient transfer to emergency services.
The large public areas are color neutral to provide a calm, light-filled waiting space and to accentuate clinical areas by their distinct color tones, which are visible from the atrium. Bright orange, yellow and green define these areas, adding a distinct wayfinding element to the interior design. Among other design innovations are naturally lit procedure rooms with fritted glass windows and a staff rest area on the perimeter of the fourth-floor surgical suites.
The building's exterior is articulated by distinct forms in different materials that break down the massing and integrate both with the existing hospital wing, as well as the surrounding low-rise suburban buildings.
The glazing on the new east entrance has a dynamic frit pattern that references cloud patterns of the broad prairie sky. The adjacent forms in masonry, recalling Medicine Hat's history of clay pottery and brick production, add visual interest that is further enhanced by a syncopation of asymmetrically placed windows. The mechanical penthouse is similarly varied in form and cladding to integrate this component seamlessly within the building's appearance.
Renovations are proceeding within the existing inpatient tower on a phased schedule that will see the emergency department expand to approximately 22,000 square feet, and will include an expanded diagnostic imagining services.
This expansion and renewal successfully addresses deficiencies in healthcare capacity in the growing southern Alberta catchment, updates infrastructure and elevates infection control standards at the hospital. The building targets LEED certification and is planned for service capacity increases and flexibility over the next 20-25 years.
Stuart Olson Dominion Construction Ltd. served as general contractor on the project.
Photos courtesy of Ed White Photographics.
Posted July 30, 2018
More Articles: