Subscribe Now
Keep up with the latest news with our magazine and e-newsletter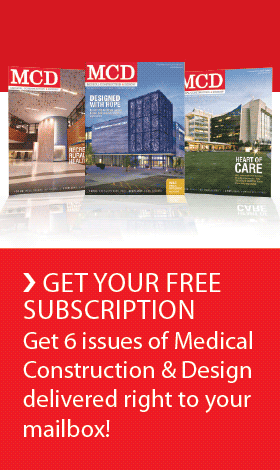 Subscribe to our E‑Newsletter
By Liz Schmitz
The one certainty with technology is it will change. This is especially true in healthcare design. As architects and technology consultants, we aim to anticipate change, design for flexibility and ensure buildings last far longer than today's trends in technology. Developing a facility master plan that aligns with the technology master plan is key to organizational branding, patient and staff experience and planning for future operational considerations.
Branding message
Technology plays a key role in hospital branding long before a new hospital building is open. From initial press releases about the design through groundbreaking ceremonies, construction drone videos and the grand opening celebration, a seamless visual message will begin to convey the owner's brand message. As architects, we frequently help clients by providing 2D graphics, 3D renderings and immersive virtual reality experiences that help owners share their vision of the future with potential staff recruits, philanthropists, future patients and the community.
Once the building is occupied, healthcare executives know that their image is being portrayed daily in social media posts from patients and their families. As a result, they increasingly strive to ensure that spaces likely to be photographed send a desirable message about the hospital's brand.
One department likely to be frequently photographed is labor and delivery. For example, patient room headwalls are oftentimes visible in selfies that a mom takes with her new bundle of joy. Additionally, gathering spaces—such as an antepartum meeting room for baby showers or a postpartum education room—may be prime spaces for photo shoots of mothers or babies. Commonly photographed areas like these should be well maintained, beautiful, portray healing properties and convey the hospital's brand message.
Balancing high-tech, high-touch patient experience
For many people, medical equipment and technology can be intimidating. Fortunately, the design of the interior environment can help soften this by providing a balance between high-tech and high-touch needs of patients. Design features such as the use of natural materials, images of nature and art and a well-coordinated interior design palette can help make the environment feel comfortable to all.
A well-designed interior environment should also integrate seamlessly with the technology. Frequently, technology must be physically attached to the building. From wall-mounted TVs and tracking monitors, to wayfinding displays and interactive art pieces, designers must integrate these features into the overall design experience, as well as allow the flexibility for equipment to be easily replaced with new equipment in the future.
Technology can also be employed to provide a more high-touch or hands-on patient experience. Customization is a main driver in technology—apps enable us to automatically play music based on our preferences, turn on the lights and even adjust the thermostat in our house from anywhere in the world. Patients, as digital consumers, will increasingly expect similar customization of their own experience. Not only is giving patients the ability to impact their environment about satisfaction, it is known from an evidence-based perspective that allowing patients to have choices in their environment helps reduce stress and give them a sense of control (Huisman, Morales, E., van Hoof, Kort, 2012).
As we look toward the future in our designs, we ask: Can a patient control the amount and color of lighting in their space? Can they select the digital artwork displayed in their room? Can a patient control the window blinds from their bed? Can they select music to play in their room?
Continuous technology integration from home to hospital
As we think about the patient experience in healthcare, we must recognize that it begins before the patient leaves their house. Patients use the hospital's website for everything from doctor selection to figuring out where to park. This represents a powerful tool that can be harnessed to help a hospital visitor by providing driving directions, identifying available parking spaces and giving step-by-step directions through the facility. At the same time, this gives the hospital a chance to showcase amenities the visitor may want to access during their visit such as a café, healing garden or meditation space. To accommodate this level of integration, Wi-Fi must be available throughout the hospital, especially in lower levels and parking garages, and charging stations must be provided in all public spaces and patient rooms.
Harnessing technology to support staff
Technologies such as robotics are increasingly used for a variety of healthcare applications, including surgery, pharmacy picking, disinfection and transportation of supplies. One robotic application with a significant impact to the building is automated guided vehicles. Since AGVs are used to transport materials such as medications, supplies, meals, linens and trash throughout the hospital, they can help improve efficiency for staff by ensuring that the materials staff need are readily available and accessible.
To employ AGVs, a full-facility approach is required. Cart staging spaces must include power and network access, flooring transitions along the AGV route must be smooth and AGV pathways must be designed to provide off-stage circulation for robots that is separate from public areas. As designers, we help to ensure the building itself can accommodate these technologies. Proper implementation of these technologies can ultimately improve the staff experience by promoting, as opposed to replacing, human interaction. When we design technology to operate seamlessly behind the scenes, we can free up caregivers to do what they do best, which is directly care for patients.
Technology, healthcare in the future
For many years, we have observed increased acuity of patients in the inpatient setting. In a similar trend, with the advent of telemedicine and telehealth, it is easy to imagine that only the sickest of outpatients will need to be seen directly by a physician when more complex consultations are needed. As a result, there will likely be an increased need for more spaces dedicated to procedure rooms, radiology and point-of-care testing in the clinic setting. With younger patients increasingly utilizing remote access to their caregivers, the demographic of healthcare consumers who prefer an in-person patient experience may trend toward older adults. Facilities should ensure universal design for all ages, with special sensitivity to ease of access as we consider visual, auditory and mobility needs of healthcare consumers.
As technology becomes a one-stop place for multiple activities, from telehealth to shopping and entertainment, health and wellness is increasingly seen in a similar light. Healthcare consumers do not want to go to multiple destinations for various services such as an appointment with a specialist, lab work or a physical therapy session. Instead, they expect that multiple activities can be scheduled at the same location, which is situated conveniently in their community. With this in mind, the healthcare destination of the future will likely be a community wellness center with a variety of amenities to attract patients and promote healthy lifestyles.
Before a healthcare facility is even built, technology must be a critical part of the design. With the completion of construction, technology continues to play an integral role in patient and staff expectations and experiences at multiple touchpoints in their healthcare journey. Technology that is integrated with the built environment provides an opportunity to positively impact the health and well-being of all building users.
Photos courtesy of Stantec.
Reference
Huisman, E.R.C.M., Morales, E., van Hoof, J., Kort, H.S.M. (2012). A review of the impact of physical environmental factors on users. Building and Environment, 58, 70-80.
Author: Liz Schmitz
Liz Schmitz, AIA, LEED AP, EDAC, is an architect in the state of Texas for Stantec who specializes in the programming and planning of complex healthcare projects. She especially enjoys working with clients to learn about their unique project goals, develop solutions and facilitate decision-making.
Tags: Architecture, healthcare technology, high-touch, Wayfinding
Posted July 12, 2018
More Articles: