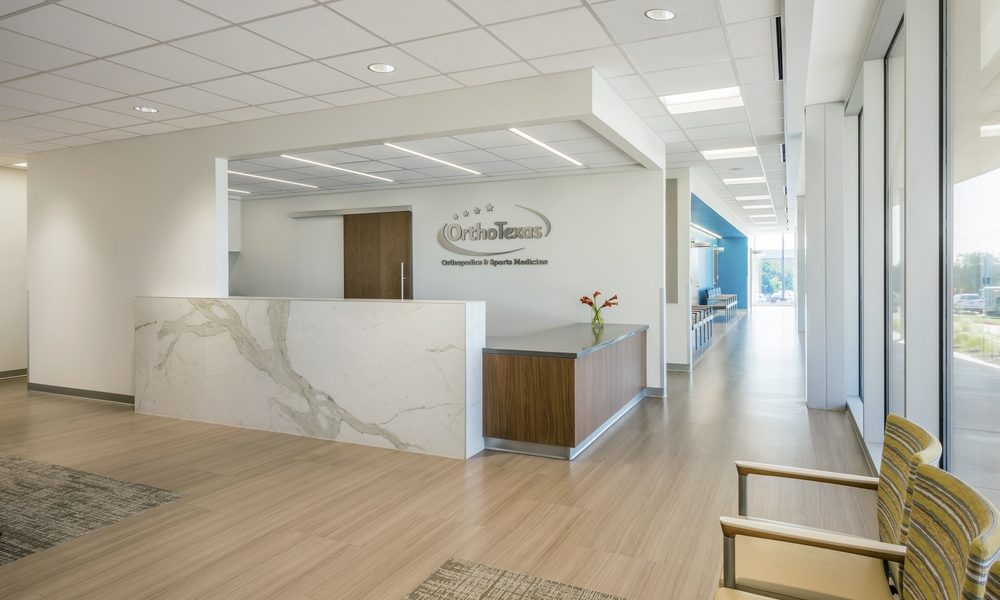 Luxury vinyl tile flooring installation in an outpatient clinic.
Subscribe Now
Keep up with the latest news with our magazine and e-newsletter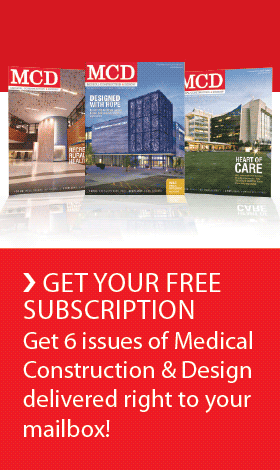 Subscribe to our E‑Newsletter
By Tiffany Kalloor
Healthcare facility managers have incredibly high expectations for flooring material. As a principle surface in medical environments, they shoulder many responsibilities: influencing patient, visitor and staff perception, as well as impacting the quality and function of every space. Perhaps flooring's most important role in design is to yield positive patient outcomes.
Knowing that a single interior surface has such capability, plenty of time and energy should be spent selecting it. Healthcare flooring product data sheets are brimming with information for safety, maintenance, aesthetics, comfort, durability, sustainability, value and the list goes on. But what are the essential qualities that truly lead to results that both patients and caregivers seek?
Experience shows that four criteria are top priority:
Well-being
It must positively impact human condition. Good flooring design can enhance the experience of patients, staff and visitors alike. The right aesthetic can be welcoming, calming and reduce stress. Flooring may have a design motif mimicking nature, as many of the wood-look or stone-look resilient floors offer. The warmth of a natural-looking material provides comfort and reassurance in a space where one's anxiety is often elevated. Modern technology and printing capabilities provide endless color and pattern possibilities. Resilient floor types can incorporate enhancements, such as an acoustical backing layer that reduces harsh noise from foot traffic. Cushioned floors, like rubber flooring, provide ergonomic qualities to relieve physician and caregiver fatigue over the course of a long shift. With the capacity to support and impact multiple senses, flooring can greatly benefit one's wellness, both mentally and physically, in a health facility.
Protection
It should prevent the risk of injury and infection. Healing and safety go hand in hand. Floors contribute greatly toward making a space safer because they can protect patients and staff from trips, slips, falls, disorientation and harmful pathogens. The texture of the floor should provide the necessary traction, even when wet. Although, it should also be smooth enough that crevices do not inhibit the growth of bacteria and other harmful substances. Many resilient and resinous flooring options – including vinyl, rubber and poured – feature surfaces that will meet these requirements. The ground surface color also greatly impacts orientation as patients often need a variety of depth cues – even if it is just to take a few steps around the patient room. Moreover, infection control remains a paramount concern in a healthcare facility. Some experts warn that flooring is often overlooked as a surface that can greatly contribute to the spread of pathogens. Floors with minimal seams, therefore, are vital in sterile environments. If the right product is used, floors can often prevent harmful effects from occurring, which is the ultimate function of surface protection.
Durability
It must be reliable and predictable. Dimensional stability helps to prevent damage, such as surface abrasions or bubbling, which can slow movement of staff and supplies and create trip hazards for patients. When these processes are compromised, it ultimately impacts staff productivity and their ability to care for the patient. Many spaces within a hospital are used 24/7, so flooring durability is a key technical requirement. Long-lasting resilience can be achieved in several ways. Some flooring products are available in a variety of thicknesses, such as a sheet rubber or vinyl floor. Denser, thicker flooring options are best for preventing telegraphing and damage. Other products like quartz and vinyl tiles are impregnated with quartz or cultured diamond particles to strengthen the overall composition of the floor material. Floors do not get a break from the demands of regular foot traffic and rolling loads and they must be completely reliable at all times, as reliability equates to predictability – both for patient outcomes and hospital efficiencies.
Throughput
It must provide a quick turnaround. Room turnaround time is essential to performance, and a low-maintenance floor allows for maximum patient throughput. Minimizing disruptions for cleaning or flooring repairs benefits functional work flow and the overall patient experience. Ideally, facilities want to use the same cleaning agents and maintenance methods on every floor type, which saves time and money. Many floor products have completely removed topcoats, which eliminates the lifecycle costs associated with recoating a floor after the surface has worn. Where seamless floor types are not required, modular tile products are recommended as they are easier to repair or uninstall with less downtime and labor costs. Easy-to-maintain flooring impacts time – time to clean, time to repair and the result positively affects patient volume.
Taking a ground-up approach to flooring will ensure a high-performing, high-quality and safe environment that enhances the well-being of staff and patients and establishes reliable outcomes with maximized patient throughputs.
Author: Tiffany Kalloor
Tiffany Kalloor IIDA, NCIDQ, LEED GA, is senior associate/director of interior design for Hoefer Wysocki's Dallas, Texas studio. She can be reached at tiffany.kalloor@hoeferwysocki.com.
Tags: Healthcare design, healthcare flooring
Posted March 9, 2018
More Articles: