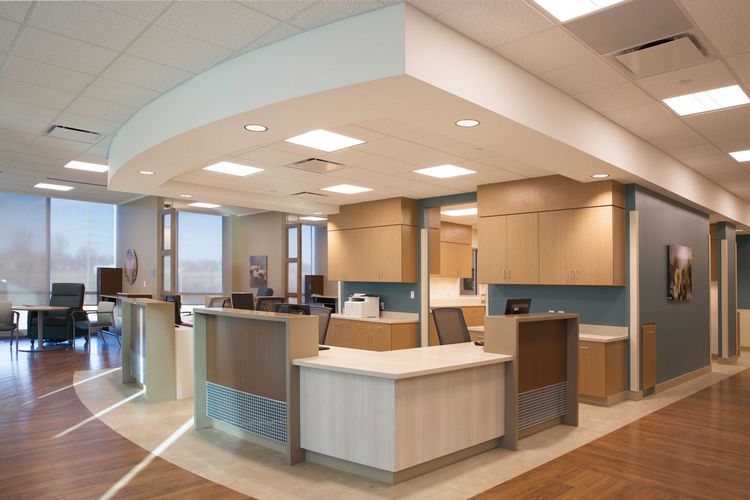 Second floor nurses' work area at Delbert Day Cancer Institute in Rolla, Missouri. Cohen Architectural Woodworking supplied all millwork displayed in the photo.
Subscribe Now
Keep up with the latest news with our magazine and e-newsletter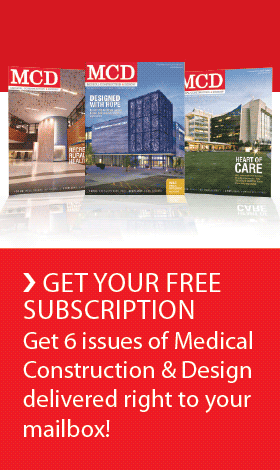 Subscribe to our E‑Newsletter
Cohen Architectural Woodworking has been named a recipient of the Award of Excellence by the Architectural Woodworking Institute for its work with the Delbert Day Cancer Institute in Rolla, Missouri. This is the fourth time Cohen has received the AWI award.
The Delbert Day Cancer Institute at Phelps County Medical Center opened in 2017. It includes designated areas for radiation oncology, medical oncology, laboratory and imaging services, an infusion room, physician offices and areas for a community conference center, retail space and café. Cohen supplied the woodworking and fabrication for the facility, and design was by BSA Life Structures..
DDCI is designed around the convenience and comfort of the patient and their family and, to that end, Cohen fabricated maple wall dividers and nurses stations, as well as high-pressure decorative laminate wall paneling, for the facility. Featured are on-stage and off-stage segregation between family/patient and staff/physician work centers. An on-stage/off stage module organizes spaces so patients do not see behind-the-scenes activities, and separate access is provided to exam rooms for patients and staff, all in support of a calming and reduced stress experience.
Photo courtesy of Rachel Cohen.
Posted March 22, 2018
More Articles: