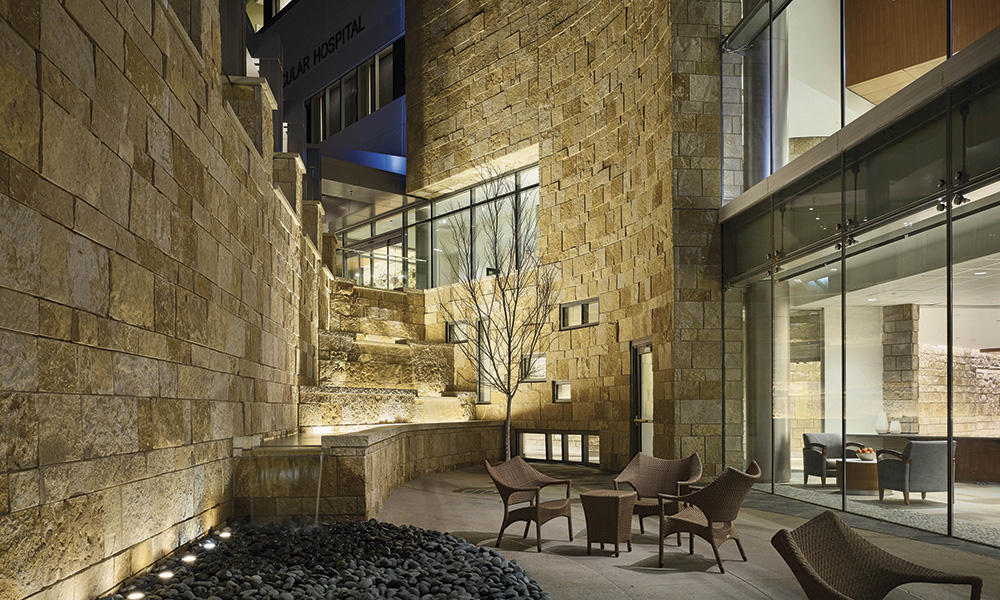 A sunken garden with water cascading down a series of limestone planes brings energy to the space. Photo by: Hedrich Blessing/Nick Merrick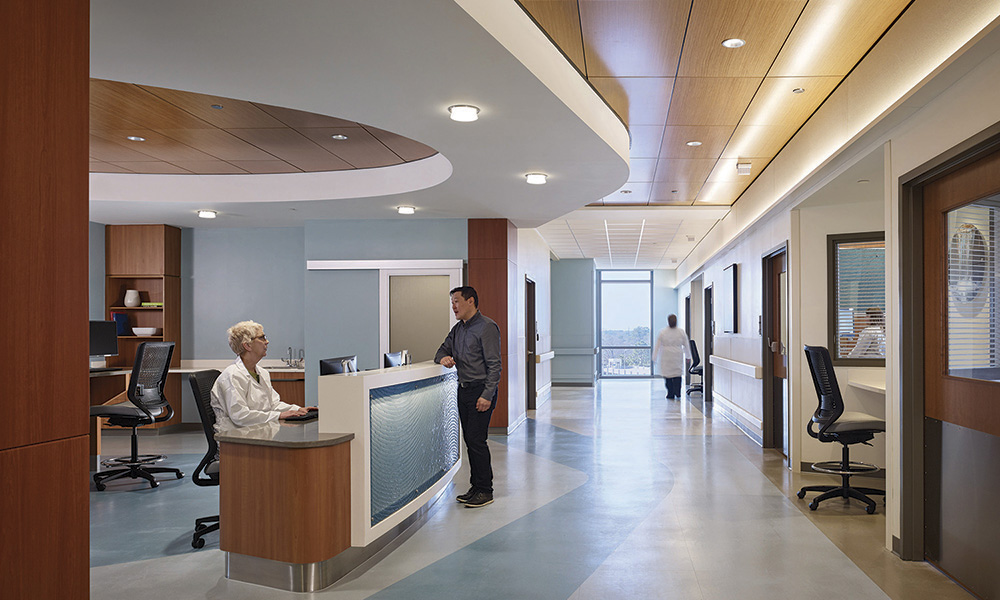 A 10-foot-wide corridor features wood ceilings at nurse pods and good views into patient rooms. Photo by: Blessing/Nick Merrick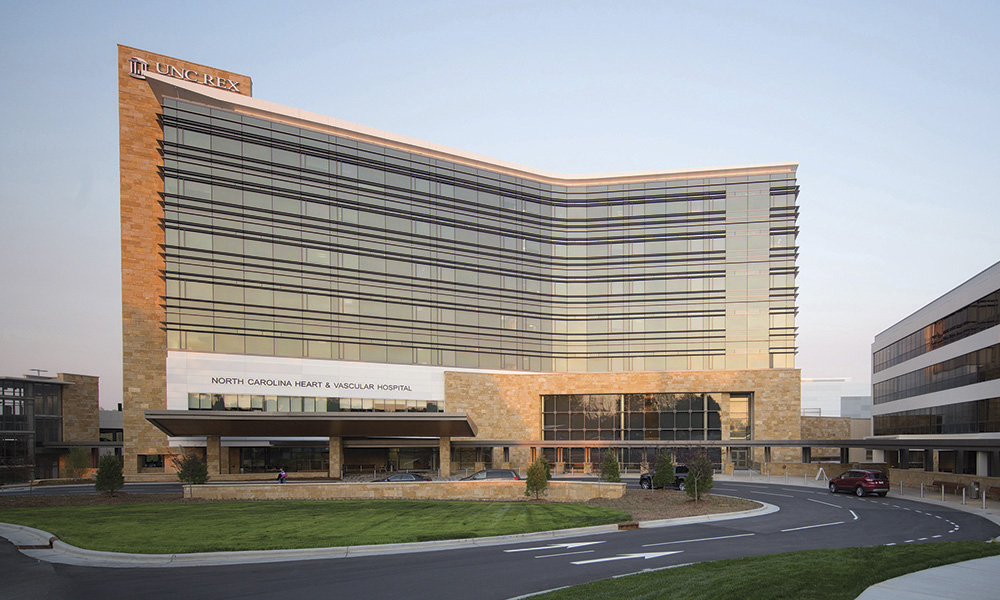 Exterior of North Carolina Heart & Vascular Hospital. Photo by: Brian Strickland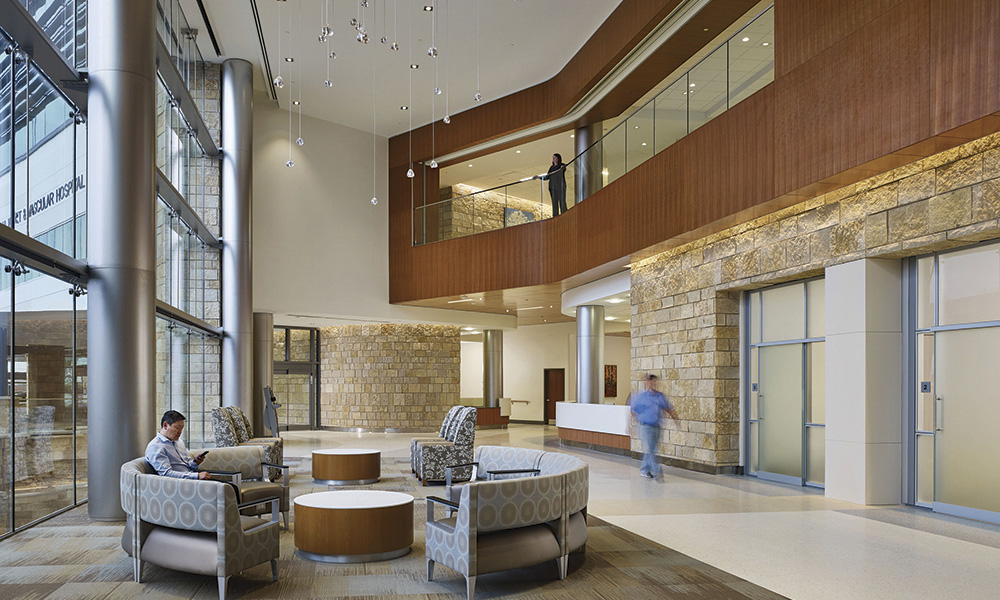 Warm and welcoming patient registration and waiting areas. Photo by: Blessing/Nick Merrick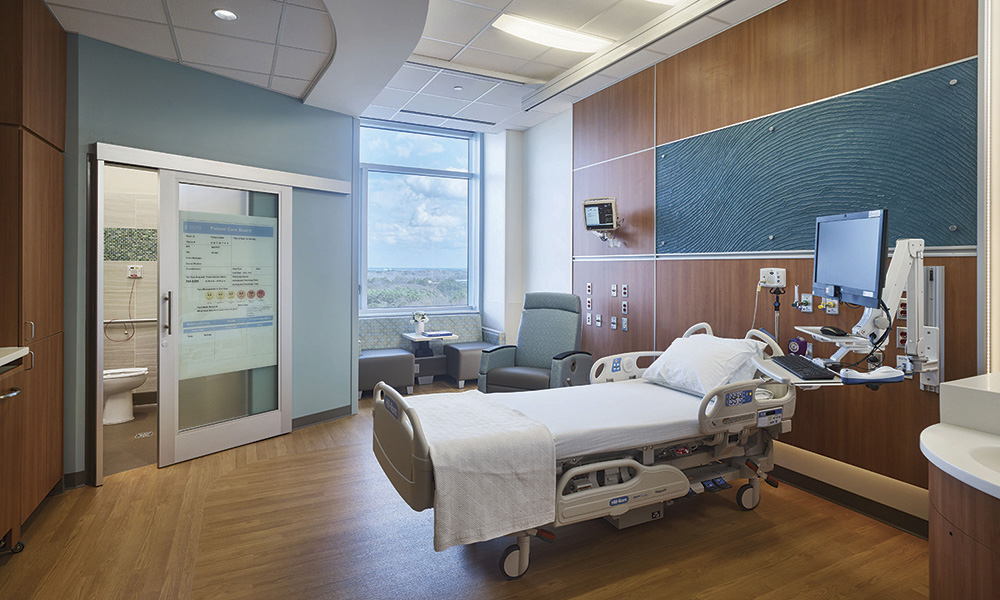 Patient rooms feature high ceilings and large headwalls. Headwall accents with edge lighting give the room a spacious feeling. Photo by: Blessing/Nick Merrick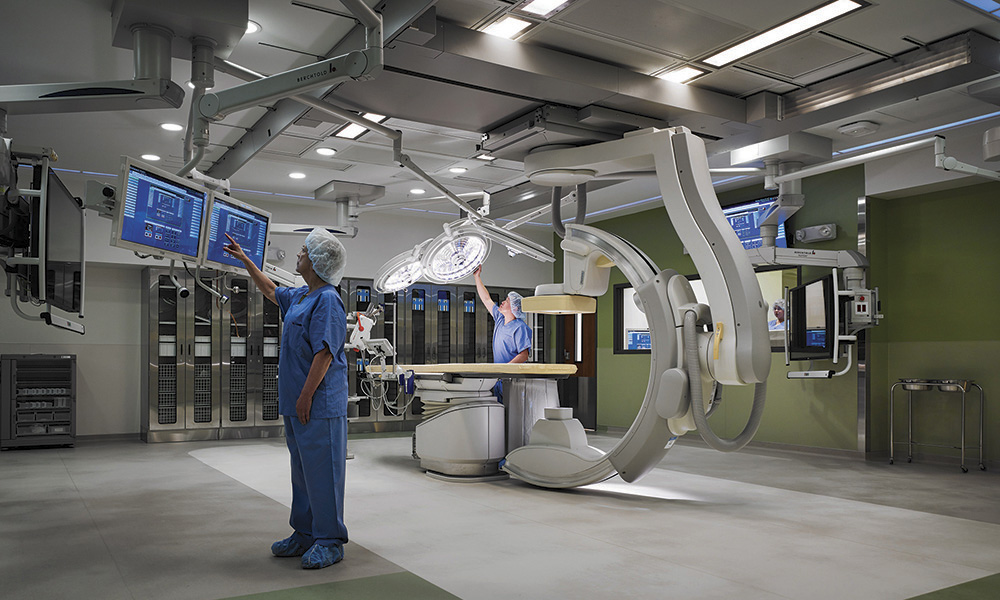 Operating rooms use floor patterns to illustrate different zones to guide staff and equipment movement. Photo by: Blessing/Nick Merrick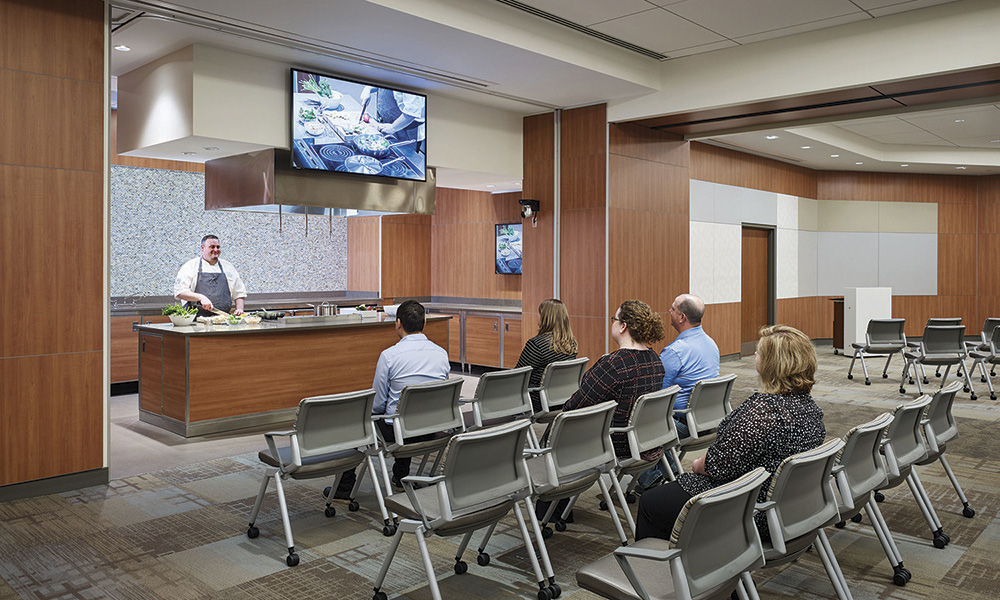 A demonstration kitchen provides patients and visitors a learning resource for the community on heart-healthy cooking. Photo by: Blessing/Nick Merrick
◀
▶
Subscribe Now
Keep up with the latest news with our magazine and e-newsletter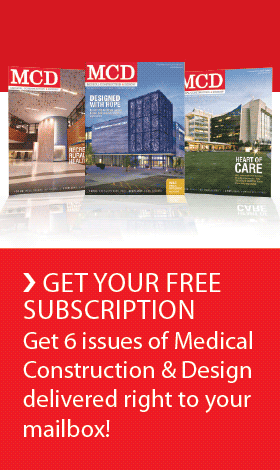 Subscribe to our E‑Newsletter
By Tushar Gupta & Rachel Windham
As the team of UNC REX administrators, staff, physician partners and architects began planning for a new heart and vascular hospital, their first challenge was to efficiently consolidate the multiple specialized heart services from several different locations. The second was to create a "Legacy Project" on the established hospital campus that would reflect leadership's vision for the future of heart care — a standard-setting new hospital designed to meet the needs of the patients, families and staff for today and for years to come.
The new 306,400-square-foot North Carolina Heart & Vascular Hospital brings together all cardiac services under one roof, serving as a central location for world-class heart care designed to assist patients through diagnosis, treatment and recovery. Comprising five bed floors and a three-story diagnostic and treatment building connected to the existing hospital, the facility includes 114 licensed beds, including 72 step-down/telemetry beds, 20 cardiovascular intensive care unit beds and 22 acuity-adaptable beds.
Diagnostic and treatment procedure spaces include six catheterization labs, two electrophysiology labs, two interventional radiology labs, one hybrid OR, one  hybrid catheterization lab, a 10-bed PACU and a 40-bed prep recovery unit with eight observation beds. Other services include a non-invasive cardiology clinic, café, conference and education center, simulation lab, in-patient and out-patient pharmacies and in-patient dialysis care.
Vision and engagement 
EYP Health collaborated with a full complement of UNC Rex co-workers and physician partners during project visioning and design dialogue. Physicians provided an unprecedented level of feedback about their vision for the hospital, discussing their cardiovascular preferences and design feedback to maximize their ability to provide care.
Former cardiovascular patients and caregivers also provided valuable insights, leading to recommendations such as a dedicated ICU family zone and waiting area. Having a high level of engagement, especially from the physicians, was key to creating a high-performance building that supports the top-ranked heart and vascular program in the region.
The collaborative design process, guided by an extensive master plan study, focused on patient amenities, Lean design, reducing/eliminating offsite parking, expanding an existing walking trail network and reinforcing the hospital's identity within the community. Further, the project was informed by touchstone words selected by leadership that served as a metaphor for the four chambers of the heart: natural, inviting, clean and high-tech.
Design and identity
The building's architecture creates a distinct visual brand while complementing the existing campus. A hi-tech curtainwall is balanced with a series of natural limestone planes that ground the building. White metal panels integrate the building with the predominant color palette of the campus. The subtle tone-on-tone play of white and grey panels gives the façade a syncopated rhythm and understated elegance.
A thoughtful blend of "foundation finishes" — limestone, wood and glass — link exterior to interior, simplifying wayfinding and unifying the visual experience. The interior design and finishes create a high-end, light-filled, welcoming and comfortable aesthetic, but are also strategic. The baseline neutral tones align with existing campus standards, easing finish transitions from building-to-building, and new finish introductions are carefully selected to maintain a refreshing yet enduring quality, satisfying strict durability and maintenance needs. The furnishings correspond to the hospital's furniture standards program. Key foundation finishes will be applied to other campus buildings as a future branding refresh.
Prominent artwork by North Carolina artists and an interactive history wall create wayfinding landmarks and demonstrate strong ties to community.
Stewardship and sustainability
As good stewards, the architects embraced the campus' natural beauty, preserving the surrounding landscape by increasing the building's verticality instead of its sprawl and integrating structured parking to minimize impact of impervious surface onsite. Large expanses of glass dissolve the boundaries of the built and natural environment, allowing each space to be one with nature. The upper floors offer large picture windows that maximize views of an ever-changing landscape and bring in natural light to support patient circadian rhythms and enhance clinicians' work performance.
The hospital is built to LEED specifications to promote sustainability. The sunken garden and courtyards bring light and outdoor space to visitors and integrate natural and adaptive plant material throughout the building. The park-like design integrates with the campus' natural beauty to offer a unique, welcoming patient experience. Materials, selected for sustainable features, create a contemporary environment with a timeless quality. Oak trees felled during construction were recycled into custom tables for both conference rooms and the café.
Elements of the building envelope — including selection of glass and the location of shading devices — were based on computer modeling to maximize performance and exceed energy code. LED lighting, water-cooled chillers and an economizer were some strategies that contributed to achieving an energy savings of 21.7 percent above ASHRAE 90.1-2007.
Comprehensive care and patient experience
The new hospital realizes UNC Rex Healthcare's primary objective to improve the patient experience by consolidating services in a facility that would enhance its international reputation for academic teaching and high-volume clinical care. Strategic co-location eases access for patients and families, as well as staff, and enables clinicians to communicate more efficiently.
Right-sized patient care and clinical work spaces meet best-practice benchmarks. Each nursing unit is comprised of two, 12-bed pods with staff support spaces that minimize caregiver steps so that more time can be spent caring for patients. Nursing units and procedural floors have 10-foot-wide corridors to accommodate academic rounding and bi-directional transport teams with patients in beds.
To support the hospital's comprehensive approach to cardiovascular care, the space is designed for physician collaboration considering the most critical situations. Innovations include the latest procedural technology, hybrid procedure rooms and a simulation lab. Enhanced ORs use component-driven planning for maximum flexibility and include seamless finishes, LED color-changing perimeter cove lighting and floor patterns that denote critical "zones of care" for team training, and a viewing theater for unobtrusive in-person observation/learning.
From the hotel-like concierge greeting guests and patients, to the rehab facility that overlooks the garden, to a spiritual space with local art, every aspect of the facility maximizes efficiency, flexibility, resource optimization and addresses the needs and comfort of patients and their families. It's a state-of-the-art facility for today and a legacy investment for tomorrow.
Author: Tushar Gupta & Rachel Windham
Tushar Gupta, AIA, NCARB is a lead designer with EYP Health. Rachel Windham, IIDA, SEGD, LEED AP, is a lead interior designer with EYP Health. 
Posted February 4, 2018
More Articles: