Subscribe Now
Keep up with the latest news with our magazine and e-newsletter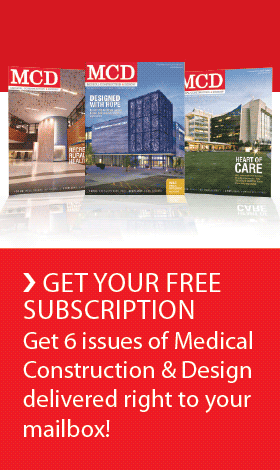 Subscribe to our E‑Newsletter
SHANGHAI, China – The design for Jiahui International Hospital has been unveiled. As the first foreign-funded tertiary general hospital in Shanghai built to international standards, Jiahui International Hospital is designed by NBBJ to provide high-tech healing, a human touch and the incorporation of natural elements.
The design of Jiahui Hospital establishes a new benchmark for healthcare design in China and beyond. From the ground up, the hospital elevates the quality of care Chinese patients and their families receive. It also creates a clinical workplace for hospital staff that allows them to focus, innovate and recharge. Perhaps most importantly, the hospital allows patients—who often travel abroad to receive treatment—to receive the best possible care, right in Shanghai.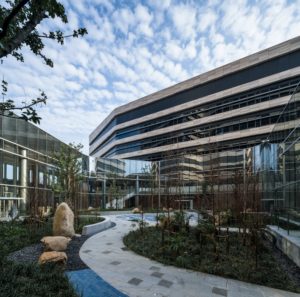 Located in the downtown Xuhui District, in the Caohejing Hi-Tech Zone, the 8-acre campus includes a 15-story inpatient bed tower with 246 beds, outpatient clinics, interventional suites and an emergency department. As part of the design process, NBBJ and Jiahui International Hospital collaborated with U.S.-based Partners Healthcare International to solicit feedback from leading healthcare providers. In addition to their role on the design, Partner's hospital Massachusetts General Hospital will collaborate with Jiahui in several specialties including oncology, placing emphasis on training medical staff, patient care, operations management and clinical research. The first phase of these facilities were set to open in October 2017.
A Hospital within A Garden
To promote healing, Jiahui was designed by NBBJ to be a "hospital within a garden."  Research shows that access to nature reduces hospital stays and decreases stress levels. Jiahui's "Central Park" is the green heart of the hospital—an outdoor space visible and accessible from the majority of campus that is filled with trees, shrubbery, grasses, pathways and water features. This park environment also serves as a wayfinding device, helping to orient patients and their families while at the facility.
The patient's first impression is an entryway that is flanked by lush landscaping and features natural terracotta and glass. The architectural language utilizes soft edges – distinctive rounded corners and sculpted forms that are comforting and less clinical looking. Entering the main lobby, patients and their families are welcomed with the warm tones of a double-story natural wood wall, stone flooring and graceful curves found in the shapes of the welcome center and stairway. Floor-to-ceiling windows bring in plenty of light and the greenery of the outdoor gardens. Throughout the hospital, natural daylight is maximized as well as views of the Central Park. Smaller terrace gardens on the upper floors of the bed tower provide views of natural greenery as well as the surrounding neighborhood. Private decks are also introduced to provide doctors and nurses with a space for respite.
The intuitive design for this facility was fully informed by scientific data, research on biophilia and the users themselves: doctors, nurses and administrators. Best practices from NBBJ's work on the Massachusetts General Hospital in Boston—which also incorporated natural elements—were utilized for the design of Jiahui hospital and, in doing so, are creating a place where patients and their families can heal and thrive, and resonates with the Chinese culture.
Research-Based Innovation
The design team also sought to create an environment that connected medical staff and their patients in more flexible ways. For example, each patient room allows clinicians to work either inside or directly outside of the room. This gives patients the option for privacy, but it also allows caregivers to be in closer proximity when necessary.
Recognizing that quieter environments speed patient recovery, the hospital was designed to function more quietly than typical hospitals. In addition, NBBJ introduced many innovative concepts at Jiahui International Hospital that help define the future of healthcare in China. These include a case cart delivery system for ORs, sliding patient bedroom doors and pass-through cart washers. These innovations are a first for China and required special government approval. Case cart system is when the materials for a patient's surgery are assembled in the central sterile department and delivered completely sealed directly to the OR and are unassembled there. The same cart is then used to remove all the waste from the OR and return to central sterile.
The project is also designed to reduce medical errors and increase flexibility. For example, patient rooms are "same-handed" so caregivers have a standardized experience; a special air control system reduces the spread of infection; units can be consolidated during off-peak hours and closed to reduce costs; universal patient bedrooms are easily convertible into ICU units and back again with minimal cost and a steel structure—the first in the region for a healthcare building—which allows for structural changes with minimal disruption and lower cost.
Jiahui International Hospital was also built with sustainability in mind. The building has received LEED Gold certification, minimizing water and energy usage and reducing waste and greenhouse gases. At the same time, air quality in and around the building will be enhanced through the use of low-VOC materials and natural ventilation.
Posted December 28, 2017
More Articles: